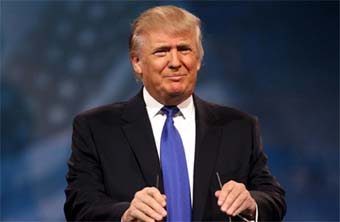 Image courtesy of Donald Trump 2016
Trump Thumps O'Reilly, Kelly, Rubio, Polls
| published September 25, 2015 |
By R. Alan Clanton, Thursday Review editor
Presidential candidate Donald Trump is battling the press yet again, and this time it's not with the "mainstream" media. The businessman and television personality is furious at Fox News over analysis and commentary by Fox News' Bill O'Reilly, Brit Hume, Charles Krauthammer and others. He is also bashing all journalists in general who think his campaign is somehow in retreat. Trump says reporters—in an attempt to manipulate voters—are cooking up a narrative of a campaign losing steam, and called such claims "dishonest reporting."

It's been a busy week for Trump. First, he went after arguably the most conservative television news platform in the U.S. The real estate mogul and billionaire used his Twitter account to lash out at Fox News for what Trump said were unfair presentations of current polls and for "negative" comments about his candidacy.

"The O'Reilly Factor was very negative to me in refusing to post the great polls that came out today, including NBC," Trump tweeted. "@Fox News not good for me!"

Trump then went further, complaining that the O'Reilly Factor was out-of-step. "Why don't you have knowledgeable talking heads on your show for a change instead of the same old Trump haters? Boring!"

The O'Reilly Factor that night featured several items critical of Trump. Among them: commentary by Charles Krauthammer, which was indeed not Trump-friendly in its content; and analysis by news anchor and White House reporter Brit Hume, who discussed former HP CEO Carly Fiorina's winning debate performance from last week's CNN Republican debate, and her recent surge in several major polls. Both Krauthammer and Hume measured Fiorina's gains against the apparent Trump losses in recent polling.

Later that night Trump again took to bashing Fox News host and reporter Megyn Kelly, with whom Trump has feuded more-or-less continuously since the first GOP debate in Cleveland in early August. Trump began a new series of tirades against Kelly, calling her a journalistic lightweight and "highly overrated."

After Trump's latest series of harsh barbs about O'Reilly, Kelly, Hume, and others who had appeared during the week on Fox News, Fox said it was cancelling an upcoming appearance by Trump on O'Reilly's show. That cancellation was followed within hours by Trump's declaration that he was heretofore boycotting Fox News, and urged his followers to do the same.

This is the third time in less than two months that Trump has railed against the commentators and journalists at Fox News. Trump's ongoing battles with Fox News have made headlines and have led to a few laughs along the way, but have also forced the folks on Trump's campaign, as well as at Fox, to attempt to quickly mend fences.

The hostility reached such an epic level this week that a summit has been scheduled for one day next week between Trump and Fox News chief Roger Ailes. Fox News released a statement on Thursday announcing the meeting between Ailes and Trump "to discuss their differences of opinion regarding Fox's coverage of Mr. Trump's presidential campaign."

According to Fox insiders, the meeting will include several top news executives and editorial directors, as well as top staffers from the Trump campaign. As a candidate, Trump has been frequently unhappy with the way Fox News has portrayed his candidacy and handled news of his campaign activities.

Trump also disputes the findings of four major polls—all conducted in the period after the much-watched CNN Republican Debate, held in the Ronald Reagan Library and broadcast to viewers across the country in what would become CNN's most heavily watched single program…ever. Though the polls taken in the days after that debate show Trump still in the lead among Republican voters, those same surveys show his share of support from likely GOP voters shrinking. Several major polls show Trump's closest competitors gaining ground: among them, former HP CEO Carly Fiorina and retired neurosurgeon Dr. Ben Carson, two candidates with whom Trump has feuded with feverishly. Some polls also show a surge of support toward Florida Senator Marco Rubio, as well as a nudge of renewed support toward former Florida Governor Jeb Bush—once the party's front runner.

Among the polls: a CNN/ORC poll which showed Trump's lead diminishing, with Fiorina in a strong second place spot. A new Quinnipiac poll released this week also showed Trump's lead deflating rapidly, and showed that Fiorina and Rubio were the decisive winners of the debate. News organizations ranging in size and scope—from NBC News to the Washington Post, from Politico to CNN, from CBS News to the Associated Press—have expanded their reporting on Trump's poll movements. And among those with a heavy thread of conversation about the perceived shift in support for Trump is Fox News, which has also cited several polls as evidence of Trump's gradual downward movement.

Some in the media (including here at Thursday Review) have also sought to place Trump's recent declines in the same context of Wisconsin Governor Scott Walker's surprise exit from the GOP field. In his brief speech telling reporters and supporters that he intended to suspend campaign activity, Walker urged other Republican candidates to consider the same strategic withdrawal—with a clear and resonant message to the GOP field that the party must reclaim its core values.

Other polls conducted by Huffington Post and Morning Consult also show slight declines in Trump's support among likely GOP voters.

Trump disputes all those findings, and calls into question the journalistic ethics and the statistical standards used. Trump also called the media clamor to suppress his campaign's strength "knowingly dishonest," and cited several contradictory polls, including surveys conducted by Zogby and Reuters.

Trump has had a busy week of launching unprovoked attacks and unsolicited first-strike verbal assaults. This week, Florida Senator Marco Rubio found himself on the sudden receiving end of Trump's barbs and insults when Trump was again asked about his poor performance during last week's CNN Republican debate. Rubio was one of those who was judged to have performed extremely well during the most recent debate, but Trump was having none of it.

Trump cited Rubio's perspiration on the hot stage, where candidates stood for the three-hour-plus debate, one of the longest in recent memory. Trump's performance was widely regarded as lacking. Though he started out strong, most observers agree that his participation level drained in the last two thirds of the debate. When the debate turned to matters of policy and legislation, Trump grew mostly silent.

On Friday, at a conservative forum in Washington, D.C., Trump again attempted to bash Rubio, calling him "a clown" and a "moron" in front of a packed ballroom. The insults drew a road of sustained boos from the audience, much of which clearly came from people who either support Rubio, or at least respect him for his conservative views. Trump bashed Rubio on the issue of immigration. Trump's remarks did not go over well with the crowd, but he did received solid applause at the end of his remarks and a polite ovation.

Rubio and Trump have been engaged in a more-or-less continuous battle of words since the early part of the week. Analysts believe Trump is attacking Rubio in an effort to stave off what some polls show is a small surge in support for the Florida Senator; some of the same analysts believe that Rubio is willing to counter-punch forcefully as a way to exploit what some see as the beginning of the demise of Trump, however slowly that process may turn out to be.

Related Thursday Review articles:

After Walker: Will the GOP Reclaim its Core Message?; R. Alan Clanton; Thursday Review; September 22, 2015.

Trump's Lead Slides; Fiorina in Second Place; Thursday Review; September 20, 2015.