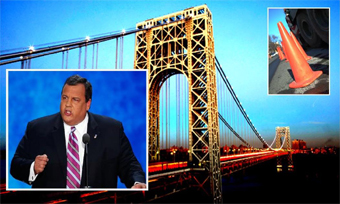 Chris Christie: A Bridge Too Far
| published Monday, January 13, 2014 |
By R. Alan Clanton
Thursday Review editor
It's been a tough ten days for New Jersey Governor Chris Christie, and now, it just got tougher.

Christie, who has been widely considered a top-tier contender for the Republican Party—and if not the de facto front-runner, sharing that status with other top-name potential candidates, such as Jeb Bush, Paul Ryan and Rand Paul—is now facing an existential challenge.

First, there is the matter of that four-day traffic jam on what some call "the busiest bridge in the world," the George Washington Bridge, which connects New Jersey to New York City. Preliminary evidence and a series of emails seem to suggest that the governor's top people were behind the traffic snarl, with aides ordering bridge access lane closings as political payback—New Jersey-style—against Fort Lee mayor Mark Sokolich, a Democrat who did not back Christie in last year's election campaign.

Last week, the governor held a marathon press conference—the longest of his career at nearly two hours in length—during which he held forth for a room packed with reporters and cameras. Christie maintained at that time, convincingly many have argued, that he did not know that his own staffers had orchestrated the traffic snafu as political retribution. The lane closings, which occurred last September, created a four-day traffic jam, and resulted in thousands of workers being late for jobs, hundreds of children being late for school, and several instances of emergency vehicles being delayed in the heavy traffic.

Christie apologized for the incident, and told reporters he had been misled and betrayed by his own staff. State agencies have weighed-in on possible legal action, and a federal probe is under way to determine if federal laws were broken because of the deliberate lane closures. The lane closures were apparently requested by David Wildstein, an official with the Port Authority of New York & New Jersey (both states have jurisdictional control over the port system, which in this case also includes some bridges). Wildstein's boss, Bill Baroni, told state officials months ago that the lane closures were part of a traffic study, though few officials in the Port Authority—or any other agencies—could confirm that any such study had been authorized. Wildstein and Baroni each resigned in December, and shortly afterwards U.S. Senator Jay Rockefeller, a Democrat from West Virginia, asked that federal authorities officially investigate.

Since then, the issue has escalated to the top of the headlines, with emails and text messages indicating a pattern of collusion among some of Christie's top people.

With Bridgegate now already at a boil, the governor now faces new charges that in the weeks and months after Hurricane Sandy, he misappropriated federal disaster-relief funds—shifting them away from storm clean-up, infrastructure repairs and emergency programs, and using some of the cash instead to pay for an expensive television ad campaign promoting tourism in New Jersey.

The slickly-produced ads, which featured the governor and his family on camera proclaiming that "New Jersey was stronger than the storm," ran during the same time period as the governor's political ads during a heated re-election campaign. In that race he easily beat a challenge from Barbara Buono. Some Democrats in New Jersey, nevertheless, saw the tourism and business ads as tantamount to political advertising, and a misuse of federal relief money.

The latest accusations were made by U.S. Rep. Frank Pallone, a Democrat and a Christie foe, who thrust the charges into the mainstream conversation on CNN this past Sunday. Pallone believes that a full state and federal investigation is warranted under the circumstances.

Spokesmen for Christie have responded by telling reporters that the ads were produced using guidelines set forth by the federal government which allowed for the state to promote the fact that areas affected by the storm were open again for business and tourism.

Similar ads were produced, and run heavily, across television markets in the south after Hurricane Katrina, and again after the massive BP oil spill which affected beaches, tourist and fishing communities in several Gulf Coast states. Some funds for the post-oil spill ads were also provided by money from BP, Halliburton and other companies involved, and in the case of the ads in Alabama, Mississippi and Florida, political figures did sometimes appear.

Still, Democrats in New Jersey are unmoved by the analogy, and suggest that as governor, Christie should have been more sensitive to the needs and priorities of a state ravaged by Hurricane Sandy, and in their eyes the ads were, at best, a waste of valuable resources—and, at worst, a misuse of federal cash for overtly political purposes.

Further, some say the ads were overpriced: a competing bid by another production company featured storyboards and scripts without personal appearances by the governor. That studio's bid was nearly $2 million less than that of the company which won the contract to produce the ads.

Some Republicans see the issue of the tourism ads as little more than an opportunity to pile on to a governor already under siege. "It's a straw man argument," one GOP source told Thursday Review, "Chris Christie's down and this is a way to add insult to the injury. A few weeks back the ads would have meant nothing, to anyone. Now everything is on the radar."

In the meantime, some legal analysts question whether the bridge scandal represents a clear and demonstrable violation of federal law. Even if federal authorities find that the lane closures were the result of deliberate political payback by top Christie staffers, some feel the feds may have little, if any, legal grounds to pursue; there was no theft of funds and no private gain. Still, the pressure is on from Democrats in New Jersey and in Washington to bring to a full bore the power of the U.S. government.

For the GOP, the already murky road ahead has either become more complex, or much simpler—depending on your viewpoint. Christie, who was recently elected to head the Republican Governor's association, widely considered a final grooming process for top presidential contenders, may or may not survive this ordeal. If his recent press conference assertions of innocence stand the test of time—which is to say, withstand the multi-front investigations and intense scrutiny of the media—Christie may in fact emerge stronger for having taken action by dismissing some of his top staff.

If, on the other hand, evidence emerges which shows that the governor collaborated in any way with the scheme to shut down access lanes to the bridge, then his road to the White House may be quickly and unceremoniously closed—along with every available access ramp and lane.