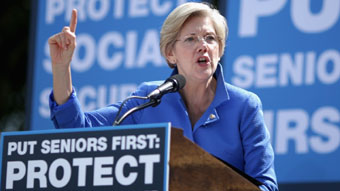 Image courtesy of CNN
Media Reports: Elizabeth Warren Out as Clinton VP
| published July 13, 2016 |
By Thursday Review staff writers
Media reports and rumors within the Clinton camp seem to indicate what some political experts have been suggesting for weeks now: presumptive Democratic nominee Hillary Clinton will not choose U.S. Senator Elizabeth Warren to be her running mate.

Varying reports—including one in the New York Times—suggest that Clinton is looking elsewhere among a field of both liberal and progressive Democrats for a suitable running mate ahead of the Democratic National Convention, now only weeks away.

Instead, Warren—a Massachusetts Senator and a progressive with a political track which includes calls to reign in the influence of Wall Street—will be given a prime speaking slot during the first night of the convention, a sign, the so-called experts say, that she will not be tapped for the VP spot. Running mates are traditionally given a speaking slot much closer to that of the nominee, at least based on the conventional practices of both major parties for decades.

However, this "rule" has some degree of flexibility, and proves nothing—except that Warren's speaking slot on the first night of the convention minimizes her role if she is, in fact, Clinton's true choice as running mate.

The New York Times report follows weeks of intense speculation about who Clinton will choose, and comes on the heels of ten days of campaigning in which potential running mates have been vetted closely and have been given prime speaking roles at Clinton campaign events across the country. Warren has appeared several times alongside Clinton, and Warren's remarks have been peppered with scathing, often sarcastic reviews and rebuttals to Clinton's general election opponent, businessman Donald Trump, now the presumptive nominee of the GOP.

Still being vetted and considered by the top brass at the Clinton campaign: Virginia Senator Tim Kaine, HUD Secretary Julian Castro, Ohio Senator Sherrod Brown, New Jersey Senator Corey Booker, and California Representative Xavier Becerra. Some more out-of-the-box options include Minnesota Senator Al Franken and former NATO chief and four-star admiral James Stavridis. Franken, analysts agree, would bring acerbic wit and biting comedy to Democratic attacks on Trump; Stavridis would bring military experience and foreign policy chops to the role of VP, a selling point likely to fly well with voters concerned about terrorism, a resurgent Russia, and a fractious Middle East as preeminent issues.

Vermont Senator Bernie Sanders, who offered his endorsement of Clinton this week at an event which most journalists said looked more like a Sanders rally than a pro-Clinton campaign, is also on the short list, though most political analysts suggest that Sanders is not a genuine option for Clinton after a long, bitter, sometimes bruising primary and caucus season.

Related Thursday Review articles:

Clinton VP List Narrowed to Warren, Castro, Kaine?; R. Alan Clanton; Thursday Review; June 23, 2016.

Does Tim Kaine Top Clinton's VP List?; Keith H. Roberts; Thursday Review; June 9, 2016.