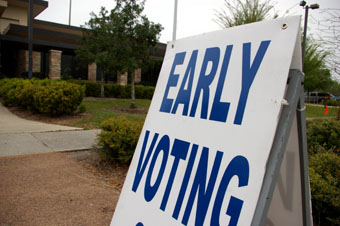 Photo by Thursday Review
In Pivotal States, Clinton and
Trump Are Tied
| published May 10, 2016 |
By Keith H. Roberts, Thursday Review contributor
In three pivotal states, new polls show that Democratic front-runner Hillary Clinton and Republican nominee-apparent Donald Trump are locked in a virtual tie, indicating the Presidential race—now coming into focus as intra-party rivals fade or drop out—is tightening.

Many previous polls have shown Clinton leading Trump comfortably in theoretical matchups. The new numbers now show a dead heat in Florida, Ohio and Pennsylvania—states known to be crucial in the all-important Electoral College outcome in November.

The numbers come by way of a recently-completed Quinnipiac University poll, conducted between April 27 and May 8. More than a thousand registered voters were called in each of the three states. In Florida, the Quinnipiac poll shows Clinton leading Trump by less than 1%; in Ohio and Pennsylvania, only slightly more than 1% separates the two candidates.

Political observers suggest that in the brief aftermath of the Indiana primary, in which Trump battled back against a combined effort by rivals Ted Cruz and John Kasich, and which resulted in both Cruz and Kasich suspending their campaign efforts, some Republican voters may have begun to coalesce behind Trump—in effect accepting the controversial billionaire as not only the party's nominee, but a solid choice to compete with Clinton.

In addition, both Clinton and Trump have effectively pivoted toward the general election. Trump spends little time on the stump mentioning his former Republican rivals, and now concentrates most of his firepower on Clinton—his presumed rival in the fall.

Previous polls conducted as far back as one year ago have consistently shown Clinton maintaining leads over Trump in hypothetical matchups, with margins ranging from comfortable to substantial. This is the first poll to show the two presumed nominees in such close proximity in key states.

Though the Quinnipiac poll is only one survey, its results are often fairly accurate—even in a year of frequent surprises at the ballot box.

Meanwhile, Trump is moving ahead quickly with his long-range plans, including choosing a running mate. Trump today told the Associated Press that he had narrowed his short list of vice-Presidential candidates to about "five or six" names. All of them, Trump said, were potential running-mates with vast experience in elective politics and legislative affairs. Though Trump did not offer any clues to most of the names on his list, he said that he had not ruled our New Jersey Governor Chris Christie. Christie—once a Presidential candidate himself—endorsed Trump earlier in the spring.

Trump's campaign staff told reporters that his campaign manager, Corey Lewandowski, is managing the vetting process.

On Tuesday, Ted Cruz told radio commentator Glenn Beck that he does not intend to endorse Trump. Cruz went on to say that he will consider jumping back into the fray if he is able to identify a path toward victory

"I would note this isn't a choice we have to make today," Cruz told Beck.

Related Thursday Review articles:

Ryan: Will Step Down As Convention Chair if Trump Insists; R. Alan Clanton; Thursday Review; May 9, 2016.

Trump Morphs on Taxes, Wages, More; Thursday Review staff; Thursday Review; May 8, 2016.