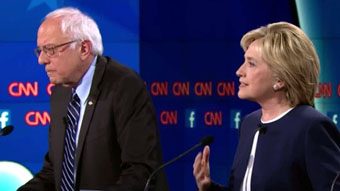 Image courtesy of CNN

Despite Sanders' Challenge, Clinton Retains Kentucky Win, Barely
| published May 26, 2016 |
By R. Alan Clanton, Thursday Review editor
Vermont Senator Bernie Sanders, now Democratic front runner Hillary Clinton's only remaining intra-party rival, had hoped that a recount in Kentucky might tip the scales in his direction. Instead, a completed re-canvass has confirmed Clinton the winner by a razor-thin margin.

According to Kentucky Secretary of State Alison Grimes, the recount shows Clinton won the Bluegrass State by 1,911 votes out of more than 420,000 votes cast, or less than three-tenths of one percent. Sanders and his supporters had requested the recount after numerous complaints that the vote was too close for the state to simply declare Clinton the victor outright.

Though Grimes made the announcement of the outcome on Thursday, the results are still not official—according to Hoyle—until the Kentucky Elections Board certifies the vote totals next week.

The Democratic Party distributes its delegates proportionally, but the outcome was so close that Clinton and Sanders will each receive 27 delegates. As a result, Clinton will inch closer to the nomination, even as Sanders continues to pick up additional delegates.

Sanders has said he does not intend to give up the fight until the convention this summer, and he tells reporters and followers that he still hopes to sway enough of the so-called super delegates to change sides before balloting begins in July.

All told, Clinton has about 2,305 pledged delegates in her corner, while Sanders has 1,539. Clinton's grand total includes roughly 537 super delegates; Sanders has the support of 42 super delegates. Clinton needs to retain control of 2,383 delegates at the time of the start of the convention to win on the first ballot, which means she is extremely close to sealing the deal. But Sanders still hopes for smashing wins in California, where he could close the gap and deny Clinton enough delegates to win outright.

Related Thursday Review articles:

Will Sanders Remain in the Fight to the Convention?; Keith H. Roberts; Thursday Review; May 17, 2016.

Sanders Wins Indiana; Plans to Stay in Race; R. Alan Clanton; Thursday Review; May 4, 2016.