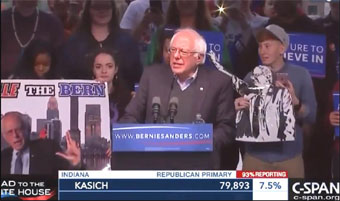 Image courtesy of C-Span
Sanders Wins Indiana;
Plans to Remain in the Race
| published May 4, 2016 |
By R. Alan Clanton, Thursday Review editor
Though Democratic front-runner Hillary Clinton has already pivoted toward the general election—defining the campaign in terms of differences between her positions on the issues and those of the Republican presumed-nominee, businessman Donald Trump—Vermont Senator Bernie Sanders has other ideas.

His win in Indiana came as an upset to Clinton's goal of sealing the deal with Democratic voters and moving directly into a conversation with voters about the differences between the GOP and the Democratic Party.

Sanders scored a major win in Indiana on Tuesday by grabbing nearly 53% of the votes in a state where Clinton once lead by as much as 10%. His Hoosier State victory may infuse energy into his campaign, which was seen as beginning to lose momentum in recent days. The Indiana win will also likely spark an infusion of cash into his coffers ahead of contests in several Western states where Sanders is expected to perform better. Though Sanders trails Clinton in the all-important state of California, which votes in early June, he has proven he is resilient and able to pull off occasional upsets in key states.br />
But Clinton may be unfazed at this point by Sanders' surprise win in the Hoosier State. With roughly 2,200 delegate pledged or committed to her candidacy—as of Wednesday—the former First Lady and former U.S. Senator is now within striking distance of the nomination. To score a win at the Democratic National Convention on the first ballot, Clinton will need 1,383 delegates.

Sanders currently controls about 1401 delegates, meaning he trails Clinton but roughly 800 delegates. But Sanders says he is not interested in the hard math at work among the pledged delegates, and insists that his path to the nomination may also include convincing dozens, if not hundreds, of so-called super-delegates to switch their loyalties and vote for him this summer instead. Clinton's total shrinks relative to Sanders' total when the loyalty of those super-delegates is subtracted from the equation, and brings Clinton and Sanders to within 300 delegates of each other.

For that reason, Sanders says the race is still wide open. He says he intends to take his campaign message all the way to the convention. The Vermont Senator also points to those super-delegates as evidence that the Democratic Party has rigged the system in Clinton's favor: Clinton's super-delegate commitments number 520, compared to Sanders' more modest 39.

For Democrats, the race in Indiana remained tight and too-close-to-call until hours after the last Hoosiers cast their votes. Early returns showed Clinton with a slight lead, but as the night wore on Sanders' took the lead.

Clinton leads in several states where primaries and caucuses have yet to be held. But Sanders continues not only to draw exceedingly large crowds, but he also has a habit of forcing substantial movement in polls coming into some contests. Though he is not expected to win in New Jersey on June 7, he could take the lead in several other June contests, including New Mexico, North Dakota and South Dakota.

Sanders has resumed much of his line of attack on Clinton, telling audiences that she is too beholden to Wall Street and corporate interests to be deemed a true progressive, and that her foreign policy skills are fraught with missteps, including her decision to support the Iraq War in 2003-2004.

Related Thursday Review articles:

Battle in Brooklyn: Brass Knuckles and Brutal Punches; R. Alan Clanton; Thursday Review; April 15, 2016.

Sanders Wins in Wyoming; Keith H. Roberts; Thursday Review; April 10, 2016.