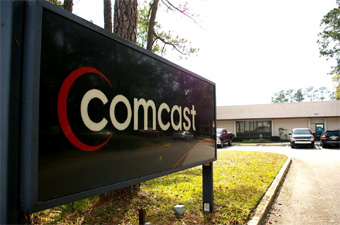 Photo by Thursday Review staff
Comcast Outage Impacts
Millions on President's Day
| published February 16, 2016 |
By Thursday Review staff
A massive outage by the nation's largest provider of internet, television and phone left millions of cable subscribers without service for hours on Monday in what was eventually determined to be a major interruption of services.

Comcast customers in more than a dozen states and two dozen major cities lost most—or all—of their internet and cable TV service on President's Day in a widespread outage which began, according to some experts, around 6:45 a.m. Monday morning. Although in many of the affected areas of the Comcast footprint the outage impacted only one service, typically internet or cable, many areas experienced total loss of service, resulting in a massive number of service calls and complaints in a dozen states.

The areas impacted included a wide tract of Comcast's huge northeast corridor service footprint from Boston to New Jersey, from Washington to Philadelphia. But the outage also impacted customers in Houston, Jacksonville, Atlanta, Detroit, Denver, Seattle, Portland, and Albuquerque, as well as in patchy areas of the Midwest. Thousands of customers in Chicago, Illinois and Indianapolis, Indiana also reported long periods of service interruptions.

On social media, tens of thousands of Comcast customers complained of long waits on the phone when attempting to call-in to report the problems. Others ventilated on Facebook that despite being told the outage had been resolved and services were coming back up, the problems persisted for four to five more hours. On Facebook, Twitter and Tumblr, thousands more said that when they called Comcast, they were unable to reach a customer service representative at all—and many were left with on-hold waits of more than an hour, while others simply received a continuous busy signal.

Despite the apparent fact that the outage began very early on Monday, Comcast did not officially acknowledge the problem until around 12:30 p.m. EST, when it issued a statement that it was investigating what appeared to be an interruption of service in some areas. But many customers in at least five states said on social media that services were still out as late as 6:00 p.m. Monday.

Problems with call centers came as a natural result of the heavy volume of incoming calls, which—under such circumstances—can easily overwhelm a company's system. Many customers, however, complained that when they finally reached a Comcast representative, the rep would often point the customer back to a statement on the Comcast website which offered a brief explanation for the outage—a move which further angered customers without internet service.

As of early Tuesday, Comcast had not offered a detailed explanation of what triggered the outage. By late Monday, most customers were reporting on social media that their services had been restored, though some were still complaining of extremely slow speeds on internet service.

Related Thursday Review articles:

Comcast Time Warner Merger Scrapped; Thurday Review staff; Thursday Review; April 24, 2015.

Liberty/Charter to Offer $55 Billion for Time Warner; Thursday Review staff; Thursday Review; May 25, 2015.