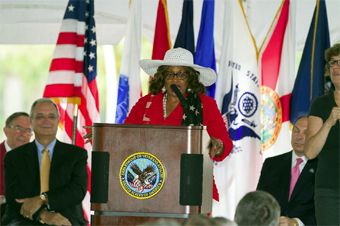 Images courtesy of U.S. House of Representatives/ Flickr
Out of Congress, Brown's
Troubles Far From Over
| published October 18, 2016 |
By Earl Perkins, Thursday Review features editor
A recently defeated congresswoman from Florida is facing a complex and costly challenge as prosecutors and attorneys sort out how this case will proceed.

Federal Judge James Klindt recently issued a protective order, keeping massive amounts of evidence under wraps until the government prosecutes its One Door for Education case against U.S. Rep. Corrine Brown and her chief of staff, according to News4Jax, Florida Politics and other media outlets. Prosecutors sought the order because the evidence contains sensitive and confidential information concerning defendants and "others, many of who wouldn't testify at trial."

I'm sure the 24-term Florida congresswoman didn't set out to violate every rule and law she was expected to uphold, but sometimes opportunity and greed offer too much temptation. She and Ronnie Simmons, her top staffer since 1993, face a 24-count indictment including charges of conspiracy and filing false tax returns, along with mail and wire fraud, which could garner them more than 300 years apiece in prison and massive fines if convicted on all charges, according to the Justice Department.

When you make a career out of race baiting and claiming the world is out to get you, nothing is off-limits; exploiting the system comes naturally. But federal corruption and fraud? Those words sound so ugly, and serious. The accusations stem from her involvement with One Door for Education, a company she trumpeted as a charity designed to aid underprivileged young people with college scholarship money, but in actuality—according to prosecutors—was little more than a glorified slush fund for Brown, Simmons and Carla Wiley, One Door's president. In fact, of the hundreds of thousands of dollars in donations taken-in by the non-profit, only one small scholarship was ever awarded.

The Jacksonville Democrat representing Florida's 5th Congressional District faces 357 years in prison, $4.8 million in fines and $897,000 in restitution if found guilty on all counts, while Simmons faces 355 years, $4.75 million in fines and more than $1.2 million in restitution.

Months ago, when Brown and Simmons faced the government in U.S. District Court, they were accused of seeking out donations for One Door, but the Virginia-based company was never properly incorporated, so the group was in effect just bank accounts where money came and went at the whim of Brown and her co-conspirators, according to the feds. Much of the $800,000 raised was technically public money, and just $1,200 was used for legitimate purposes, with the remainder going into the trio's pockets. The largesse was used primarily "for personal and professional benefit," including luxury boxes at a Beyonce concert and NFL game in the Washington, D.C. area, according to the indictment. At least show some good taste. The football game pitted the Washington Redskins against the Jacksonville Jaguars, and was not played during their glory years. But I'm sure the food and liquor were of top quality.

The federal government claims Brown and Simmons used the donated cash as a "personal slush fund," according to Leslie R. Caldwell, Assistant Attorney General in the Criminal Division of the Justice Department.

"Corruption erodes the public's trust in our entire system of representative government," she said in a statement. "One of the department's most important responsibilities is to root out corruption at all levels of government and to bring wrongdoers to justice."

After pleading not guilty at her hearing in Jacksonville, Brown—never camera shy—was quick to hold forth with a media event outside the downtown federal court building. Simmons pleaded not guilty, but chose not to address the press, instead quietly leaving following the court proceedings.

"I am looking forward to my day in court to vindicate myself," Brown told reporters gathered outside the courthouse, according to the Associated Press and First Coast News, WTLV.

That's a laugh, because she has purposely delayed the process, and her foot-dragging even irritated the judge in charge of handling the blockbuster case. Brown has gone through several groups of attorneys, most of whom either decided the case was unwinnable or concluded that they might never receive remuneration. That doesn't include her paid sign wavers she trotted out for her "impromptu" press conferences; her underlings hand out cash when enthusiastic protesters return signs, which are no doubt set aside for the next spur-of-the-moment event. Recycling at its best.

High-profile controversies that have dogged Brown throughout much of her career are too numerous to fully list here, but suffice it to say she emerged with minimal damage—up until now.

And it's not as though Simmons has a squeaky clean past either, considering that in February 2008 he plead guilty to beating his then girlfriend. The Laurel, Maryland resident told a police officer that he didn't know why paramedics were called. However, the Anne Arundel County Police Department domestic violence report would help prod Simmons into pleading guilty to second-degree assault, and court records show, after spending two days in jail, his punishment was time served, two years of probation, a $500 fine and an order to complete an anger management course and "all other counseling recommended."

The female involved in the incident, Geraldine Centeno, called the abuse traumatic. She also told sheriff's deputies that, during an argument, Simmons had dragged her by her hair and punched her in the face.

"It was the worst time of my life," she said. "He threw me down the steps. He dragged me around."

The assault on her was Simmons' second charge of 2008, and he followed them up with Maryland's equivalent of two restraining orders the following year.

Centeno refused to cooperate with prosecutors at the time, not wanting Simmons to receive prison time for the assault. However, her tune has changed in the ensuing years.

Over the summer, she opened up about Brown and Simmons and their relationship at the time, and how her feelings have changed since then. Centeno was living with Simmons at the time, and she likened the pair's relationship as more mother-son than employer-employee. She noted they also appeared to be living well beyond their means, sporting several expensive cars, designer clothing and plenty of money they squandered on the high life.

She says the recent accusations concerning the pair have helped her make sense of the maelstrom surrounding the indictments, and she and the government have come to similar conclusions following the protracted investigation.

"I had the impression that he was the front man; that he ran everything behind the scenes," Centeno said. "I always thought he would dig his own grave, and he has."

Centeno says the pair will no longer be allies when the case concludes, and she recently posted media coverage showing Simmons' arrest on her Facebook page, noting she's glad the truth is finally seeing the light of day.

"It's therapeutic," she posted concerning coverage of Simmons' past. "I hid it for a long time. He played a large role in my story of life. I had a half of a second of sympathy, but it faded quickly."

The evolving and unfolding scandal proved to generate an unwinnable political scenario for Brown, whose congressional district was heavily redrawn after a successful court challenge to the serpentine boundaries of her previous district. Al Lawson of Tallahassee unseated the congresswoman in August's Democratic primary, scuttling her bid for another term in the House. But that means Brown can focus her energies on her legal case.

The recent court order makes all discovery material available to their defendants, attorneys and employees, along with experts and witnesses…and no one else. Trial preparation is the only use Brown and Simmons are allowed while perusing the evidence against them—in other words, no press conferences with hired sign waivers, TV cameras, microphones and crowds of onlookers.

Brown and her attorney of record, Orlando-based James Smith, did not oppose the protective order—a sign, perhaps, that Brown finally realizes this is not a battle she can win in the media or through street carnival tactics. In all likelihood, the trial will be scheduled for February, which means she and Smith will be busy in the coming months. It could get costly. In an interesting sidebar to the full-blown circus, the outgoing congresswoman is again shilling for donations for her legal defense fund.

"I am fighting the Department of Justice, which has unlimited resources," she said. "They have smeared my good name. They are trying to take my freedom. I am asking for your help to fight these false charges...I am not going to let people destroy my name." Presumably, Brown is referring to top prosecutors appointed and/or supervised by those appointed by President Barack Obama.

Following the exit of three previous legal teams as Brown's defense, Smith has taken up the mantle, appearing on the Tom Joyner Morning Show.

"I don't think there's any coincidence about the fact they brought this case exactly around the time she was running for re-election," he said. "To me it's shameful they would bring this indictment based upon false, baseless charges and interfere with the right of citizens to make a decision on who they want to represent them in Congress."

Brown claims she lost the congressional race because her redrawn district map included numerous prisoners, who are unable to vote without the restoration of their civil rights.

"When they drew it, they drew it to get rid of me," Brown said in an interview with News One Now, which also appears on her legal expense trust website.

Related Thursday Review articles:

Corrine Brown Intends to Fight for Political Survival; Earl Perkins; Thursday Review; August 14, 2016.

Can Corrine Brown Survive This Political and Legal Storm?; Earl Perkins; Thursday Review; July 31, 2016.