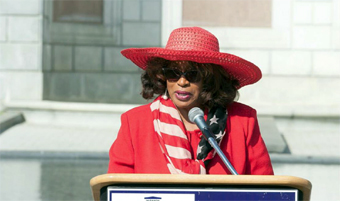 Images courtesy of U.S. House of Representatives/Flickr
Corrine Brown Intends to
Fight for Political Survival
| published August 14, 2016 |
By Earl Perkins, Thursday Review features editor
When U.S. Rep. Corrine Brown is backed into a corner, she always comes out swinging, and it seems she's recruited a home-run hitter in internationally acclaimed lawyer Greg Kehoe in the wake of federal fraud charges being leveled against her. Federal prosecutors have charged Brown with multiple counts of mail fraud, wire fraud, conspiracy and corruption stemming from her participation in an educational charitable group which allegedly took in some $800,000 in donations but allocated only about $1200 in scholarships.

The long-time Northeast Florida congresswoman faced an October trial date but knew any counsel change needed to be made before the conclusion of a Tuesday afternoon hearing, and that's when the Tampa-based defense attorney stepped forward, and Brown was granted a one-week postponement, according to the Florida Times-Union.

Kehoe told U.S. Magistrate James R. Klindt that he was working out details to replace Brown's previous counsel, Bill Sheppard and his firm. "There are just certain things that have to be addressed internally," he said. Earlier in August, Sheppard had said his firm may be unable to go forward as Brown's chief counsel, with legal experts suggesting that Sheppard feared non-payment of legal fees might become a concern. Brown had also been previously represented by local attorney Betsy Whitye, who specializes in civil rights cases.

Ronnie Simmons, Brown's chief of staff and co-defendant, is also switching counsel and hopes to file paperwork acknowledging that by Friday, which could lead to cancellation of the upcoming hearing. If the pair signs up long-term representation, the hearing might be cancelled and the start of an October trial also moved.

Daniel Smith, Simmons' attorney at Tuesday's hearing, said afterward the current schedule was "unrealistic" and next spring would be more fair, considering new attorneys would be forced to study "voluminous" stacks of records to properly prepare for trial.

The defense last month received more than 77,000 pages of documents from prosecutors, highlighted by evidence investigators hope will convict Brown. The 12-term Democrat is a political powerhouse who nevertheless faces two challengers in the Aug. 30 primary, one of them Al Lawson, a seasoned political pro from Tallahassee. Brown's original district—predominantly African-American in make-up—stretched from Jacksonville to Orlando along a serpentine, complex route. That district was ruled inappropriate after a lengthy court challenge which resulted in Brown's new district consisting of a long stretch of North Florida, an area she deems less politically amenable.

"Supporters" again appeared at Brown's court appearance, carrying signs outside the federal courthouse calling the prosecution a witch hunt. It's surprising how enthusiastic people become when politicians send their underlings around to swap cash for returning rally signs.

Last month Brown and Simmons were charged in a 24-count indictment with enriching themselves by misusing their government positions, primarily for using One Door for Education as a slush fund that benefited Brown, Simmons and One Door President Carla Wiley to the tune of almost $800,000. The federal government claims the Leesburg, Virginia organization, which was held up as a charity to benefit disadvantaged young people, gave out just $1,200 while pocketing the remaining largesse.

Wiley pleaded guilty to conspiracy to commit wire fraud in March and has steadily cooperated with prosecutors in hopes of leniency from the feds. Brown and Simmons pleaded not guilty to all charges, which included mail and wire fraud, conspiracy and scheming to conceal material facts. If convicted on all charges, they could face more than 350 years in prison—each.

When the three major candidates in District Five met with the editorial board of the Tallahassee Democrat last week, Brown exploded in indignation and anger when the first question from the panel went to the question of Brown's federal indictment. Holding aloft campaign literature printed on newsprint and resembling a tabloid newspaper, she insisted that she be judged by her actions and her work in the district, not by what she described as a political witch hunt by her enemies and those in the media.

Reporters in the room pointed out that it was their job as journalists to ask the right questions, including those pertaining to her indictment. Brown angrily said she would answer no more questions along those lines, insisting that such talk was irrelevant to her campaign message.

But at least one of her opponents in that same editorial meeting, Al Lawson, said that a candidate facing 22 counts of fraud and conspiracy must necessarily answer all questions related to the case, stressing that voters have a right—indeed an obligation in a free society—to scrutinize the morals of the candidates who run for elective office.

Oh, I long for the days of yore when the stories of chicanery were beyond incredible. There was the time one Louisiana pol accused another of libel during an election, having been called "a liar and a scumbag" in a public venue by his opponent. The case went before a judge, who basically said the truth would not usually be a valid defense, but for once he was forced to side with the defendant.

Then there's the late, great Woody Bean of El Paso, Texas. A lawyer, judge and state representative, fifth cousin of Judge Roy Bean and considered by many a genuine Texas legend. After all, he was orphaned at two and spent 11 years in a Masonic orphanage, eventually matriculating in the United States Marine Corps before moving on to a law degree and the Texas Legislature.

There were numerous tales of Bean's exploits, but he loved to wend a tale about the time he "represented" a client soon after robbing a grocery story. Interviewing the trusting soul in the local hoosegow, Bean gleaned the fact that the loot was double-bagged in a brown paper sack adjacent to a particular oil well. The upstanding litigant, of course, did the right thing, helping himself to a generous fee and calling it a day. It's enough to make one despair of democracy.

"Woodrow Wilson Bean, ethics is for young lawyers," Bean supposedly said to several friends through the years.

I introduce these anecdotes to contrast with Brown's present situation, because she's not going down without a protracted fight. Greg Kehoe is not some piker litigant with a shingle hanging down some back alley, but a man with a resume beyond impressive.

The Brooklyn, New York-born legal eagle worked for the House Counsel on Foreign Affairs, the Justice Department and the Department of Defense, including high-profile assignments on the War Crimes Tribunal at The Hague in the Netherlands concerning Yugoslavia and the Croatian War of Independence. But he not only prosecuted those accused of war crimes, but sometimes defended accused war criminals.

And via Presidential Appointment, Kehoe worked for the DoD as head of the Regime Crimes Liaison group advising the Iraqi Special Tribunal, which was organized to prosecute former Iraqi dictator Saddam Hussein, along with other members of his regime.

But many of Kehoe's cases emerged with one thing in common—he often finished on the winning side. Therefore, you can see how the federal government will probably now face Brown and one of the world's top litigants, along with his extremely capable stable of experienced lawyers.

A few days ago, I sensed the longtime Jacksonville politician would probably be incarcerated for a long stretch. Today I give her a 50 percent chance of emerging almost unscathed from all charges. But I surely would like to see the paper trail of who's paying for all this high-priced legal action. I'd hazard a guess that this debacle will primarily damage tax payers and private citizens.

Related Thursday Review articles:

Can Corrine Brown Survive This Political Storm?; Earl Perkins; Thursday Review; July 31, 2016.

Corrine Brown's Indictment; Earl Perkins; Thursday Review; July 23, 2016.