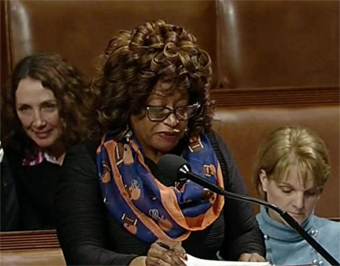 Image courtesy C-Span
Corrine Brown's Indictment
| published July 23, 2016 |
By Earl Perkins, Thursday Review features editor
U.S. Rep. Corrine Brown is one of the most high-profile Democrats to emerge from Jacksonville, and the face of Northeast Florida politics is being forever changed as a result of her legacy—the good along with the bad.

The long-time area Congresswoman now faces indictment on 22 federal charges that she and a group of co-conspirators personally skimmed almost $800,000 from a company posing as a charity designed to help disadvantaged youths, according to the Florida Times-Union. The charitable organization was a noble enough idea: raising money to provide scholarships for disadvantaged area young people. In fact, after hundreds of thousands were raised for the non-profit, only one tiny scholarship was ever awarded, to one student.

"INDICTED" read the bold headline in a typeface so large it is usually reserved for once-in-a-lifetime events. Her answer to the federal charges is to claim she's being racially targeted by the U.S. Attorney's Office and invoking her name in the same sentence as late civil rights leader Martin Luther King Jr., a tactic which could result in tarnishing what's left of her image as champion of the disenfranchised.

It's a fact Brown shepherded millions of dollars to the Sunshine State during a lengthy—and some would say effective—political career, but she now faces overwhelming evidence of fraud and malfeasance associated with One Door for Education, a Virginia company that was never properly incorporated as a charity and eventually emerged as a glorified slush fund, according to court records and public documents.

"I'm not the first black elected official to be persecuted and, sad to say, I won't be the last," she wrote on her blog last week, attempting to associate her plight with unrelated tragedies that have recently trended nationally.

"Two black men were needlessly gunned down by police; five Dallas police officers were slain by a demented man, and on Friday I had to appear in federal court," she wrote. Many observers looked askance at her comparing her current legal predicament with the racial tensions impacting several large American cities, including Baton Rouge and Dallas.

First elected to Congress in 1993, the political gadfly was just beginning her onslaught against the media and detractors, posting video to Facebook on Tuesday reminding constituents and the world about all her good works.

"Martin Luther King was under attack and I've been under attack," she said. "And let me just say I'm not the first African-American that's been under attack and I won't be the last. But keep in mind I have a story to tell. And I'm looking forward to the rest of the story." By which she presumably means her defense team's efforts to thwart the case soon-to-be-presented by the federal prosecutors.

On the video, Brown discusses her record of helping U.S. military veterans, students, the disadvantaged and disenfranchised, and many others, including a claim that she helped more than 54 students receive Congressional Black Caucus scholarships. The video had been viewed more than 2,000 times on Facebook and more than 270 times on YouTube by Thursday morning.

"I really do believe let the work I've done speak for me," Brown says.

Brown has also been criticized for statements she made earlier in the month implying that if federal agents and police had been more interested in tracking terror plots than in persecuting her efforts to help the disadvantaged, the Orlando shooter would have been stopped in his tracks long before he unleashed his violent ISIS-inspired rampage in a nightclub. In Brown's view, well-trained agents and investigators wasted valuable taxpayer money and time on a political witch hunt while an Islamist terrorist was allowed to proceed with his murderous plans.

Brown and her long-time chief of staff, Ronnie Simmons, were charged in a 24-count indictment following a probe that linked them to One Door for Education. The 69-year-old Congresswoman faces up to 357 years in prison and almost $5 million in fines, while Simmons is looking at 355 years in prison and almost $5 million in fines for his involvement in what the feds characterize as little more than a scam to defraud well-meaning contributors. Both defendants entered pleas of innocence last week and were released on $50,000 bail, then ordered not to leave the country, pending a status hearing which is scheduled July 26. Simmons, a 50-year-old Laurel, Maryland resident, has been Brown's chief aide since 1993.

The federal case against Brown hinges primarily on the potential testimony of three people—Simmons, former One Door Executive Director Carla Wiley, and Von Alexander, a former key aide and long-time friend to Brown. We shall see how far their friendship extends, because Wiley has already admitted guilt in the scheme and has been cooperating with authorities.

The long-time public servant has a reputation for vociferously pushing causes, especially anything associated with disenfranchised people and military veterans. She's known throughout her district as an extremely hard worker and relentless when her mind is set on a goal.

"Every mayor going back to when Corrine was first elected has worked with her and respected her efforts as someone who brings home the bacon for Jacksonville," said Jim Crooks, a historian and author of "Jacksonville: The Consolidation Story, from Civil Rights to the Jaguars."

"In that sense she's been as strong a member of Congress for our community as anyone we've had in a long time."

Betty Holzendorf, a former state senator and strong advocate for properly educating area youths, met Brown in the Florida Legislature three decades ago when they sought aid for Jacksonville's Northside.

"Her whole focus was 'what could I bring back to Duval County?' That's the premise she worked from," Holzendorf said. "That's where the slogan came from, 'Corrine delivers.' "

Brown's tenacity and dedication to duty evidently came at a huge cost to her personal life, and Holzendorf noted Brown lost touch with many of her old friends when she entered Congress.

"She dumped a lot of her good friends when she got into that," she said. "...She picked up some sorry ones, too."

Related Thursday Review articles:

Corrine Brown's Legal Problems Deepen; Earl Perkins; Thursday Review; July 12, 2016.

A Congresswoman Versus the Feds; Earl Perkins; Thursday Review; May 22, 2016.