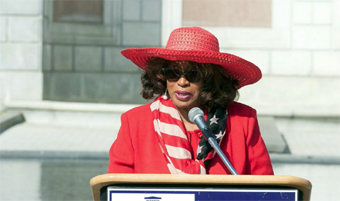 Images courtesy of U.S. House of Representatives/
Flickr
A Politically Perfect Storm for
Corrine Brown
| published March 24 2016 |
By Earl Perkins, Thursday Review features editor
Government, private industry, power and influence, even cash windfalls all seamlessly blend together when it comes to the activities of U.S. Rep. Corrine Brown and her cohorts, according to The Florida-Times Union, the Tampa Bay Times, and several other media outlets.

On Wednesday this week, the Ethics Committee of the U.S. House of Representatives convened an investigation into Rep. Brown's activities during the time she has served the people of a Florida district which stretches from Jacksonville to Palatka, from parts of Gainesville to parts of Orlando.

The House committee will examine Brown's failure to disclose charitable contributions—some of which may have been made illegally. The committee will also look into Brown's alleged failure to comply with tax laws, concerns that she has provided false or misleading information on her taxes and in statements to the IRS, and engaged in improper and illegal forms of campaign fundraising. Brown will face an investigation not just by the House, but also a deep look into her campaign financing, which may have run afoul of Federal Election Commission rules.

For Brown, the House probe comes just as she already faces the wrath of a perfect storm politically.

On the heels of controversy only weeks ago about a non-profit group with close connections to Brown (D-FL)—a charitable organization which raised hundreds of thousands of dollars for educational scholarships but in fact awarded only a single $1,000 scholarship to one student—Brown now finds herself embroiled in a new fracas involving the Jacksonville Transportation Authority and hundreds of thousands paid out in contracts.

One of the Florida congresswoman's longtime staffers has for years apparently used her close relationship with Rep. Brown to gain valuable contract work with the Jacksonville Transportation Authority (JTA), accepting hundreds of thousands of dollars—an act which flies in the face of federal guidelines designed to prevent such precisely this sort of favoritism and financial shenanigan.

Von Alexander received at least $341,000 through several JTA contracts since 2006. In her role as a contractor for the transportation agency, Alexander earned up to $150 per hour for community outreach work and public affairs, including handing out JTA flyers at churches and ice cream socials. A handsome fee indeed for basic PR work.

But Alexander also makes approximately $25,000 annually as Congresswoman Brown's community development director.

The two jobs operate concurrently, meaning Von Alexander draws one modest salary with full-time benefits while simultaneously interacting with Brown as a key JTA subcontractor, earning substantially heftier fees, though without the medical, dental and retirement plans attached.

Both roles place Alexander front and center of important forms of outreach within the community, but combined the two jobs bring a powerful political overlap that other lawmakers say creates not merely the glaring appearance of a conflict of interest, but the likelihood that Alexander's work crosses the boundary into unethical behavior.

Brown's numerous defenders say that neither Alexander nor Brown broke any laws—not technically, at least, and not when one reads the letter of the law. But critics of both say that the mere fact of that significant overlap is enough to give any reasonable person pause. And it will clearly be a part of what the House probe will explore.

But there is more to Brown's current political storm. Rep. Brown is already knee-deep in the complexities of a lawsuit she filed late last year attempting to stop lawmakers from redrawing her elaborately-configured congressional district. Last July, the Florida Supreme Court ruled Brown's 5th District—along with seven other districts—was politically gerrymandered, and signaled its distrust of lawmakers by providing detailed instructions on how to repair the map. But Brown has said that the redrawing of the map is, in effect, part of a political scheme to send her packing and kill the district's viability and leverage.

"What was the purpose of redrawing the district except to destroy the 5th Congressional District?" Brown has said. Brown and her attorneys have a hearing in a Tallahassee courtroom on Friday to defend the shape of her congressional district. A three-judge panel will listen to arguments, examines maps and diagrams, and consider the myriad of demographic factors involved.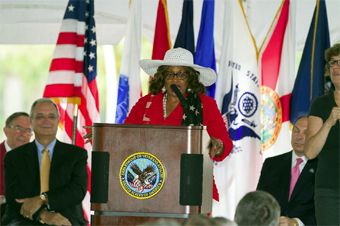 Brown's district, even to her defenders, is in fact one of the most circuitous in the Sunshine State, and the district may rank as one of the most serpentine in the nation. Crafted carefully to follow the contours of an area west of the St. John's River, District 5 covers much of a wide artery of predominantly African-American towns, communities and neighborhoods. Defenders of the shape of the district point out rightly that it essentially gives Sunshine State blacks access to the halls of power in Washington. African-American voters in the district can freely choose from among the most qualified from within the district to represent their voice in the nation's capital.

By breaking that district up to make it more contiguous and less serpentine, black votes will be diluted and fragmented, and many former residents of Brown's district will find themselves inside the borders of new districts where the majority of voters will be white.

Brown has filed an injunction against any breakup or realignment of the district, and she is challenging the usefulness of the newly-drawn District 5, which will now include a vast 200-mile-long east-to-west tract of upper Panhandle Florida—fewer blacks and more whites. Worse, she says, are all those prisons—25 by her count. Those prisons, which tend to have a disproportionally large African-American and other minority population, skews the demographics sharply: prisoners cannot vote, yet the those same prisoners are counted by the U.S. Census Bureau, meaning their presence adds to the complex metrics used in determining the demographic breakdown of the congressional district.

The serpentine nature of the current District 5 is not in question by friends or foe of Brown. According to Brown's legal team, its shape, however circuitous and counter-intuitive, means that Florida has a congressional district which comfortably complies with the Voting Rights Act of 1965.

District 5 also makes for strange bedfellows. Critics of the serpentine design say that the only reason that the GOP-controlled legislature plays ball with such an elaborate congressional district is that it facilitates a corridor densely-packed with black voters into one mega district, effectively shunting their predominantly Democratic voting patterns away from neighboring districts. In other words, Brown's district reinforces the strength of her Republican neighbors, and fosters a win-win for entrenched politicians and incumbents on both sides of the aisle.

But a long-running legal battle—dating back more than six years—has brought the issue of District 5 to a head. Several public interest groups and political groups have taken issue with the district's out-of-the-box boundaries, and have said that it amounts to little more than overt, unvarnished gerrymandering. The "Fair Districts" amendment, approved by Florida Voters in 2010, was meant to prevent legislators from creating, or perpetuating, such serpentine bordermaking.

Critics of the existing map say that District 5—though it does channel tens of thousands of blacks into a single, cohesive political bloc—nevertheless fails epically to serve its high-minded and intended purpose, and instead corrals "disparate communities" into one unmanageable patchwork of unrelated elements: urban interests, suburbs, rural areas, farming, fishing and forest, and competing cities and counties, from Duval in the north to Orange and Seminole in the south, to Marion in the west. Florida's District 5, the critics say, has no other American counterpart drawn with such circuitous and serpentine lines.

Only after the Florida House, because of political squabbling, failed to reach an accord over how to redraw the map did the Florida Supreme Court take matters into its own hands, approving a version of the congressional district map in which Brown's new constituency would be drawn from a radically different part of the Florida map. Granted, there are plenty of black voters, but the district will be far from a black majority—a harsh reality which will surely undermine Brown's political security and make reelection more difficult and costly. And according to her, those prisons skew the math even further.

She says that the elimination of her old District 5 will disenfranchise thousands of black voters in Florida. Brown says the whole thing smacks of an organized attempt to destroy not just her district, but also her, personally and politically.

The House probe into her tax filings and her disclosures, therefore, add hail and high wind to an already dangerous political storm. Brown now faces a flurry of problems arriving almost simultaneously on her calendar.

Some of the controversies have deep roots that go back many years. There were ethical lapses and embarrassing faux-pas which included helping a friend secure a large federal grant on a doomed-to-fail One Stop Economic Development Center, which eventually cost Jacksonville taxpayers about $300,000. Then there were the improprieties with legislative aides and the travel agency she owned, a fracas which resulted in her being forced to pay $5,000 to the state Ethics Commission.

After first reaching Washington, Brown faced the Federal Elections Commission when it was discovered her top aide had been convicted of second-degree murder, and additionally she stood accused of violating campaign finance laws. Then Brown sent a letter to "concerned" directors of political action committees, claiming her campaign was $50,000 in debt and that she served on influential congressional committees.

Bored and snarky staffers for Spy magazine even jumped into the fray, calling freshman House-members and asking oddball questions in a faked radio interview. Obviously, Brown was no fan of the 1933 Marx Brothers' classic movie "Duck Soup," or she might have responded differently to a question concerning ethnic cleansing in an imaginary country called Freedonia.

"I think all of these situations are very, very sad," she opined in that interview, "and I just think that we need to take action to assist these people." The incident did not bode well for her understanding of world geography.

However, Brown is tenacious as a bulldog when it comes to bringing pork-barrel projects to her district and fighting for area issues while in Washington, where she's represented that Rorschach-shaped swath of Florida since 1993. Brown has easily sidestepped everything her adversaries have thrown at her, almost always emerging stronger than before.

Then, of course, there was the $50,000 car a West African millionaire had given to Brown's daughter, a lawyer at the Environmental Protection Agency in Washington. Brown led a feverish lobbying campaign to keep Foutanga Dit Babani Sissoko out of prison concerning a Miami bribery case, writing letters to Attorney General Janet Reno, lobbying congressional colleagues, and meeting with foreign diplomats on the man's behalf. She even later visited him in prison.

It's supposedly illegal for members of Congress to accept such gifts, but I hear those Lexus LS400's are quite luxurious, especially with leather interior and moon roofs. And the car had absolutely nothing to do with bribery, according to Sissoko's attorney, Tom Spencer.

"I was told that it was just a thank you, it was just a gesture of friendship," he said.

At the time, Brown had also recently received $10,000 from a secret bank account that Rev. Henry J. Lyons, president of one of the nation's largest Baptist organizations, was allegedly using for money laundering. Although she claimed the funds were used to bus supporters to a Tallahassee rally, the Jacksonville congresswoman was unable to provide records or receipts showing a paper trail.

But getting back to recent events...

Coming on the heels of Brown helping steer $800,000 to a fake Virginia charity, one would think she'd fly under the radar, at least for a while. One Door for Education/Amy Anderson Scholarship Foundation President Carla Wiley recently pleaded guilty to removing $140,000 for personal use from the company account, while agreeing in public documents that other funds were disbursed to an account linked to Florida's 5th District congresswoman.

Throughout the past four years, Brown has steadily used her name, office and political connections while courting potential donors to raise several hundred thousand dollars for the obscure group headquartered 700 miles from her home, calling it a charitable nonprofit.

Alexander, a key member of Brown's inner circle, has done subcontract work for JTA, which regularly involves communicating with Brown's office. Thousands of pages of public records show Alexander is actually a go-between for Brown and the governmental agency, although JTA officials say Alexander performed community outreach and "provided credibility with our customer base" during such actions as overhauling the city's bus routes and adjusting senior-citizen fares.

Members of Congress and staff are barred from using their positions for private benefit or to work with outside people or organizations with interests before Congress (i.e. lobbying). House of Representatives ethics rules also bar employees from serving in local government offices unless they can "maintain an absolute separation of the two positions."

Alexander's arrangement "definitely appears to be a conflict," said Jordan Libowitz, communications director for Citizens for Responsibility and Ethics in Washington, a nonpartisan watchdog group.

The conflict-of-interest policy "basically bans anyone like Von Alexander who is working for a congressional office to help someone get in front of...Congress," he said. "It's important they follow the spirt of the regulation as well as the letter of the law."

Almost everyone involved in the morass are feigning ignorance of the rules and laws concerning Alexander's association between JTA and Brown's office. She works as a subcontractor handling pieces of projects awarded to other companies, not directly for JTA, and a partner at one of those companies describes Alexander's responsibilities as "general government affairs and public affairs duties as the Authority requests."

Anyone even vaguely familiar with Northeast Florida politics knows Brown and Alexander have been closely linked for decades, but JTA officials claim ignorance of Alexander's role with Brown's office. Alexander has been on the congresswoman's payroll for 15 years, and it's no secret she's a primary linchpin on Brown's political action committee, Friends of Corrine Brown.

JTA officials insist that they didn't know Alexander was Brown's employee, at least according to JTA spokeswoman Leigh Ann Rassler. But that's splitting hairs, because Alexander's one-page resume in a bid for JTA work touts 22 years of public relations and marketing experience, while skirting her 15-year career on Brown's staff and her association with Friends of Corrine. Meaning that the connection was right there in print.

"Quite an ethical morass," said Craig Holman, a lobbyist for Public Citizen, an advocacy group focused on improving public control over government. That answer came in response to a Times-Union question which didn't name people or agencies, but described Alexander's role at JTA. Even someone working part-time for a lobbying or consulting company is evidently forbidden from this interaction, which may not bode well for Alexander and Brown. Holman noted that House members are barred from using their office or official position for personal gain.

Related Thursday Review articles:

Congresswoman Under the Investigative Glare, Again; Earl Perkins; Thursday Review; March 7, 2016.

March 22 Primaries Extend Front-Runner Delegate Counts; Keith H. Roberts; Thursday Review; March 23, 2016.