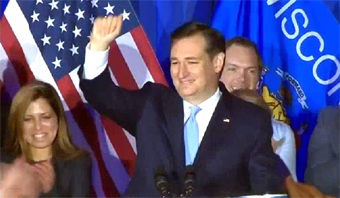 Ted Cruz addressing supporters after Wisconsin win/
Image C-Span
Cruz Cruises to
Victory in Wisconsin
| published April 6, 2016 |
By R. Alan Clanton, Thursday Review editor
The likelihood of brokered Republican National Convention this summer just grew to nearly 100% in the wake of Texas Senator Ted Cruz's big win in Wisconsin on Tuesday.

Cruz, buoyed by the additional endorsements of several key Republicans and aided by Wisconsin Governor Scott Walker—once a GOP front-runner—smashed front-runner Donald Trump in a key primary which will now likely deliver Cruz a valuable trove of delegates. Cruz's win bolsters his campaign even as it also reduces the numerical odds for Trump.

Though Cruz's sweeping win in the Badger State boosts his campaign, its larger effect is to greatly increase the odds that when Republicans meet in July in Cleveland, they will not have a presumed nominee.

Political experts and number-crunchers agree that for either Trump or Cruz to win outright on the first ballot in Cleveland, Trump would have to win some 60% or all remaining delegates, and Cruz would have to win at least 88%. Most agree that any such scenario is unlikely, and with Ohio Governor John Kasich still actively campaigning and expected to do well in several upcoming Midwestern states, the likelihood of a brokered convention is now extremely high.

To secure the nomination on a first-ballot vote, a candidate must have at least 1,237 pledged delegates. Trump currently has about 740 committed delegates; Cruz has 514; Kasich has 143. At least four other non-active candidates also have pledged delegates, including Florida Senator Marco Rubio, former Florida Governor Jeb Bush, neurosurgeon and author Dr. Ben Carson, and New Jersey Governor Chris Christie. Depending on how the final math rolls out on Wednesday, Wisconsin could deliver most of its 42 delegates to Cruz. As of midday Wednesday, the New York Times was estimating that Cruz would receive 36 delegates, Trump 5 or 6.

With nearly 100% of precincts reporting, Cruz won statewide by 49% to Trump's 35%, a margin of nearly 15%. Kasich placed third with 14%. Cruz's win was not geographically massive, however; Trump carried many of the smaller towns and sparsely populated counties, and in some cases only narrowly. But Cruz's ground operations carried the day, out-organizing in the several dozen key counties and congressional districts, and racking up big wins in the cities of Green Bay, Eau Claire, Oshkosh, Madison and Milwaukee. Cruz won Milwaukee County by a stunning 54.4%, and he carried Waukesha, Washington and Ozaukee Counties, suburban areas of north and west of Milwaukee, by more than 61%. (Similarly, Vermont Senator Bernie Sanders won a massive victory in Wisconsin; in Sanders' case, however, his win was virtually total, with the loss of only three counties to front-runner Hillary Clinton).

Wisconsin was widely considered a must-win state for Cruz to ensure that his campaign was able to move forward with both cash and the delegate count. But the Badger State also became a critical battleground in the ongoing, now bitter fight between Trump's forces and the anti-Trump movement.

Trump's loss in Wisconsin came after a particularly troublesome 10 day stretch, which included misfires on issues ranging from abortion to nuclear weapons to NATO to Israel, and legal problems with campaign manager Corey Lewandowski, now charged with battery and assault for his alleged rough-handling of a reporter at a campaign event. Rumors of divisions within Trump's high command have also been confirmed by his campaign team's apparent tactical mishaps going into Wisconsin, a state which the real estate mogul had predicted he would easily win.

Trump also faced the most intense bombardment yet from the forces now aligned against him—a coalition of party regulars, movement conservatives, party elites and mainstream GOP voters. Cruz's victory in Wisconsin also showed signs that the Texas Senator is galvanizing many of the same groups that were once drawn to Trump's message—voters in suburban and exurban areas, and angry middle class voters.

One major factor in how Republicans voted in Wisconsin: worries that Trump could do damage to the GOP in the fall in a theoretical matchup with Hillary Clinton. Indeed, electability was the main factor cited by those who said they had voted for Cruz or Kasich. Exit polls also produced an even more worrisome reality for the GOP itself: a significant number (18.5%) of Wisconsin voters said that if Trump becomes the GOP nominee, they would vote instead for a third party or independent party candidate, while a full 6% said they would just stay at home on Election Day. National polls also show a rising concern, among those who identify themselves as Republicans, that Trump could damage the party in November.

All the more reason, Cruz and his supporters say, for Republican voters in the upcoming states to make the shift to Cruz. Kasich, too, makes the case that he should stay in the race to the convention, citing the fact that many nationally-conducted polls show him faring best against Hillary Clinton in a one-on-one match-up. Kasich, though he trails badly in the delegate count, still sees his path to the nomination through the thicket of an open convention. Cruz, however, would like for Kasich to suspend his candidacy so that anti-Trump voters can rally around a single candidate. For his part, Cruz's Wisconsin win seems to show that his candidacy is gathering that essential momentum.

In his victory speech to supporters, Cruz clearly sounded like a candidate pining to be the front-runner. Though he rarely mentioned Trump, he sought to use Wisconsin as a sign that the GOP is turning away from the billionaire's populist message, and beginning to turn again toward the heart of the Republican message.

The battle moves east, where Trump has generally been believed to hold the advantage, especially in his home state of New York. Trump holds a solid lead there, but some polls shows the race tightening in New York.

Kasich had hope for a better showing in Wisconsin, where the state's traditional form of conservatism, its Midwestern values, and its upscale GOP electorate should have propelled him toward better scores in at least some counties. But he pulled in third in all counties, some more distant than others. Kasich's best showing came in Dane County (Madison), where he finished a close third (29%) behind Trump. But in many counties Kasich was able to muster only five-to-15 percent of the vote.

Related Thursday Review articles:

Will the GOP Loyalty Pledge Get Shredded?; Keith H. Roberts; Thursday Review; April 1, 2016.

Trump and Cruz in Agreement: Kasich Must Go; R. Alan Clanton; Thursday Review; April 4, 2016.