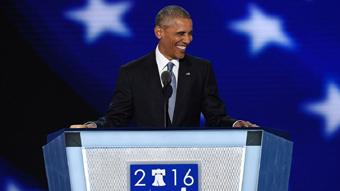 Image courstesy of C-Span
Obama Highlights Night of
Unity and Attacks on Trump
| published July 28, 2016 |
By Keith H. Roberts, Thursday Review contributor
Democrats engaged in a massive show of unity at their convention in Philadelphia on Wednesday night with headliner speeches by Vice-President Joe Biden, Vice-Presidential nominee Tim Kaine, and current President Barack Obama—all delivering addresses offering their own reasons for supporting nominee Hillary Rodham Clinton, now just one day away from accepting her role as flag bearer for the party.

Largely gone were the boos and catcalls, shouts, and floor disruptions from Sunday and Monday, replaced with the sort of show of unity which DNC officials had hoped all along would stand in stark contrast to the sometimes unsettled and contentious Republican convention of the previous week.

In place of the frustration and anger—much of it simmering from the supporters of Vermont Senator Bernie Sanders, and the majority if it springing back to life after it was revealed in leaked emails that DNC chairman Debbie Wasserman-Schultz had been maneuvering to tip the scales in favor candidate Hillary Clinton—came a unified message of support for the former First Lady and the former Secretary of State.

The highlight of the evening was Obama's speech, an address which began at 10:55 p.m. and ended shortly before midnight, a barnburner which Democratic strategists hope will seal the deal for their nominee in November. Obama's central theme: ensure the legacy of the current administration continues to move forward by working to elect Hillary Rodham Clinton, now the Democratic nominee, as the 45th President of the United States. Obama stressed Clinton's tenacity and preparedness for the job.

"No matter how daunting the odds," he said, "no matter how much people try to knock her down, she never, ever, quits."

Obama's ringing endorsement of Clinton, once his most tenacious political rival, brings the political epic full circle, with the current President seeking to burnish and polish the luster of his administration's successes by insuring a wide path for Clinton in November, perhaps even more critical historically as the likelihood of a Republican controlled House and Senate remain strong and serving as a harbinger of at least four years of gridlock.

The President also stressed Clinton's vast experience and battle-tested decision-making ability. No one, he said, has ever been as ready or better qualified to assume the Presidency.

"No man, no woman, not me, not Bill, not nobody," he said, "is more qualified to become the President of the United States," prompting former President Bill Clinton, sitting in the upper deck in the area, to join in a standing ovation. Citing the American political tradition of citizen control over government, Obama also took a shot at Trump's heavy-handed style and angst-laced tone without naming him.

"Our power," Obama said, "doesn't come from some self-serving self-declared savior promising that he alone can restore order as long as we do things his way."

The President's speech came as the penultimate moment for a night of sharp attacks on GOP nominee, businessman and real estate mogul Donald Trump. On Wednesday, other top tier Democrats preceded Obama on the stage, setting the tone and establishing the pace of the ordnance now aimed at Trump.

Vice-President Joe Biden delivered an impassioned and forceful—at times even gregarious—attack on Trump, repeatedly asking delegates and those watching on television to carefully consider the true import of a Trump administration, both domestically and on the foreign stage. Biden called many of Trump's assertions about terror and immigration "malarkey," and sought to root his economic barbs against Trump in his own humble, middle class and working class upbringing.

Also appearing at the podium for what amounted to his introduction to millions of Americans was Virginia Governor Tim Kaine, now officially Clinton's running mate going into the fall. The soft-spoken Kaine, at first giving the audience a primer on his upbringing as a Jesuit student in Minnesota and Kansas City, and his later move to Virginia—as well as a look at his modest start in politics as a councilman in Richmond, Virginia—circled his intended target for a while before launching into a scathing assault on Trump, including a fair-to-middling attempt at impersonating Trump's signature "believe me" line, used by the billionaire to stress his positions and stances on certain issues.

Kaine also attempted, with modest success, to bridge the large gap that exists between his own centrist positions and those of the progressives and leftists still stinging at the loss of their leader Bernie Sanders, and now angered afresh by evidence found in emails that some top DNC officials sought to preordain Clinton's path to the nomination.

Kaine spoke talked of his most difficult day as Governor of Virginia, when a troubled armed gunman opened fire on the campus of Virginia Tech, killing dozens of students, staff and faculty members.

Whether Kaine is able to retain the trust of progressives—many of whom regard his centrism and moderation a form of quasi conservatism—remains to be seen. Still, his speech on Wednesday to delegates in Philadelphia signaled that he intends to back Clinton to the fullest while also using his skills as politician and public speaker to attack Trump in blistering style.

Kaine and Biden were not alone in the unified assault on Trump Tower. Former New York Mayor Michael Bloomberg, himself a billionaire through his media and financial businesses, in effect called Trump "a con" and a "phony," suggesting that Trump's never-to-be-released taxes hide a sordid story of swindles, mismanagement and even fraud. Bloomberg, an independent, stressed from the beginning of his speech that he did not necessarily agree with Hillary Clinton on some points, and that he may even at times find agreement with Republican philosophy. Nevertheless, Bloomberg's distrust of Trump as a leader, he told delegates, prompted him to endorse and support Clinton.

Last year, and earlier this year, Bloomberg and his staff explored the possibility of launching a third party run for the White House, an option which he eventually scuttled after polls showed he would have little impact on the election, and that he might even tip the scales inadvertently in favor of Trump. Bloomberg's speech to Democrats also included a jaundiced eye toward Trump's business practices, including frequent bankruptcies, illegal workers, guest workers, frequent lawsuits against vendors, and court cases involving non-payment to suppliers and vendors, all which Bloomberg says are the actions of a terrible business leader, not the genuine article.

"The richest thing about Donald Trump," Bloomberg said, "is his hypocrisy."

All the major speakers of the night assaulted Trump mercilessly on his call to Russian leader Vladimir Putin to expose more of Clinton's missing and deleted emails, a misfire which Trump attempted on Thursday to walk back, claiming, in part, that he was speaking sarcastically and not literally.

But the speeches by Bloomberg, Biden and Kaine were merely the warm ups for Obama's soaring address to delegates, which included an overt call for Democrats to take the progress of the last four years to a higher level.

Obama began by reminding Democrats and Americans that it was only 12 years ago to the very night that he addressed Democrats at their convention in Boston; then he was a candidate for the U.S. Senate in Illinois speaking at a convention on behalf of candidate John Kerry. Now, more than a decade later, Obama says that Americans must choose between the dark, dismal view of Republican Donald Trump, and the other view—one which Obama calls "the America I know."

"It's not just the choice between parties or policies, or the usual differences between left and right," the President said, "This is a more fundamental choice…about who we are as a people, and whether we stay true to this great American experiment in self-government."

The narrative of Obama's legacy now historically linked to the success of Hillary Clinton was one not lost on those in the arena, even as Obama reached the conclusion of his speech.

"Thank you for this incredible journey," he said, "now let's keep it going." As he acknowledged the thunderous applause from the room, Hillary Clinton appeared at the side of the stage, leading the former political rivals to embrace and then wave to the crowd.

Clinton will address delegates on Thursday night.

Related Thursday Review articles:

Bill Clinton Highlights Tuesday for Democrats; R. Alan Clanton; Thursday Review; July 27, 2016.

Bernie Sanders, Michelle Obama, Highlight Convention Beset by Heckles; R. Alan Clanton; Thursday Review; July 26, 2016.