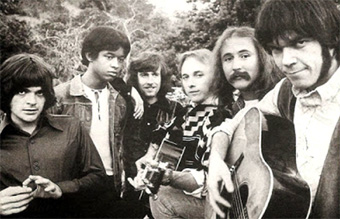 A 1969 promo photo of (left to right)
Dallas Taylor, Greg Reeves, Graham Nash, Steven Stills, David Crosby, Neil Young.
Atlantic Records.
Former Crosby, Stills & Nash
Drummer Dies…One Year Ago
| published January 22, 2016 |
By Keith H. Roberts, Thursday Review contributor
Call it Celebrity Apocalypse. Or, as someone termed it, Dawn of the Talented Dead.

In the midst of all the sadness and grief, and all the outpourings of well-wishes for the families and friends of this recent tsunami of celebrity deaths, the internet added Crosby, Stills & Nash drummer Dallas Taylor to a long list of musicians and entertainers now passing into the great concert stage beyond.

Natalie Cole, Lemmy Kilmister, Angus Scrimm, Scott Weiland, Glenn Frey, David Bowie, Alan Rickman, Dale Griffin…the list goes on and on. Frey died within mere hours of the death of Griffin, drummer for Mott the Hoople. It was uncanny, unreal.

Then, alas, as if to add salt to the simmering wounds, there came word of Dallas Taylor, famed drummer of CSN, now joining that ever-crowded rock and roll band in the sky. His death added additional shock to a rock world rocked…again.

There's only one minor problem.

Dallas Taylor died one full year ago, in January 2015. Stop the presses, and delete all those Facebook posts, ignore those Tweets. Don't stumble upon on that post on StumbleUpon.

Reports of his death—to paraphrase Mark Twain—were neither premature, nor even timely, nor exaggerated. They were downright late.

That sudden surge of reports of Taylor's death were an elaborate internet hoax, or a quasi-hoax, or anti-hoax, as one friend put it. Or it may have been a simple case of someone wandering across his obit from one year ago to the day and mistaking it for another sign that Rock & Rock Rapture has arrived. But Taylor is in fact already dead, just as news reports indicated a year ago. And, to quote an old SNL sketch from the 1970s, he's still dead.

You can only die once, unless you're James Bond or J.R. Ewing.

In all the hubbub over other celebrities shuffling off the mortal coil in rapid succession in December and January, few people on Facebook or Twitter bothered to check the facts before they began sharing the sad, if not seriously elderly, news. Within 10 or 12 hours word of Taylor's unfortunate passing had rounded the globe a dozen times and spawned millions of notes of sadness. Such is the state of affairs of the internet that these things go totally viral before the average Joes and Janes of Facebook, Twitter, Google, Reddit and umpteen other forms of social media increase traffic even when the cars and trucks are empty, devoid, in fact, of actual news.

Example: Ten days ago, immediately after Thursday Review published a post regarding the decision by NCIS star Michael Weatherly to forgo another season of the highly rated show and moving on to other acting projects, many of our Facebook followers were dubious (as if we would make something like that up!). One reader posted simple "Is this true!"

Yes it is true. "But where did you read that? Maybe they made it up!" We got our information from the Associated Press, that's where. "Who's that?"

Sounds suspiciously like "mainstream media," to quote Sarah Palin, who now blames Obama for her son's acts of domestic violence.

But, sadly, Dallas Taylor is dead, and has been for a long stretch now. He is definitely not a part of the current wave of the Dear Departed, though he may be waiting for them as they arrive single file somewhere up above.

Life in the fast lane, to quote Glenn Frey. Or, to quote one of the funniest lines in Die Hard: "I must have missed 60 Minutes…what are you trying to say?" We can thank the recently departed Alan Rickman for that one.

Legendary actor Bob Denver suffered—or enjoyed—the same fate only days earlier. Denver died in September 2005, more than ten years ago. But that darned internet thing just went crazy last week with the alarming news of his tragic re-death. It was shocking to see how many people on Facebook posted and reposted and re-reposted the obituaries of the great Denver, known for his role as Gilligan on an island by the same name, and for his portrayal of the beatnik Maynard G, Krebs on the TV series The Many Lives of Dobie Gillis.

In the late 1960s, millions tuned into CBS each week to watch Gilligan's antics on a small uncharted Pacific Island. Forty-five years later, and darned if many millions more are shocked at his re-death and re-burial. People would post a sad note about Denver's passing, then, strangely, they would ignore all the people who attempted to point out that Gilligan had long ago traveled to that tropical island in the sky, where even now he sips colorful drinks from coconut shells.

It's the reverse of the celebrity death hoax, like all those times that the internet has tried to kill actor Morgan Freeman with pancreatic cancer, or all those times that Johnny Depp has been killed in a freak car accidents.

Meanwhile, poor Dallas Taylor, legendary drummer, remains dead another year. There have been no changes to his autopsy reports; he still died from liver disease and viral pneumonia. He will still be remembered for all those classic hits his percussion sounds adorn, not just in CSN, but also in the Doors and for Neil Young. He is also a grim reminder that the rock and roll generation grows older with each passing day.

And Dallas Taylor's re-death is also a quaint reminder to folks like Keith Richards—keep puffing on those Lucky Strikes. Time is running short.

Related Thursday Review articles:

Glenn Frey: The Passing of a Rock & Roll Legend; R. Alan Clanton; Thursday Review; January 19, 2016.

Alan Rickman Dies at Age 69; R. Alan Clanton; Thursday Review; January 14, 2016.