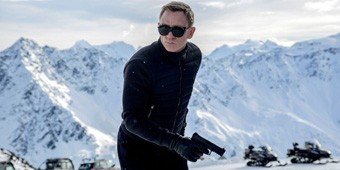 Image courtesy Eon Pictures/Sony Pictures/MGM
Will Daniel Craig Soon Leave the James Bond Series Behind?
| published October 11, 2015 |
By Thursday Review staff
Actor Daniel Craig says he may be done with the James Bond franchise. Craig has told reporters for various entertainment newspapers and magazines that although he has felt honored to have been allowed to take on such an iconic role, he is uncertain as to whether to extend his Bond persona past the end of the five films he is committed to make.

Later this month MGM and Sony Pictures will release the newest Bond adventure, Spectre, to selected audiences in the U.S., the U.K. and Canada before the big rollout in early November. Spectre is Craig's fourth turn in the role of James Bond, which means—in theory at least—Craig would participate in one more 007 project, at which time, he hints, he may move on to other things.

But Craig has delivered variations of this answer to other reporters in the U.S. and U.K. for more than a month now, and his inner torment is on display.

Aside from the long periods of time required to shoot the often-elaborate and complex Bond movies—where a "normal" film can be shot in three-to-four months, 007 flicks typically require seven or eight months just for principal shooting—Craig also says that Bond films are physically demanding and exhausting. All in a day's work, perhaps, especially considering the size of the paycheck, but according to Craig, enough is enough.

He has indicated in several recent interviews that he feels his agreement to shoot five Bond movies is fair and reasonable. Besides, audiences generally want to move on—to a new face and a new persona.

Not counting the so-called Marvel Comics Cinematic Universe (which includes dozens of movies using dozens of varying superhero characters), the James Bond franchise is the most successful in motion picture history—some 25-plus films stretching back to 1962. Two additional 007 movies, produced outside of the Eon Productions canon, can also be added to this list. Among those who have portrayed agent Bond: Sean Connery, David Niven, George Lazenby, Roger Moore, Timothy Dalton, and Pierce Brosnan. All told, gross receipts for the 007 series total nearly $6 billion; a massive sum, and a reliable cash machine likely to provide the incentive to continue producing movies about the durable Mr. Bond for many more decades.

Craig indicates that once he completes his fifth in the series, he will move on—a decision which will, again, trigger the start of a massive search for the next 007. He jokes that he has been doing it for the money all along, but at the heart of his ambivalence is a sense that he would like to regain control of his time and his space. In a recent interview with the British magazine Time Out, he exposed some of that exhaustion when asked did he want to keep making Bond films.

"I'd rather break this glass and slash my wrists," he intoned, "No, not at the moment. Not at all. I'm over it at the moment. We're done. All I want to do is move on." But a moment later, when reporters pressed him for clarification (as if it was needed after such an emphatic response), the 47-year-old Craig backed-off his answer, saying "I haven't given it any thought."

Among actors, that response is identical to the answer given when reporters ask an American politican if they plan to ever run for President: I haven't given it any thought. Which, as everyone knows, means yes.

Among the things which have given Craig pause to reconsider sticking with the physically-demanding role of 007: a serious knee injury sustained early in 2015 during the shooting of a fight scene for Spectre. The injury required surgery in April, then, sparked some Hollywood rumors that Craig was reconsidering fulfilling his commitment to make the fifth film.

According to the U.K. Mirror, Spectre's final price tag was about 210 million pounds, roughly $325 million, making it arguably the priciest Bond movies ever made, and one of the most expensive films ever shot, period. Word of the movie's massive price tag leaked out among those thousands of emails and documents hacked from Sony Pictures last year. And among that correspondence were emails, some terse, some angry, that the film was already over budget and headed toward financial catastrophe. The internal debate at both Sony and at MGM concluded with the ominous concern that in order to reap a reasonable return, marketing and advertising would also have to be ramped up to ensure that theaters in the U.S. and Britain are sufficiently packed.

And among some of the leaked Sony emails were numerous discussions about how to get the cost of the production under control, including some rather infamous exchanges about tax breaks offered by the Mexican government for shooting in and around Mexico City, and the harsh stipulations that the government of Pena-Nieto imposed on the filmmakers. Example: the principal arch-villain for Spectre could not be Mexican, as originally crafted in the script; instead he is Italian, played by an Italian actor. Another requirement was that the numerous aerial shots include images of contemporary hotels, modern office buildings, and glistening glass and steel—as opposed to some of the most rustic and squalorish scenes the script had called for. In the end, the producers acquiesced in most of these requirements, which helped somewhat to reduce both expense and worry.

This kind of pitched debate over cost and return can often lead to moviemaking debacles, as everything spirals out of control. But Bond enthusiasts are sure that this one will easily make the break-even point, and then quickly turn a handsome profit. If so, it will set a rather high bar for future Bond films.

In the meantime, Daniel Craig may continue to intimate his need to move on to other projects. His ambivalence has prompted a few brief skirmishes among the studios and the publicists over his intention to complete the one additional Bond movie stipulated in his agreement. If he closes that door completely by declaring that he will never play 007 again, the search will begin to find the new James Bond. Among those sometimes mentioned are Michael Fassbender (of the X-Men series, and who plays Steve Jobs in the upcoming film of the same name), and Damian Lewis, known for his roles in the HBO series Band of Brothers and for his role in the Showtime series Homeland.

In the 2006 film Casino Royale, Craig's first outing as Bond, was widely considered a reboot of the franchise, taking the series deftly into the new millennia and into a new range of technological changes. The film also takes us back to Bond's early days as a secret agent of MI6. The most recent Bond film, Skyfall, was not well-received critically but still made a mountain of cash at the box office, proving that the Bond franchise is perhaps more durable and profitable than some of the Hollywood critics might predict.

It also proves that if Craig decides to leave the series completely, there will be many more Bonds, and 007 movies, to follow.

Related Thursday Review articles:

There Can Only Be One Bond; Thursday Review staff; Thursday Review; September 25, 2014.

Our Favorite Villainous Giant; R. Alan Clanton; Thursday Review; September 11, 2014.