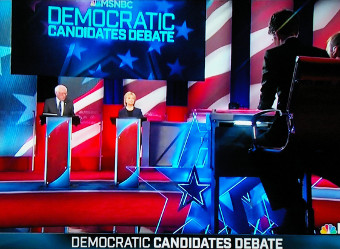 Images courtesy of MSBNC
Wall Street Takes Center Stage in Democratic Debate
| published February 5, 2016 |
By R. Alan Clanton, Thursday Review editor
In a televised debate only days ahead of the New Hampshire primary, the two major Democratic candidates for President sparred intensely and heatedly over the issues of Wall Street, big banks, campaign finance reform, Goldman Sachs, and the power and breadth of the financial industry in the United States.

In what was arguably the most combative debate yet for the Democratic candidates, and the first forum in which the only candidates were front-runner Hillary Clinton and insurgent Vermont Senator Bernie Sanders, arguments about Wall Street and the power of Big Money to influence or dominate politics became the flashpoint center-stage.

The debate, held in New Hampshire and hosted by MSNBC and moderated by Chuck Todd of NBC News and Rachel Maddow of MSNBC, received high ratings. Those who tuned-in saw sparks fly early in a compelling one-on-one match-up. Debate-watchers and opinion-makers are deeply and evenly divided over whether Hillary Clinton won the debate based her on poise, style and combativeness, or whether Sanders got the upper hand for his philosophical consistency and his plain talk representative of his campaign, which he considers a "movement."

The debate came just one day after a televised town forum hosted by CNN in which Clinton was forced to give uncomfortable answers to questions about her relationship with Wall Street and the giant investment firm Goldman Sachs, and the Thursday night debate came just days after Clinton and Sanders fought to a virtual tie in the Iowa caucuses, where exact ties in some counties and precincts were decided by a coin toss, and where the vote was so close in other areas that some Sanders supporters have called for a complete recount.

Sanders, who has generally held his fire on the ongoing controversies over Clinton's private email account and homebrew server, has nevertheless pounded Clinton—sometimes indirectly, at other times directly—over her perceived coziness with Wall Street and the mortgage and financial industries. Sanders has also implied on many occasions that Clinton may be held in check by dint of the millions in speaking fees and consulting fees paid to her by pharmaceutical giants and by other large corporations.

Sanders largely independent and insurgent campaign is anchored on his contention that the political processes in the U.S. are now beholden—at least to a large extent—to Washington lobbyists representing a long list of major corporate interests, from telecommunications giants to mortgage lenders to big banks. Sanders also frequently tells audiences that he believes Wall Street and the financial sector have too much power and influence, and a recent political ad—which does not mention Clinton by name nor show her image—suggests that Wall Street's combined power exerts a stranglehold over the political process through its massive lobbying efforts and its wide reach over financial markets, including loans, credit cards and real estate.

Just the night before, in that town hall forum in New Hampshire, Clinton had again seemed unprepared with a cogent or thoughtful answer to what has become the weapon of choice for Sanders in his attacks on Clinton. When Cooper asked Clinton specifically about the $675,000 paid by Goldman Sachs in speaking fees, she was at first flippant, joking that the dollar amount "was what they offered." Moments later, she struggled through an answer, telling Cooper she wasn't—at the time she accepted the fees—seriously considering running for President in 2016, an answer which many observers says was a patent evasion.

In fact, even her own strategists worry that Clinton's perceived coziness with Wall Street has now fully eclipsed even the seemingly unending issue of her emails and that private server as the principal albatross around the front-runner's neck. In the days after Iowa, and in the hours after her stumble with Cooper on CNN, her top staff has attempted to recraft the issue.

So on Thursday night, when the MSNBC debate turned to these topics, Clinton became noticeably more combative, even as Sanders attempted to bear down on his own response to questions as to whether he believes the former Secretary of State is herself a creature of Wall Street influence.

For Sanders, the issue is plain to see. Clinton accepted some $675,000 in fees and honorariums for three brief speaking appearances on behalf of Goldman Sachs (for those with limited math skills, that's $225,000 per speech, with each speech reportedly running between 20 and 25 minutes in length). Combined, the Clintons (Hillary and husband Bill) over a ten-year period have collected more than $50 million in fees for public appearances, speaking engagements, special events, conferences and high-profile roundtable discussions. Hillary Clinton was also paid roughly $25 million for her 2013 book deal. The perks don't stop there for the Clintons. Chelsea, daughter of Hillary, was famously hired by NBC News (parent company: Comcast/NBC Universal) as a correspondent 2013 and 2014, during which time the former first daughter was paid roughly $770,000 for her role in 15 televised segments—"news" pieces which some media critics said could be characterized as ranging from lightweight to fair-to-middling in quality. Chelsea's substantial wages at NBC greatly exceeded that of most of television journalists at NBC.

On the campaign trail, Sanders has also frequently asked by big banks and financial institutions have donated such large sums of money to the Clinton campaign in 2016, and even heftier sums to Clinton's Super PAC. For Sanders, those fat checks from banks and Wall Street firms should raise a red flag with voters everywhere—regardless of political affiliation, income or color.

But during the debate Clinton hit back hard, telling the audience that she was frustrated by Sander's ongoing harangues about Wall Street and her speaking fees.

"Time and time again, by innuendo, by insinuation, there is an attack that he is putting forth," Clinton said, measuring her words carefully and infusing her response with indignation, "which really comes down to [this]: anybody who ever took donations or speaking fees from any interest group has to be bought. And I just absolutely reject that, Senator."

The room erupted with applause for Clinton, but she wasn't through with her redirect.

"If you've got something to say, say it directly," Clinton said, looking at Sanders, "but you will not find that I ever changed a view or a vote because of any donation that I ever received."

Clinton went on to call Sanders' continuing comments about her Wall Street connections part of "a very artful smear that you and your campaign have been carrying out in recent week."

But Sanders was having none of it, and insisted that there is no way to morally separate the huge amounts of cash given to campaigns from the long term effects of such big money injections—and that public policy and Washington inevitably bends to the will of that money. Without mentioning Bill Clinton by name—or Hillary Clinton, for that matter—the Vermont Senator said that the trail of money has become an all-too-familiar pattern for Americans.

"Let's talk about why, in the 1990s, Wall Street got deregulated," Sanders said, "Did it have anything to do with the fact that Wall Street spent billions of dollars on lobbying and campaign contributions? Well, some people might think…some people…might…think…yeah, that may have had some influence."

Sanders suggested that it not accidental that large corporation and powerful interest groups decide to inject massive sums of cash into U.S. politics.

"There is a reason," Sanders said, "why these people are putting huge amounts of money into our political system. In my view, it [the cash] is undermining American democracy, and it is allowing Congress to represent wealthy campaign contributors, and not the working families of this country."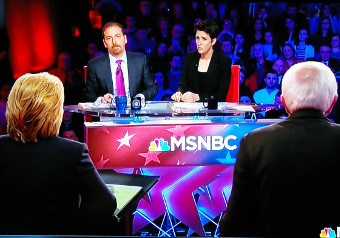 Clinton and Sanders also sparred, sometimes intensely, over the very notion of "Wall Street" itself. Clinton, on at least two occasions, suggested that Sanders was naively lumping too much narrative into his constant lambasts about the financial sector of the economy, saying "it's more than one street in New York," and requires someone fearless enough to also take on other big corporate interests who use money to buy influence. But Sanders struck back quickly, pointing out that Wall Street itself is larger than just that one street—and suggesting that the influence exerted by the two dozen major Wall Street firms eclipses any form of influence seen previously in American politics.

Sanders pointed out that the six largest U.S. financial institutions control or manage more than 80% of all lending, all credit card transactions, all home mortgages, and all traditional banking. He also implied that it was the shattering deregulation of the 1990s which invited the very abuses which led to so many companies becoming "too big to fail" at the start of the mortgage meltdown and the Great Recession. In short, Sanders implied again that Clinton was too much a part of the problem to ever be an effective crafter of solutions. He also invoked Teddy Roosevelt, a famous trust-buster, who would—Sanders said—insisted on the break-up of many of the largest U.S. banks and financial firms.

The debate about Wall Street influence and the political clout of the big banks didn't end with those exchanges. In fact, the contentious and sometimes heated argument—shepherded by Todd and Maddow—proved to be so compelling and dramatic that the narrative was allowed to go over budget on time, pushing aside some time which would have been used for other subjects, including foreign policy.

Clinton's apparent indignation at Sanders' drumbeat over her Wall Street connections is now fueled by several on-the-ground political realities. Sanders now polls far ahead of Clinton in New Hampshire, widely considered default home turf for the Vermont Senator. But just as most political experts predicted, the Sanders' fundraising effort went into hyperspace in the hours and days after his near-win in Iowa, a state in which he once polled in single digits, but where he came within a few hundred votes statewide of snatching victory away from front-runner Clinton. The concern within the Clinton camp is that a reinvigorated Sanders movement might emerge from New Hampshire with a big win, likely using that as a springboard to perhaps pull off a surprise victory in Nevada (few experts believe that Sanders can win in South Carolina, where Clinton maintains a solid lead). A surprise showing in Nevada, or in any of the dozen states voting on Super Tuesday, could mean a much longer primary and caucus battle for Clinton—money and resources used that would better be deployed in November against the GOP.

In reality, many Democratic analysts suggest that the Sanders' bandwagon may lose much of its momentum after South Carolina, and certainly lose more steam by the end of Super Tuesday.

Clinton maintains a modest lead over Sanders in most national polls—a central and inescapable fact which even Sanders cannot overlook. But Sanders' campaign people today pointed at new polls showing the race tightening even at the national level, as more young people, and even many women, have defected from Clinton and now favor or strongly favor Sanders.

Indeed, it may be possible for Sanders to catapult his message of inequality and undue Wall Street political influencee even into states which might otherwise be Clinton Country, including in South Carolina, several Super Tuesday states, and Florida.

During the Thursday night debate, Clinton and Sanders also clashed over the cost of health care and education, and Clinton challenged Sanders directly on foreign policy, suggesting to the viewer that Sanders was too inexperienced and untested when it comes to the complex and dynamic threats on the world stage.

Related Thursday Review articles:

Hillary Clinton, Ted Cruz, Jeb Bush, and the Goldman Sachs Thing; R. Alan Clanton; Thursday Review; February 4,2016.

Clinton-Sanders Tie; A Win for Clinton, A Win for Sanders; R. Alan Clanton; Thursday Review; February 2, 2016.