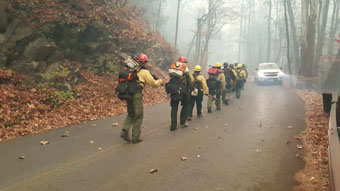 Image courtesy of U.S. Park Service/Smoky Mountain National Park
Dolly Parton Extends a Hand
to Wildfire Victims
| published December 3, 2016 |
By Earl Perkins, Thursday Review features editor
Country music superstar Dolly Parton announced through her Dollywood Foundation that the organization will be giving $1,000 per month for six months to families throughout the Gatlinburg and East Tennessee areas who lost homes in the drought and wind-driven wildfires that recently devastated the region, according to news services at WATE and WKRN.

The statement was issued on the foundation's website, noting she was starting a My People Fund to help those hit hardest by the brutal weather conditions. And the news came as no surprise to Dollywood Foundation President David Dotson.

"It's a very big dream at this scale, but I think you know Dolly is the chief of big dreams," he said.

Officials in several states say that the worst of the fires have either died down in the face of intermittent rain, or have been successfully battled by firefighters. In Gatlinburg, Tennessee, the fires have been 95% contained, and emergency services and firefighters expect to have the last embers subdued by the end of this weekend.

The fires have caused hundreds of millions in damage, destroyed hundreds of homes and businesses, and taken the lives of at least ten people. Scores of people are still missing or unaccounted for. Many areas in and around Gatlinburg are inaccessible—or have been sealed off by law enforcement—while firefighters and police sift through structures and buildings in search of survivors or the bodies of those still missing.

Gatlinburg Fire Chief Greg Miller told reporters on Friday that the area was still generally off limits to people while what he described as "a search and rescue operation" continues at least through Monday.

Much of Dollywood and several nearby properties affiliated with Dollywood avoided major damage, though it is not clear how soon visitors will be again flowing into the area.

Born and raised dirt poor in the East Tennessee hills, Dolly Parton was extremely proud to be associated with the area, even after she became famous and wealthy. She often joked that she created Dollywood, a family amusement park in Pigeon Forge, so her large family would have employment. The petite singer and actress may have helped her family, but numerous people living in her community, area and region also benefited from her largesse.

Dolly and her family always knew she would grow up to be a star, but that's almost impossible with no money or connections. When she finished high school, Parton and her uncle struck out for Nashville, living in his car while they sought fame the hard way. They door-knocked everywhere in the Music City throughout the day, before picking up castaway food trays from motel hallways so they wouldn't starve.

Following is the Dollywood press release:

As you may know by now, there have been terrible wildfires in the Great Smoky Mountains, the same mountains where I grew up and where my people call home.

We want to provide a hand up to those families who have lost everything in the fires. To aid in their recovery effort, the Dollywood Foundation will provide $1,000 a month to all of those families who lost their homes in the fires for six months so that they can get back on their feet.

"That's an unbelievable gesture on Dolly's part, but it's not surprising," said Sevier County Mayor Larry Waters. "Dolly Parton has been an advocate for Sevier County her entire life."

People from across the nation have donated to the fund, and those interested in helping may access a donation link at DollywoodFoundation.org.

"There was never a question if something should be done, but what should be done," said Dotson. "The world is responding in a big way."

Sevier County families who lost their homes will be recipients of the funds, and a video message recorded by Parton can also be accessed on the foundation's website.

"We want to provide a hand up to those families who have lost everything in the fires," she said. "I know it has been a trying time for my people and this assistance will help get them back on their feet."

More than 700 buildings were damaged or destroyed by wildfires after flames overran the Gatlinburg and Pigeon Forge areas Monday night. Seven people are confirmed dead following the conflagration and numerous families are still unable to find their loved ones.

Widely known as a singer, songwriter, multi-instrumentalist, record producer, actress and member of the Country Music Hall of Fame, Dolly is the most-honored country singer of all time. If you have any interest in her musical genre, feel free to peruse her autobiography--Dolly. I read almost nothing except biographies and autobiographies for decades, and her book was one of the best there ever was.

Related Thursday Review articles:

Nine Years Later: A Tribute to Those Swept Away on March 1, 2007.; Jennifer Walker-James; Thursday Review; March 1, 2016.

Deadly Tornados Strike Across the South; Earl Perkins; Thursday Review; February 25, 2016.