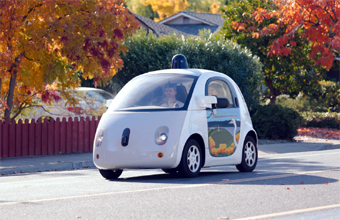 Images courtesy of Google-X
The Joys & Perils of
the Driverless Car
| published March 16, 2016 |
By Earl Perkins, Thursday Review features editor
Scent of a Woman wouldn't have been such an exciting movie if Al Pacino were tooling around in a self-driving car with Chris O'Donnell as the hapless passenger. That's because if automakers get their way, the self-driving car will soon take the guesswork, the human factor, and presumably the risk, out of navigating American roads and highways.

While much of the country was absorbed with news of the presidential primaries, Google, General Motors, and other autonomous car developers testified before a U.S. Senate Commerce Committee in Washington, DC, this week regarding the current state—and the future importance—of autonomous vehicles, according to The Car Connection, The Florida Times-Union, and The Detroit News.

In the summer of 2013, the National Highway Traffic Safety Administration said the agency was expecting self-driving cars to arrive in the near future, but by fall had reversed its stance and called the discussion premature. However, Tesla—a close competitor of Google—recently introduced a new software update to its Model S electric sedan which would allow it to drive itself on the highway. And just weeks ago the NHTSA announced—for regulatory purposes—autonomous vehicle software should be considered a "driver."

The Congressional hearings were meant to "explore advancements in autonomous vehicle technology and its anticipated benefits for Americans," according to an announcement by the Senate committee. Representatives of the companies and other experts testified about "their continued efforts to develop automated vehicles, their views on the appropriate role of government in promoting innovation including removing unnecessary hurdles, and their strategy to grow consumer adoption of this new technology."

Ironically and lightheartedly titled Hands Off: The Future of Self-Driving Cars, the testimony and discussion sessions included the relevant opinions of a variety of experts, promoters and developers from the self-driving industry and community. A Senate report will follow, with recommendations about how the Federal government should proceed.

Among those who spoke to Congress was Chris Urmson, director of the self-driving car division at Google, the California-based technology and digital-age firm which first rolled-out working prototypes of driverless vehicles several years ago. Among other things, Urmson worried about a "growing patchwork" of piecemeal laws, local regulations, and misinformation-based bans which will have the inevitable effect of inhibiting the driverless car at the very moment its real world testing needs to be thorough and exacting.

"If every state is left to go its own way without a unified approach," Urmson warned, "operating self-driving cars across state boundaries would be an unworkable situation, and one that will significantly hinder safety innovation, interstate commerce, national competitiveness, and the eventual deployment of autonomous vehicles."

Urmson also told the committee's members that Google, and many of its competitors, are much further along in their testing and prototype development phases than their counterparts in the appropriate government agencies, a troubling state of affairs. Urmson spoke of some 1.4 million miles of completed on-road testing by Google and its partners already—something akin to 13,000 miles of typical adult driving per year for more than 100 years.

For all that real-world testing in selected communities in California, Texas and Washington State, there have been 17 minor accidents and only one significant moving vehicle occurrence—a recent dust-up between an articulating bus and a driverless Lexus SUV in Mountain View, California, not far from Google's headquarters. The incident was not even a crash, per se (more like a slow-speed sideswipe) and there were no injuries, with only superficial damage to the vehicles. In none of the other 17 incidents, according to Google, were the computers or components of driverless technology at fault.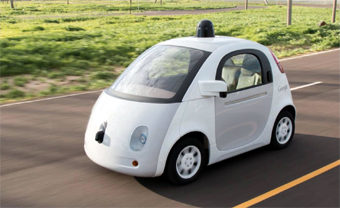 Google willingly took part of the blame for the Mountain View incident, however, citing a special and speed miscalculation on the part of the computer. But Google also made it clear that some of the responsibility remained on the bus driver who did not slow enough—as the driverless software had reasonably interpreted he was in the process of doing—in order to let the car merge with traffic. Police reports indicate the bus driver may have sped up slightly. It was an example, perhaps, of the age old conundrum about how and when to merge, and who should yield under such circumstances.

Minor brush indeed, but it was enough to get a few suspicious regulators riled and a couple of politicians, already hostile toward Google, even more fired-up. The incident also prompted the leader of a technology watchdog group to cry foul.

The crash is "more proof that robot car technology is not ready for auto pilot," said John M. Simpson, a spokesman for Consumer Watchdog.

Advocates of the self-driving car, however, suggest that a single fender bender out of 1.4 million miles of real-world testing proves just the opposite: tech-based cars are the safest path to a future where the foibles and mistakes of human decision-making and bad driving behaviors can be largely removed from the process. According to NHTSA, there were 32,675 vehicular deaths in the U.S. in 2014, down slightly over the previous year, when 32,791 died on American roads.

It's not just the exotics and the high tech companies like Tesla and Google now interested in making the driverless car a reality. In Germany, Mercedes-Benz-Daimler is deploying self-driving trucks for use on the autobahns. The Mercedes-Benz versions, of which there are several, use sophisticated cameras, multi-point radar, and GPS technology to keep the trucks in the appropriate lane and prevent it from bumping into other vehicles. Tested in real world conditions at normal speeds, the truck's camera system is stereoscopic and complex, enabling it to see in virtually all directions. Chinese and South Korean carmakers are already testing their prototypes, which the companies hope to have available in Asian markets as early as next year.

Trucks outfitted with Daimler's Adaptive Cruise Control system have also been tested on American roads, with about 12,000 miles of safe performance under its belts. Congress has been informed that in the United Kingdom, British legislators have set aside some $13 million for research and development for self-driving technology.

In the U.S., General Motors is working with ride-sharing company Lyft to develop a network of autonomous vehicles. Several auto makers have promised to roll out at least one fully autonomous model by 2020, but numerous cars already have partially autonomous features, while completely self-driving vehicles by the big carmakers are just around the corner.

Benefits of the new technology are numerous, but so are concerns, especially in the context of Google's admission of partial blame in that altercation with the bus in Mountain View. So now the Senate is attempting to become familiar with autonomous vehicles, and versed in their moral complexities, before the driverless car becomes more widespread. Congressional leaders also want to get ahead of the regulatory processes before the self-driving vehicle, like so many other technologies—from drones to smart phones—develop more rapidly than Washington's ability to understand and manage the implications. For some lawmakers, safety is the primary concern, worries that echo some of their constituents.

A recent AAA study shows 75 percent of motorists are afraid of self-driving cars, while only 20 percent would ride around town in an autonomous vehicle. The data shows 61 percent of drivers are hopeful their next new car will be equipped with systems including automated braking—already available on some newer models—and adaptive cruise control or lane-keeping assist on their next car. The smart lane-changing and lane maintenance software is an especially valuable one, many American drivers say, since almost everyone has experienced a close-call when lane-changing involves not being able to see within a vehicle's variable blind spots. Further, the popularity of smart phones, iPads and cell phones—though illegal to use while driving in many states and cities—nevertheless account for a growing number of accidents on U.S. roads. Automatic braking and lane-maintenance software might help to reduce accidents—serious or minor—which result from driver distractions.

Still, reasons for wanting semi-autonomous features vary by generation and sex, with safety being cited by Baby Boomers (89 percent) and Millennials (78 percent), while some Millennials seek convenience (75 percent) and latest technology (36 percent). Females are slightly more prone to seek the technology to reduce stress (50 percent vs. 42 percent). The study found 39 percent don't want autonomous features on their next vehicle: 84 percent feel they can drive better than a computer (possibly untrue); 60 percent consider it too new and untested; 47 percent find it too costly; 50 percent say they don't know enough about it; and 45 percent say it's "annoying."

But these technologies are not your granddaddy's cruise control toggle switch.

Ironically, given the unforeseen nightmares arising from laptops, desktops, smartphones and tablets, placing your life in the hands of a computer as you rocket down the road at 60 or 70 mph has given some people pause, but AAA's John Neilsen says to just relax.

"With the rapid advancement towards autonomous vehicles, American drivers may be hesitant to give up full control," he said. "What Americans may not realize is that the building blocks towards self-driving cars are already in today's vehicles and the technology is constantly improving and well-trusted by those who have experienced it."

Electric vehicles arrived in phases, first hybrids, followed by extended-range electric cars and eventually battery driven. The movement of electric and alternative fuel vehicles into the marketplace has moved more swiftly than some would have imagined in the years after several failed initiatives in states like California. Technology experts suggest that as a natural adjunct to the rollout of electric and hybrids, smarter driving technologies were inevitable. Some of the newest technologies are scheduled for steady rollouts as standard features over the next several years, including things like collision-avoidance, automated parking, and autopilot.

And the future is driving right up to your door, possibly improving our existence while saving lives and stress, according to Eric Thorn, acting manager for Southwest Research Institute.

"We have done a lot of work with FDOT (Florida Department of Transportation) and they invited us out because we know it wants to be a leader in this area and autonomous-connected vehicles bring that to the state to improve people's daily lives," he said recently, while performing a demonstration of the vehicle's capabilities on a dirt road next to Jax-Port Cruise Terminal in Jacksonville, Florida. The activity was associated with the third annual Florida Automated Vehicles Summit.

Thorn drove up in the ex-military Humvee, and after clicking a mouse on his computer, he released the wheel. The vehicle drove hands-free, easily avoiding poles and a lake as eight cameras provided information to computerized controls.

The technology utilizes radar, GPS, computers and real-time 3D mapping, causing the system to "read" the road highway signs, while avoiding obstacles and pedestrians. Google, Ford and Tesla unveiled their own versions during the Jacksonville conference, sponsored by the Florida Engineering Society and the state's Department of Transportation.

The group's goal was to help prepare Florida as automated vehicles are slowly introduced into existing traffic operations, according to Richard Biter, Transportation Department assistant secretary.

"When you add the cost not only in human lives being affected in accidents, but include the billions spent in property damage insurance and so forth, it is a pretty staggering number," he said. "...We have taken a leadership role, and we want to have the best transportation infrastructure in the country. And as we build new infrastructure, we need to start on what we need to do on designing it so we can accommodate this."

Engineers at Google and Tesla say that central to the successful development of the driverless car is a consistent and national approach to guidelines and regulations. If every state enacts its own laws or tech requirements, the advancement of the technology will be slow, if not completely inhibited.

"In the past two years," Urmson told Congressional leaders, "23 states have introduced 53 pieces of legislation that affect autonomous vehicles, all of which include different approaches and concepts."

GM vice-president Mike Ableson said that his company is only a couple of years away from rolling out it first autonomous vehicle, and he says that GM's recent acquisition of Cruise Automation—a tech firm specializing in tools and parts for self-driving cars and robotic vehicles—means the Detroit giant is close to incorporating the new technologies into many of its cars.

Ableson said that some already popular features such as cruise control, lane-keeping alerts, and headlights which automatically turn on in the dark are, in fact, significant steps toward vehicular automation. Ableson pointed to those grim highway statistics, and noted that roughly 90% of the 32,000 highway deaths came as a result of human error, not failures in design or faulty roads.

Still, not all technologists are as enthusiastic about robotic cars and self-driving vehicles as the promoters at Tesla, Google and GM. Duke University's Missy Cummings, a director and researcher at the school's robotics lab, warned that advocates of the driverless car may be getting ahead of themselves. She cited the oft-used statistic of 1.4 million real world miles driven by automated cars.

"I applaud this achievement," Cummings told the Senators, "but New York taxi cabs drive 1.4 million miles in just a little over one day. This assertion is indicative of a larger problem in robotics, in self-driving cars, in drones—where demonstrations are substituted for principled testing."

Related Thursday Review articles:

Volkswagen's Long Road Ahead; Thursday Review staff; Thursday Review; September 24, 2015.

Will Low Oil Prices Delay Electric's Rollout?; Keith H. Roberts; Thursday Review; May 6, 2015.