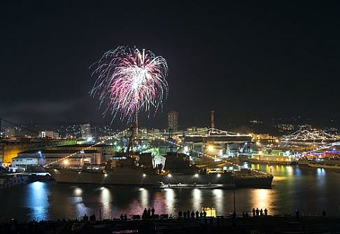 Photo courtesy of U.S. Navy
Fireworks Over Japan
| published December 31, 2015 |
By Thursday Review staff
January 1, 2016: In the harbor at Yokosuka, Japan, sailors and military personnel line the edge of the flight deck of an aircraft carrier to watch dazzling New Year's fireworks in the night sky. The ship seen directly under the fireworks is the USS Benfold, an Arleigh Burke-class guided missile destroyer. The ship lined with sailors in the foreground is the USS Ronald Reagan, an aircraft carrier in forward deployment. Both ships have been deployed in the Pacific region to protect the maritime interests of the U.S. and its partners in the Pacific and in Asia.

This U.S. Navy photo was taken by mass communication specialist Paolo Bayas.



Related Thursday Review articles:

Remembering the Arizona; Thursday Review staff; Thursday Review; December 8, 2015.

USS Milwaukee is Commissioned; Keith H. Roberts; Thursday Review; November 23, 2015.