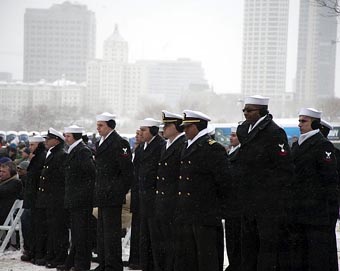 Photos courtesy U.S. Navy
USS Milwaukee is Commissioned
| published November 23, 2015 |
By Keith H. Roberts, Thursday Review contributor
Amid heavy snow and a blast of arctic air, sailors from the USS Milwaukee stand in formation with the city's iconic skyline barely visible in the background. The Milwaukee was commissioned on November 21 in the city for which it is named, and the ship becomes the third of its type—a Freedom variant littoral combat ship. The Milwaukee includes several improvements, upgrades, and hardware advances over its immediate predecessors, the USS Freedom and the USS Independence. Aside from its spritely agility, the Milwaukee incorporates lots of cutting-edge technology (most of which is regarded top secret by the Navy, meaning you can't read about it here).

Among the things we can tell you: its range is 3,000 nautical miles; it has a "modular" weapons system, which means some of its most important weapons options are interchangeable, depending on mission, location and rapidly changing technologies; it is armed with both 57mm guns and an MK-31 Rolling Airframe Missile System, but it also allows for rapid reconfiguration. The LCS system is designed to eventually replace several dozen frigates, mine countermeasure vessels, and other coastal warships.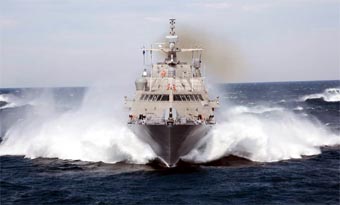 The Milwaukee has something that many American warships do not: the ability to travel at speeds of some 45 knots, or nearly 53 miles per hour. That means it can close the distance with almost anything it pursues on the water (or, conversely, it can outrun almost anything). At that blazing speed, the ship's razor-like prow slices the water and casts a wake with waves of five feet. The ship, which has a crew of 98, is also designed for combat in areas close to shore—thus the name, littoral, which designates vessels engineered for coastal operations. Fully loaded, the ship's draft is only 13.5 feet. This gives the ship the ability to patrol waters preferred by pirates and/or terrorists operating in small, light high speed boats, while also giving the ability to respond quickly in the shallow water regions where many new threats and challenges have spawned.

U.S. Navy photo of the commissioning ceremony was taken by mass communications specialist 2nd class Christopher Lange.

Related Thursday Review articles:

Moving a Torpedo, Carefully; Thursday Review staff;Thursday Review; July 10, 2015.

Fireworks Over Pearl Harbor; Keith H. Roberts;Thursday Review; August 10, 2015.