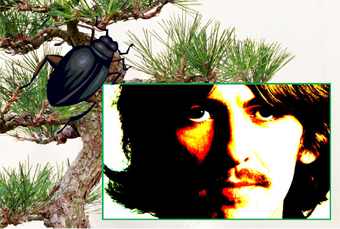 The Beetle and a Beatle
| published August 2, 2014 |
By Earl Perkins
Thursday Review features editor
"For the forest to be green, each tree must be green" —Maharishi Mahesh Yogi

So said the nondescript plaque by the George Harrison Tree near Los Angeles' famous Griffith Observatory. Well, evidently beetles aren't rock and roll fans. Planted in memory of Beatles songwriter George Harrison, actual beetles have seen fit to kill the living local monument, according to Spin and the Los Angeles Times.

The 10-foot-tall pine tree, planted in 2004, was recently removed following an infestation of insects, said city councilman Tom LaBonge, whose district includes Griffith Park. A new tree will soon replace the dead one, near a beautiful plaque which reads "In memory of a great humanitarian who touched the world as an artist, a musician and a gardener."

Harrison's final days were spent in the City of Angels, where he passed away in late 2001 at the age of 58, succumbing to cancer. He was cremated at the Hollywood Forever Cemetery.

An avid gardener for much of his life, the memorial tree's demise would have saddened Harrison, but he'd have gotten a chuckle from the irony. One of his greatest quotes was that his biggest break in life was getting into the Beatles, while his second biggest was getting out.

Griffith Park trees had occasionally been victimized by bark beetles, lady-bug beetles and other tree-unfriendly creatures, but found little notoriety until the fairly recent onslaught.

The Beatles' former lead guitarist once bought a rundown mansion in England that had belonged to British lord Sir Frankie Crisp, with the name appearing in Harrison's song "Ballad of Sir Frankie Crisp (Let It Roll)" from his 1970 solo album "All Things Must Pass." He spent numerous years transforming the overgrown gardens into lush, beautiful grounds surrounding his home.

A glowing review to the memorial can be found on Yelp, accompanied by several photographs:

On the day I was there, many tourists and visitors, in fact, walked right by it without noticing it at all. There is no signage that leads people to the tree, and the memorial plaque is near the ground and out-of-sight. Furthermore, I didn't see any buskers or fans with guitars either playing "Here Comes the Sun," "Something," or "My Sweet Lord" (or any of Harrison's many other well-known songs). Instead, with my own private thoughts and reflections, I enjoyed that pine tree in peace just as George, I'm sure, would have wanted it.

John Lennon and Paul McCartney were the Beatles' superstars and primary songwriters, but Harrison was no slouch as a band member and writer of his own songs, and his own musical career also flowered and grew years after the group disbanded.

Having been honored as a member of the Most Excellent Order of the British Empire (MBE), Harrison was widely known as an English musician, multi-instrumentalist, singer, songwriter, producer and pop star. The Quiet Beatle's compositions graced numerous albums, with his hits including: "While My Guitar Gently Weeps," "Here Comes the Sun" and "Something," which became the Beatles' second-most-covered song.

Harrison recorded and produced on his own, but played with the Quarrymen, the Beatles, the Traveling Wilburys and the Plastic Ono Band, along with Delaney and Bonnie and Friends.


Related Thursday Review articles:

These Youngsters From Liverpool: The Beatles & Ed Sullivan; Kevin Robbie; Thursday Review; February 8, 2014.

The Early Beatles: Great Freedom, Tony Sheridan and the Beat Brothers; Kevin Robbie; Thursday Review; April 10, 2013.