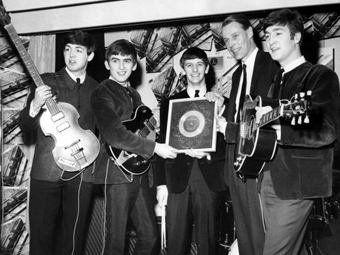 Photo courtesy of EMI Records/London
George Martin & the Beatles
First Record
| published March 18, 2016 |
By Kevin Robbie, Thursday Review contributor
"Well, for starters, I don't like your tie." This was a bold statement for an unknown musician to make to an established record producer and music bigwig, but George Harrison wasn't known for holding back his opinion. His bandmates and manager, Brian Epstein, didn't move or utter a sound upon hearing his comment. The producer, George Martin, was slightly taken aback by the statement. However, a few seconds later, he appreciated the wry humor behind it and he began laughing. The tension in the room quickly disappeared and everyone relaxed. Martin appreciated the northern sense of humor and he immediately recognized the value of their personal charisma.

It was their easy sense of humor that first helped forge the bond.

The date was Wednesday, June 6th, 1962 and the location was the EMI studio #2 in London. The Beatles and Martin were listening to a playback of "Love Me Do," a Lennon-McCartney song which the group were hoping would be the A-side of their first single. The Beatles had been rejected by EMI once before but they were later referred to the company's Parlophone label, which was under the direction of A&R man George Martin. Martin was a classically trained musician who had been employed since 1950 by the giant EMI. Although not yet a household name in the music industry, Martin had acquired notice by producing several comedy records by Peter Cooke, Spike Milligan as well as Peter Sellers. He had also produced hits by singer Matt Munro.

The Beatles and Brian had arrived in London in the midst of glorious summer weather, which buoyed their spirits. The purpose of the session was to evaluate the Beatles overall sound and musicianship, and possibly make a record. The Beatles had recently hired a new drummer, Ringo Starr (after dumping Pete Best), and they were eager to impress Martin, who spoke to the group in a polished, upper-crust tone of voice and diction which the members of the group found mildly intimidating.

The recording session—along with another one on June 11—ultimately led to the release of the Beatles first record "Love Me Do"/"P.S. I Love You." Martin originally wanted another song, "How Do You Do It" to be the A-side with "Love Me Do" as the B-side. Ardmore & Beechwood, EMI's influential publishing arm, were not interested in that song. Sid Colman, Ardmore's general manager, wanted both sides of the new single to contain Lennon-McCartney compositions. Colman had heard tapes prepared earlier by Brian Epstein and Brian assured Colman that if he could assist in the Beatles obtaining a recording contract, Colman would get the publishing rights to their music.

It was a reflection of British class-consciousness at the time that George Martin said he almost, sarcastically, asked Brian where Liverpool was located. The idea that any significant musical talent could emerge from Liverpool was considered absurd, simply because it wasn't London. Even in cultural terms, the "Big Smoke," as London was referred to, dominated the UK. Londoners, in particular, were snotty about "the provinces," and the London record labels were not endeared to the Beatles attempts to achieve success in their own fashion.

The music scene in Britain was changing in 1962 as many nightclubs were shifting from jazz to R&B. Record companies permanently changed from shellac, 78rpm records to vinyl, 45rpm discs. These changes paralleled changes in Martin's own life. He and his wife had split up and his contract with EMI was approaching expiration. He was unhappy largely because the company refused to consider paying him even a small producer's royalty, in exchange for which Martin was willing to accept a lower salary. Producer's royalties were virtually unheard of in 1962.

By 1962, however, Martin had developed Parlophone into Britain's most diverse and eclectic record label, and he believed his royalty request was justified. Also possessing a formidable sense of humor, Martin even made an instrumental record of his own under the pseudonym "Ray Cathode." Up to that time, Martin had also completed scores for two minor films allowing him to broaden his creative horizons. This experience would come in handy when he wrote the score for the Beatles "Yellow Submarine" in 1968. Ultimately, and facing the prospect of a divorce, Martin signed on with EMI for another three years, being paid a straight salary.

After discussing the results of the Beatles session with his two sound engineers, Ken Townsend and Norman Smith, George Martin concluded that he liked the band personally and thought their charisma might come through on vinyl. But he could not decide if the material was good enough to release as a record.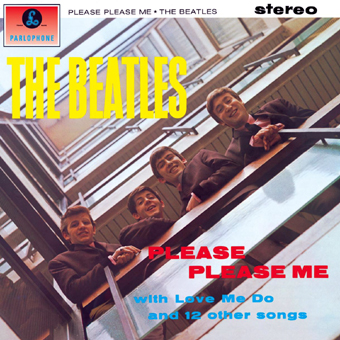 When the Beatles returned to Abbey Road studio #2 on September 11, they re-recorded "Love Me Do," "P.S. I Love You" and a new Lennon-McCartney composition, "Please Please Me." Still receiving pressure from Ardmore & Beechwood for an original Beatles release, Martin decided that the two most polished songs, "Love Me Do" and "P.S. I Love You" weren't great tunes but they would have to suffice for release. The record was officially released on October 5, 1962 and peaked at #17 on the chart of trade newspaper Record Retailer. The 1960's had begun.

The success of "Love Me Do" prompted George Martin to contact Brian Epstein about a follow-up record. Studio time was scheduled for November 26th. He realized he had signed an original act who people were talking about and not just in Liverpool. Martin also hit on the idea of a Beatles LP. The idea of an LP for a pop act was almost unheard of in 1962 and nearly every Parlophone act was contractually restricted to singles. However, the idea of an LP was an example of George Martin's own creativity and out-of-the box thinking. Thus, he was already in the process of helping the Beatles craft a vision for their success. Martin discussed with Brian a release date in the early spring of 1963.

Upon completion of the final take—the fifteenth, in fact—of "Please Please Me," Martin was certain of a hit, and he informed the group of his opinion through the studio intercom. The album to follow represented a turning point for the pop music industry—a musical group wherein the musicians wrote their own songs and played their own instruments. The album was filled with fourteen songs, including eight Lennon-McCartney tunes and the other six being culled from the group's stage act of cover songs, a recommendation from Martin. The result is an album that still sounds fresh and original, over fifty years after its release in March of 1963.

Released on the Parlophone label and using a now-classic photo of the four band members looking down a skylighted stairwell inside the EMI London headquarters, the album peaked at #1. "Please Please Me" remained the number one album on the British charts for some 30 weeks, establishing the Beatles into a musical force to be reckoned with. Ironically, and as a testament to the rapid surge in the group's popularity under the tutelage of Martin, the album was displaced from that number one spot on the U.K. charts by the Beatles' next album, "With the Beatles" (more commonly known in the United States as "Meet the Beatles"), and the period most associated with the worldwide explosion which became Beatlemania.

During his nearly sixty years in the recording business, George Martin produced thirty singles that reached #1 in the UK and twenty-three that reached the top spot in the U.S. Aside from the Beatles, he also worked with Elton John, Jeff Beck, Gerry and the Pacemakers, Cilla Black, Cheap Trick and numerous other acts. He is one of a handful of producers to have number one records in three consecutive decades and was awarded six Grammy's. Martin also scored instrumental music for several movies, including Live and Let Die and Yellow Submarine. John Lennon once said of George Martin "He made us what we were in the studio. He helped us develop a language for talking to other musicians."

Indeed, it was Martin's work with the Beatles which introduced the world to a cultural phenomenon by giving the group's musical ideas and compositions a coherent and vibrant sound. His overall body of work secures George Martin's place as one of the most iconic producers the music industry will ever see.

Sir George Henry Martin died on March 8, 2016 at the age of 90. According to an announcement made first by Ringo on social media, and later confirmed by Martin's family, he passed away quietly at his home in Wiltshire.

Related Thursday Review articles:

George Martin, Beatles Producer, Dead at 90; R. Alan Clanton; Thursday Review; March 9, 2016.

Brian Epstein, George Martin & The Early Beatles; Kevin Robbie; Thursday Review; January 5, 2015.