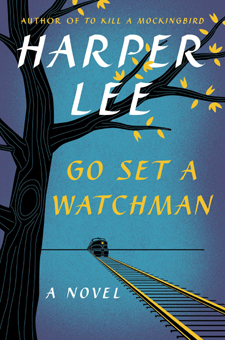 Go Set a Watchman; Harper Lee
| published August 30, 2015 |
Book review by Karen Franklin Thursday Review contributor
This recently published book about the Finch family takes place after Harper Lee's 1960 To Kill a Mockingbird, but it was written first. As such, one cannot hold it to the themes or characterizations of the earlier book. People are calling it both a prequel and a sequel, but in reality it is neither, for while the Pulitzer Prize-winning Mockingbird deals with the topic of overt racism and prejudice in general (for example, fear of a mentally challenged person), Go Set a Watchman deals with institutional racism and, more importantly, the "coming of age" of a younger generation as it confronts the foibles of previous generations—even of older persons who were revered as "ideal" personalities.

The foremost theme in Go Set a Watchman is not confronting racism; it is recognizing that we all have our negative traits in our otherwise shining personalities. As children, we try to revere, at least respect, our parents--especially if they are loving towards us. Scout Finch adores her father and everything she believes he represents but, as a child, she was ignorant of some facts about him and his actions that are revealed to her in Watchman. It is almost a crushing revelation, but the Finch family is resilient and the now more mature Jean Louise will rise above her devastation to assume a more adult role in society, and in her family.

The fact that her editor wanted Lee to focus on the "child's story-perspective" when Lee first submitted her manuscript for Watchman, shows that this second topic of a "hero's flaws revealed" is not an easy topic to present to the public. We like our heroes untarnished, and the beginning novelist Lee then used her own father to model Atticus Finch in all his legal ability and caring aspects. But, one wonders if even Lee, in adulthood, recognized that no human being is that "pure" and that was why she wrote Watchman first. Perhaps a major reason it got published now is that Mockingbird was such a literary legacy that no publisher could now turn down Watchman! It is the much truer tale, even if we will always love Atticus Finch as a stalwart supporter of Law and Mockingbird as one of the best novels in American literature.

Related Thursday Review articles:

The Enchanted, Rene Denfeld; book review by Kristy Webster; Thursday Review; March 9, 2015.

The Boys in the Boat, Daniel James Brown; book review by Karen Franklin; Thursday Review; July 28, 2015.