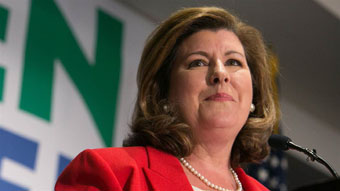 Image courtesy of NBC News
GOP Retains Control of House Seat in Closely Watched GA Election
| published June 21, 2017 |
By R. Alan Clanton, Thursday Review editor
In what experts believe was the most expensive Congressional campaign in history, Republican Karen Handel defeated Democrat Jon Ossoff in an election watched closely by analysts and strategists of both parties.

Handel's hard fought victory came even as Democrats in the region had hoped to reclaim the U.S. House seat—a suburban area near Atlanta—which has been a GOP stronghold for more than 30 years. Polls showed the race had tightened to within a few points.

Ossoff's defeat strikes a blow to many Democrats who had predicted that the Congressional race—in the participants spent more than $55 million—might be a referendum on the policies of President Donald Trump. All told, Democrats in Georgia and across the U.S. injected more than $23 into the race in an effort to boost Ossoff's candidacy, which was built around a combination of progressive themes and anti-Trump rhetoric.

Democrats had made some of the central issues health care, tax reforms, climate change and renewable energy in the hopes that voters would swing the traditionally red district into the blue column, then, capitalize on the upset as a harbinger of anti-Trump sentiment and action.

Instead, voters delivered Republican Handel a comfortable win, pulling in about 4% more votes in a race believed as recently as last weekend to be too close to call. While campaigning, Handel had used two blunt weapons repeatedly—that Ossoff was not a legal resident of the Sixth House district of Georgia, and that Ossoff was a close ally and protégé of Democratic leader Nancy Pelosi.

Still, it was a close call for the GOP in its efforts to retain control of a district which normally delivers wide landslide victories for Republican candidates. In the last election, incumbent Republican Tom Price won by more than 21 points. Price left his House seat earlier this year to become Secretary of Health and Human Services, thus opening the district to a special election—an opportunity Democrats hoped to exploit.

Republicans were desperate to retain the district. As late as Monday night both the GOP and Handel's campaign teams were sending emails asking for additional financial support, citing the massive injection of cash which was still coming in for Ossoff.

Some Washington Republicans were indeed worried that the election in suburban Georgia may prove to be a referendum on Trump and the GOP, just as the party struggles with a massive tax overhaul plan and continues to work in secret on a major rewrite of a new health care package meant to replace Obamacare. Most Republican strategists breathed a sigh of relief at Handel's victory, but remain guarded about potential problems along the path to the 2018 elections, especially as Trump's popularity has diminished.

Out of roughly 260,000 votes cast—nearly 140,000 of them early or absentee ballots—Handel won by pulling in 52% to Ossoff's 48%. There were no significant third party or independent challenges.

In her acceptance speech late Tuesday night, Handel asked for unity within the district, and for civility and decency nationally—a direct reference to the baseball field shootings of several Republican members of Congress, among them House Majority Whip Steve Scalise, a friend and mentor to Handel. Scalise remains in the hospital from the serious injuries he received in the shooting.

Related Thursday Review articles:

Biden: Clinton Loss Result of Poor Strategy; R. Alan Clanton; Thursday Review; June 11, 2017.

Perez Elected New DNC Chairperson; Keith H. Roberts; Thursday Review; February 26, 2017.