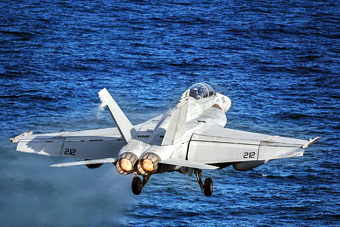 An F/A-18F Super Hornet takes off from the deck of the
USS Truman in the Arabian Sea/Photo courtesy of U.S. Navy
Has ISIS Begun Losing Ground?
| published January 5, 2016 |
By Keith H. Roberts, Thursday Review contributor
The Pentagon says that a U.S.-led air campaign to degrade and destroy ISIS is making headway, finally, after more than 17 months of bombing by a coalition of nations which includes the United Kingdom, France, Canada, Saudi Arabia, Jordan, Kuwait, Qatar and others.

Though through much of 2014 and early 2015 ISIS gained ground—or maintained ground—within its territorial control, the footprint of the Islamic State has begun to shrink. U.S. Army spokesman Colonel Steve Warren says that coalition analysts believe that ISIS has lost some 40% of its on-the-ground control inside northern and western Iraq—a significant setback for the Islamic State. Warren also admits that though estimates are difficult to form, ISIS may have lost roughly 20% of its territory in Syria.

Warren also communicated the news via Twitter.

"Enemy is weaker and on the defensive," Warren tweeted, adding "they have not gained one inch in Iraq since May."

Last month, after a fierce and costly battle involving troops from Iraq, Iranian militias under the command of Shiite officers, Kurdish units, and a patchwork of anti-ISIS rebel groups, ISIS was pushed out of Ramadi—a city where hundreds of Americans died after the overthrow of Saddam Hussein. U.S. troops battled militants throughout a large part of 2003 and 2004. The Islamic State captured Ramadi in May of 2015 after the Iraqi army collapsed and fell into general retreat.

Iraqi troops supported by a mixed bag of Shiite militias and Kurdish units have also been able to wrest control of other cities and towns from ISIS in recent weeks, including Tikrit.

The news of ISIS and its shrinking footprint comes as welcome news for the White House and the Pentagon. The air campaign has been widely criticized for its limitations, and for the fact that for many months the operation—which includes jet fighter strikes, high altitude bombing, drones, and cruise missiles—has had little measurable impact on either the number of ISIS militants on the ground, nor on the territorial stability of the Islamic State.

In Syria, however, the fight has proven to be tougher even as the sorties of U.S. and French planes have increased, and even as Russia's own air campaign in support of Syrian President Bashir al-Assad has been greatly stepped up.

The coalition air campaign has also produced a few notable victories, including the deaths of some of those who were involved in the planning of the November 2015 terror attacks in Paris.

But the good news was also met by skepticism by some military analysts who suggest that the fight is far from over, and may still require a heavier investment in troops on the ground. And some worry that with ISIS numbers swelling—with some 40,000 militants under arms in both Syria and Iraq—no amount of aerial bombardment will be enough to dislodge ISIS from many of the cities and towns it controls. ISIS is also seeking to coopt control over other militant and radical groups on three continents, and has already won the allegiance of like-minded terror armies in Africa and Asia.

The escalation in fighting in both Iraq and Syria has taken the already serious refugee crisis and increased its complexity and scope. Millions of people have fled both countries, some by travelling into neighboring Jordan, and many more travelling by foot into Turkey where massive refugee camps have been established. Tens of thousands of Syrians have fled their country for Europe, and have moved en masse across scores of countries seeking refuge from a homeland torn by five years of civil war and fighting.

Islamic State spokesmen have made no comments in video or on social media regarding the claims by U.S. military that the coalition has pushed ISIS back or that ISIS has lost ground. The victory in reclaiming Ramadi had elevated hopes that the Iraqi army—along with its allies among the Kurds and Shiite militias—may be able to soon launch a major offensive to retake Mosul.

In the photo above, taken by U.S. Navy mass communication specialist J.R. Pacheco, an F/A-18F Super Hornet takes off from the deck of the aircraft carrier USS Truman.

Related Thursday Review articles:

Recent Airstrikes Kill Some Paris Attackers; Keith H. Roberts; Thursday Review; December 29, 2015.

Saudi Arabia to Lead Military Coalition Against ISIS; Keith H. Roberts; Thursday Review; December 15, 2015.