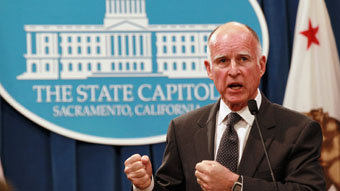 Photo courtesy of Jerry Brown.org
Jerry Brown Endorses Hillary Clinton
| published May 31, 2016 |
By R. Alan Clanton, Thursday Review editor
Some have suggested that hell has frozen over. Others have seen it as a sign of the apocalypse. Either way, in the sober judgment of some political observers, it became Big News instantly, and a sign that in American politics, anything is possible if you live long enough.

A one-time bitter political rival of the Clinton's has decided that it is so strategically important for the Democratic Party to come together around that he is now willing to embrace the Clinton's through an endorsement…a very public endorsement which came today in the form of an open letter.

One week before California Democrats go to the polls to choose between intra-party rivals Hillary Clinton and Bernie Sanders, Governor Jerry Brown—once an arch-nemesis to Bill Clinton—has endorsed Hillary Clinton's candidacy as the only viable option for Democrats if the party wants to beat presumed-GOP nominee Donald Trump in November.

Jerry Brown and Bill Clinton, while each running for President in 1992, famously sparred so intensely and so personally that it sparked a rift that has never healed despite the decades. Battling for supremacy in the delegate count that year, and with Clinton's nomination not yet a certainty, Brown jousted with Bill's wife Hillary at several public events leading into the California primary that June, prompting Bill to famously tell Brown during a debate "you are not worth standing on the same stage as my wife."

Brown refused to endorse or offer any form of support for Clinton after his win in California in 1992, and in his speech to the Democratic Convention that summer, he never once uttered Clinton's name, and cagily refused to acknowledge Clinton when reporters interviewed him at various points during the convention.

The Clinton-Brown feud has lasted unabated for decades. That is, until the arrival of Donald Trump, a force even more disheartening and odorous, at least within the world of Brown, than the Clintons, Bill or Hillary.

In Brown's open letter to California voters, Brown says that a Hillary Clinton candidacy is the "only path forward to win the Presidency and stop the dangerous candidacy of Donald Trump."

Brown went on to praise Clinton's chief rival, Bernie Sanders, for his yeoman's work in challenging the political orthodoxy and for making issues like climate change and banking regulation key concerns. But Brown said that the time for political infighting has ended, and the time for Democrats to unify has come. Brown clearly hopes to sway voters in the Golden State to shift their allegiances from Sanders to Clinton this week. Californian's vote on June 7.

Brown's letter of endorsement is, in fact, less a paean to Hillary Clinton, and more like an indictment of Trump, now the presumptive Republican nominee.


<"The Republican nominee…has called climate change a hoax," Brown said in the statement, "and has pledged to tear up the Paris Climate Agreement. He has promised to deport millions of immigrants and ominously suggested that other countries may need the nuclear bomb. He has also pledged to pack the Supreme Court only with those who please the extreme right."

Brown, who is popular with voters in California, may also be seeking to assist in the Clinton campaign's efforts to bring a halt to Sanders' challenge. Though Sanders trails in the delegate math, with Clinton now drawing very close to the required number of pledged delegates to secure the nomination on the first ballot, Sanders has committed publicly to taking his fight all the way to the convention. Sanders has said, however, that he will support Clinton if she becomes the Democratic nominee, but stops short of promising to endorse her at the convention.

According to several major media sources, as of late last week Trump reached the required number of delegates to secure the nomination outright on the first round of balloting at the Republican National Convention. Trump and his staff are currently vetting potential running mates, and are rumored to have narrowed the list to about a half dozen names. Among them: Bob Corker (R-TN), Jeff Sessions (R-AL), Newt Gingrich, Chris Christie, Joe Scarborough, Joni Ernest (R-IA), and Mary Fallin.

Related Thursday Review articles:

Jeff Sessions Receptive to the Idea of Being Trump VP; R. Alan Clanton; Thursday Review; May 30, 2016.

Trump: IRS Audit May Not Be Complete by November; R. Alan Clanton; Thursday Review; May 11, 2016.