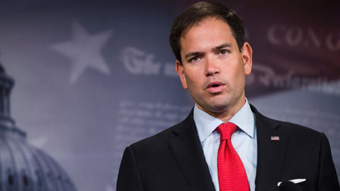 Image courtesy of ABC News
McCain, Rubio Survive GOP
Primary Fights
| published August 31, 2016 |
By R. Alan Clanton, Thursday Review editor
One can look no further than the outcome of two key primary battles from Tuesday to see that the war within the Republican Party—a fight between pro-Donald Trump forces and those who despise his candidacy—is far from over, even as the general election approaches and some polls show the presidential race tightening in several key states.

Incumbent Senator John McCain of Arizona and incumbent Senator Marco Rubio of Florida each survived tough, bitter, well-funded battles for their party's re-election amidst a robust anti-establishment surge in the GOP, the same heavy tide which catapulted businessman Donald Trump past more than a dozen top tier Republicans last year and this year, and helped the novice politician win throughout a contentious primary and caucus season.

Rubio and McCain each faced a potentially fatal combination of heavy-spending and heavy attacks by Republican brethren angry at traditional GOP politics, and each were linked mercilessly to the anti-Trump movement—the party's large faction which fought feverishly but in some cases inconsistently to topple Trump from his position as front-runner. Rubio and McCain were each also the brunt of many Trump verbal assaults, and faced primary opponents who openly linked themselves and their messages to Trump. McCain and Rubio were especially distanced from Trump on the flashpoint issues of U.S.-Mexico immigration policy and border security.

That both Rubio and McCain faced such intense battles for the loyalty of their own party's voters is a sure sign that the GOP remains uneasy and unsettled with the outcome of its nominating process. It is also a sign that future skirmishes remain a very real possibility, and a harbinger of what could be a messy blame game if Trump loses the election in November, possibly triggering a GOP loss of control of the Senate or the House.

Rubio beat back a potent challenge from political novice Carlos Beruff, a builder and developer who dumped some $8.3 million of his own money into what amounted to a winner-take-all fight for the GOP right to run against the winner of the Democratic primary. Beruff became for all intents and purposes a mini-Trump, embracing nearly all of Trump's rhetoric and talking points, and even shifting rapidly and tactically to match Trump's often morphing positions on everything from immigration to trade to foreign policy.

Beruff spent millions on slick television ads which saturated the Sunshine State for many months, and many of his ads embraced the same anti-Rubio talking points used by Trump during the primaries and caucuses earlier this year. Despite Beruff's vigorous and muscled challenge to Rubio, the former Presidential candidate won easily by carrying more than 70% of the vote—a wider margin than many experts had predicted and a landslide considering polls which had shown the race was tight.

Rubio will now face liberal Democrat Patrick Murphy in the general election (Murphy—endorsed by President Barack Obama—won his primary easily, defeating U.S. Representative Alan Grayson). Murphy's campaign, like Rubio's, may be well-funded, but most political analysts agree that the worst is over for Rubio who can be expected to win a somewhat more comfortable victory over Murphy in November.

McCain beat back a tough challenge from another Trump-like proxy, Kelli Ward, who attacked McCain on the Senator's longstanding "weak" positions on immigration and border security, and bombarded voters with ads suggesting McCain was soft on a variety of core issues. Like her kindred spirit Beruff, Ward flexed and flowed with the Trump narrative, even if that meant some occasional somersaults on key points. Still, that McCain was being attacked from his right—or at least from a position deep within right field, as it were—became yet another indicator of the deep divisions now impacting the way Republicans define themselves in the year of Trump.

Ward had some deep pocket backers, including the ultra-conservative billionaire Robert Mercer—the same Robert Mercer who pumped millions into Ted Cruz's presidential campaign in late 2915 and early this year. Mercer's truckloads of cash helped Ward deploy a blizzard of TV ads in Arizona, many of the ads harshly critical of McCain. But Ward failed to ignite the same fire among some anti-establishment GOP groups as did Beruff, and ultimately McCain and his allies out-organized and out-flanked Ward. McCain won with about 57% of the vote, a much wider margin of victory that originally predicted.

And unlike Rubio, who may have a relatively easy battle besting Murphy in Florida, McCain may now face an even tougher fight defending his Senate seat from Democrat Ann Kirkpatrick a popular Democrat who expended no firepower or money in the primary (she ran unopposed) and who is already gaining valuable support from Democrats around Arizona and nationally. Early plans call for her to attempt to outspend McCain, if she can keep the cash flowing.

Though McCain has been pilloried by Trump in mocking tones and terms, and likewise battered by Ward, Kirkpatrick intends to—ironically—link McCain to the words and policies of Donald Trump, suggesting that McCain himself is a proxy for the GOP and its loose-cannon nominee.

Related Thursday Review articles:

Trump Accepts Republican Nomination; R. Alan Clanton; Thursday Review; July 22, 2016.

Pence Highlights Night of Eloquence, Contention; R. Alan Clanton; Thursday Review; July 21, 2016.