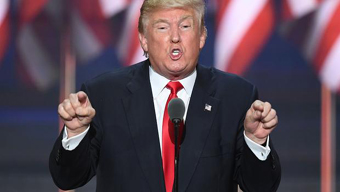 Image courtesy of CBS News
Trump Accepts Republican
Nomination
| published July 22, 2016 |
By R. Alan Clanton, Thursday Review editor
Donald J. Trump—a businessman, real estate mogul and reality television host with no previous political experience—accepted the Presidential nomination of the Republican Party at the convention in Cleveland, marking a historic shift for a GOP which has not chosen a political novice since 1940, when it chose Wendell Willkie to carry the party's banner.

Trump's rise from unlikely novelty candidate to Republican nominee for President comes after a long, bruising, and often contentious primary and caucus season marked by a crowded field and the rapid collapse of the party elites and preferred front-runners. Trump's victory also came after a brutal series of televised debates and a more-or-less continuous narrative of a Republican electorate angry and frustrated with the status quo in Washington.

The boisterous, often politically-incorrect businessman's rise to the helm of the GOP confounded reporters and analysts who frequently predicted his eminent downfall—or later posited the idea of a brokered convention. The real estate tycoon's eventual success in winning in the primaries and caucuses came at the expense of several top tier candidates long previously thought to have been the party's future, including former Florida Governor Jeb Bush, Wisconsin Governor Scott Walker, and New Jersey Governor Chris Christie. Trump's candidacy also became symbolic of a surge in sentiment toward anti-establishment candidates, such as former HP CEO Carly Fiorina and retired neurosurgeon and author Dr. Ben Carson, each of whom became serious challengers to Trump during the run-up to the first primaries.

The businessman's acceptance speech, deeply threaded with references to violence in the United States, the recent shootings of police officers, violence wrought by illegal immigrants, and foreign policy blunders by the Obama administration, lasted for more than 85 minutes, one of the longest convention addresses in the modern era. Carefully and relying on his Tele-Prompter script, the speech was interrupted numerous times by thunderous applause.

"Friends, guests, and delegates, I humbly accept your nomination for the Presidency of the United States," Trump declared at 10:19 p.m. on Thursday inside the Quicken Loans Arena in front of a standing-room only audience. Trump, standing against a backdrop of U.S. flags, began by citing the remarkable statistics of his campaign, which he calls a movement: a Republican primary and caucus season which attracted higher voter participation than in any previous Republican nominating process in U.S. history; more new registered voters for the GOP than at any previous point; a marked uptick in GOP voter registration in many states.

But the populist Trump wasted no time getting down to business citing the reasons why he believes America has lost its way and requires a reboot. Trump cited the failures of foreign trade deals for the vast loss of American jobs, read a long laundry list of ISIS-inspired terror attacks around the world and in the United States, highlighted the sharp increase in violence against police, cited the deepening rifts between the black and white communities, and recited a list of failed states and troubled regions now home to civil wars, political chaos and terrorism training grounds—examples, he said, of country fractured within its borders and a once-powerful nation losing the respect of the rest of the world.

Though never rambling, the speech at time shifted gears suddenly and sharply, turning from domestic issues to problems of foreign policy. And though at time he seemed to be speaking clearly and overtly to the party's conservative base, he also peppered his speech with surprisingly out-of-the-box references to issues generally not related to the GOP's main talking points, including what may have been the first references to the safety, security and recognition of the American LGBTQ community, frequent departures from the Republican Party's general acceptance of foreign trade deals, and an overt threat to refuse assistance to member nations of NATO if those countries cannot pay their way.

Trump also broke sharply with decades of GOP foreign policy orthodoxy by dismissing "globalism" and the American penchant for intervention in crisis around the world, and he offered—as he often does—a largely dismissive analysis of recent U.S. interventions in Iraq and Afghanistan, wars generally supported by Republicans and neo-con Democrats who backed the policies of George W. Bush and Dick Cheney. The businessman also rejected the interventionist approach to the Middle East crafted by Bush and Cheney, and supported by many Republicans and Democrats.

The speech was also notable for its largely dark, fear-based themes and its quasi-angry delivery. In contrast to most party nomination speeches (examples Ronald Reagan, George H.W. Bush, Bill Clinton, Barack Obama) which attempt to look forward toward a more prosperous, optimistic and robust future—and touching only briefly on negative themes as a tool to pivot forward—Trump's address to the delegates and the TV cameras was marked by a dominance of negative imagery and deep societal angst. How this will play out for Americans undecided or wavering in their general election decision is unclear, but many experts suggest it was Trump attempting to reset and reboot his campaign toward what many feel will be a strikingly negative campaign between his message and that of Democratic rival Hillary Clinton.

"Our convention occurs at a moment of crisis for our country," Trump intoned near the beginning of his speech, "the attacks on our police and the terrorism in our cities threaten our way of life. Any politician who does not grasp this danger is simply unfit to lead our country."

Thus the tone and mood was set for what may have been the darkest and most grimly-framed acceptance speech by a major party's nominee in more than 100 years.

Some analysts pointed out that Trump's convention speech was simply the logical culmination of his long series of stump speeches and talking points improvised over the last year—a massive broadside attack on what he sees as America's failure to remain the great power it was during the previous century. The speech also overtly intertwined the issues of immigration, terror, jobs, health care, crime, social disorder and unchecked government spending into a general theme of a Washington that does not work and a political system "rigged" by special interests and the wealthy, a narrative which Trump said overlapped the very words of Clinton's chief Democratic rival, Vermont Senator Bernie Sanders.

Other political observers have pointed out that Sanders' candidacy too was a creature of widespread dissatisfaction with the political status quo and the rules of Washington. Sanders' challenge to Clinton was at times forceful and strident, and his ability to draw massive crowds to his rallies and inspire thousands of individuals to register to vote for the first time was rivaled only by Trump himself. Both candidates succeeded in large part because of a substantial surge in anti-establishment feelings and anger at the status quo.

In his address to Republican delegates, Trump repeatedly sought to link crime, terrorism, street violence and illegal immigration into one central, holistic theme, sometimes moving interchangeably from the distressing number of gang related shootings in Chicago and Washington to the acts of ISIS inspired terrorism committed in places like San Bernardino and Orlando. Trump also cited recent murders alleged to have been committed by immigrants, and cited the strain a burgeoning illegal immigrant population could place on healthcare, social services and schools. Trump specifically worried aloud about the impact the recent spike in Syrian refugees will have as it relates to violent crime and terrorism, and assured listeners that such unchecked waves of immigrants will also pose even more daily threats to police and law enforcement.

Again, he drew a direct link between the antiquated and frail immigration policies of recent administrations and an even weaker Obama foreign policy, specifically blaming Hillary Clinton for the lion's share of recent foreign policy failures and blunders, and making the suggestion that American streets—like those boulevards in France, Belgium and Turkey marred by Islamic State inspired violence against civilians—will continue to be ever-more-dangerous places if U.S. foreign policy remains static or if Clinton becomes President. Trump also cited the specter of American sailors "being forced onto their knees" in front of their Iranian captors and the disintegration and lawlessness of Syria as evidence of a failed policy which he intends to turn around.

"This is the legacy of Hillary Clinton," he said, "death, destruction, terrorism…and weakness." The remark drew another standing ovation.

Trump was introduced by his daughter Ivanka, who offered her own intimate look at her father's love of family and business. She also acknowledged, near the very beginning of her remarks, her father's field of "talented" GOP competitors—the 17 other Republican candidates who jostled for position in a crowded field and in a primary race which became frequently contentious and nasty.

Ivanka's speech drew wild applause and loud cheers; indeed, some observers suggested her speech was more taut and focused, and offered a more compelling reason to vote for Donald Trump than the speech soon-to-be-delivered by her father.

Ivanka herself found her remarks framed by her father's business successes and stories of his intense desire to draw the best out of his employees and business partners. In the moments before Ivanka spoke, actor Jon Voight introduced a video—which for which Voight also provided the voice-over work—which offered a brief biography of Trump, highlighting his rise from the son of a builder to the real estate and business tycoon who built hotels and high rise properties in New York City, and who became something of a turnaround artist on controversial projects.

Real estate agent and capital investor Tom Barrack—a longtime personal friend of Trump—also spoke, offering a compelling, somewhat informal look into the private spaces of Trump's world. Barrack began by saying he did not intend to serve up any barbs or criticisms of Hillary Clinton. Instead, Barrack, who chose to walk the stage using only a handheld microphone, provided intimate anecdotes from his years of friendship with Trump, including stories of Trump's personal interest in his employees and in the tenants in hotels and apartment buildings.

Related Thursday Review articles:

Republicans Nominate Trump Amidst Controversy; Keith H. Roberts; Thursday Review; July 20, 2016.

Pence Highlights Night of GOP Contention, Eloquence; R. Alan Clanton; Thursday Review; July 21, 2016.