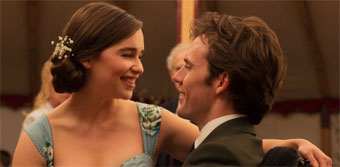 Image courtesy of MGM/New Line Cinema/Warner Brothers
Me Before You: High Caliber Tears
| published July 14, 2016 |
By Maggie Nichols, Thursday Review contributor
I'm not one to be easily lured in by the promise of a good chick flick, since, in reality, I am not normally a chick flick fan anyway. For that reason, I was reluctant to join a friend last week to see Me Before You, the movie adapted from the novel by JoJo Moyes and directed by Thea Sharrock. My friend had been pestering me for a couple of weeks, insisting that despite the tears and the schmaltz, this one is actually a film of both high quality and above-average story.

In short, the movie—which closely follows the tale told in the novel—tosses a young woman named Louisa, or Lou, for short, into the arms of a wealthy but cynical fellow named Will Traynor, apparently confined for life to a wheelchair after a horrible accident had left him partially paralyzed. The charming, happy-go-lucky, upbeat Lou takes a job at Traynor's sprawling estate as his caregiver, quasi-nurse, and all around helper, where—predictably—she ad libs the task of drawing Will out of his deep, dark depression and his grim funk, and seduces him into the world of the living and the fun-loving. Simple enough, and (did I mention?) highly predictable. Did I also mention Will is filthy rich, good looking, and has a closet filled with expensive suits and watches? Did I also mention he lives in a castle?

So, yes, for those who have already thought of it: the plot is an English countryside version of Fifty Shades of Grey sans nudity and sans bondage, and with Mr. Grey stuck in a wheel chair.

Having said all that, you might have concluded that I do not like this movie. On the contrary, it is well worth the price of the ticket ($10.50 where I live!), but if you are frugal wait for the DVD or Netflix.

The plot Me Before You is, of course, more complex than that. Lou, who leads a quiet life in a small town where she serves snacks and warm tea—has a decent boyfriend, near fiancé, for whom she maintains a structured but unsatisfactory relationship…meaning she is already questioning the depth of her feelings for him, and thus ripe for a more meaningful love. Meanwhile, Will's grim outlook on life stands in stark contrast to what he had been before his motorcycle accident: inquisitive intellectually and adventurous to the point of distraction. In other words, both principal characters are primed and ready for a big change, a reboot of sorts to their lives. After Lou gets fired from her job, she decides to leave her quiet, sedate small town to take on the assignment of caregiver for Will. Both Lou and Will find the kind of chemistry which greatly alters the trajectories of two lives.

Cheesy and corny yes, but wonderfully believable and fun despite the tears. The film also may yet spur me to read the novel, one of a long series of similarly themed works of fiction (such as John Green's The Fault in Our Stars) in recent years. The British cast serves each part well, with Emilia Clarke as Lou and Sam Claflin as Will. The cast also includes Charles Dance, Vanessa Kirby and Brendan Coyle.

Filmed on location in and around Pembroke Castle in Wales, an element which adds to the visual quality of this handsome movie.

Related Thursday Review articles:

The Fault in Our Stars; John Green ; book review by Kristy Webster; Thursday Review; August 25, 2013.

The Conjuring 2: Frights Aplenty; Maggie Nichols; Thursday Review; July 2, 2016.