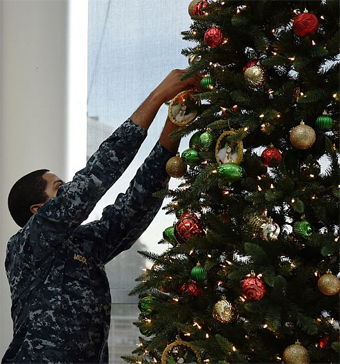 Photo courtesy of U.S. Navy
Naval Hospital Christmas Tree
| published December 3, 2015 |
By Thursday Review staff
Lt. Larry Middleton, a department head at the Naval Hospital in Bremerton, Washington, places a special ornament on a Christmas tree—the decoration honoring Lt. JG Travis Kelly, one of seven Naval Hospital (Bremerton) personnel deployed to Afghanistan. The tree was being decorated as part of the command's annual Christmas Tree Lighting Ceremony. Ornaments were also placed to honor those who recently returned from Afghanistan.

This U.S. Navy photo was taken by mass communications specialist Gretchen Albrecht.

Related Thursday Review articles:

USS Milwaukee is Commissioned; Keith H. Roberts; Thursday Review; November 23, 2015.

NFL Recognizes Veterans and Service Members; Thursday Review staff; Thursday Review; December 2, 2015.