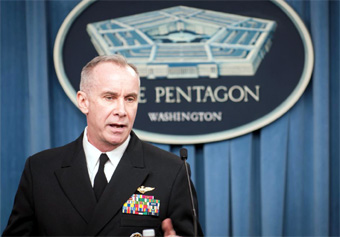 Rear Adm. William K. Lescher, Deputy Assistant Secretary of the Navy for Budget/
Navy photo by George M. Bell
U.S. Navy Settles on
$159 Billion Budget for 2017
| published February 11, 2016 |
By Keith H. Roberts, Thursday Review contributor
A few days ago the U.S. Department of the Navy released its proposed budget for the fiscal year 2017, a whopping $165 billion. But according to the website Defense News, the Navy has already been nudged into a roughly $7 billion cut in that budget, which still brings it in about 3.5% above last year's planning.

According to Defense News, which rolled-out its budget story yesterday, "the Navy Department's top line drops to $152.9 billion in baseline funding against last year's projection of $159.9 billion."

The Navy will also face similar cuts over the next several years, through about 2021.

Among the things in that budget: a plan to have 322,900 sailors on duty during 2017, a reduction from 327,300 already authorized for 2016. Some of that personnel downsizing is the direct result of the elimination for plans for a tenth air wing, and new plans to take several older cruisers and destroyers out of the seas next year for the start of upgrades and modernizations, which could take three years or more to complete.

Also, the Navy has greatly reduced the number of ships it planned to purchase or build over the next few years. Example: the ultra-expensive but extremely high-tech USS Zumwalt program—which got hammered by Congress last year—will probably only see one to three ships built in the next couple of years. The original proposal for 31 or more destroyers in the Zumwalt class got hacked down to just a few.

The flagship USS Zumwalt went to sea trials ten weeks ago, and the $3.5 prototype ship must test its readiness as well as its ability to remain stable in rough seas. Critics of the program worry that the ship's unusual design—called a tumblehome (a design largely phased out by the world's navies more than 100 years ago)—could lead to serious instability, technical challenges in high seas and tight turns, and even the possibility of capsizing, outcomes which its builders, General Dynamics, Huntington-Ingalls and Bath Iron Works, say are unlikely thanks to rigorous testing and computer modelling. The Zumwalt weighs more than 15,000 tones, and at 600 feet in length, it is the largest destroyer ever built by the U.S. Navy.

But the Zumwalt class of futuristic ships is not the only Navy asset on the chopping block.

"Four aircraft squadrons are being deactivated or cancelled," Defense News reports. But the Marines will pick up some additional F/A-18 Super Hornets and four new state-of-the-art RQ-21 Blackjack drones.

Much of the personnel, assets and equipment that are part of the air wing being eliminated will be dispersed strategically to supplement other parts of the fleet. That process will begin later this year, possibly as early as October, according to a Tuesday report in the Navy Times.

The Pentagon held a press briefing on Tuesday of this week to explain how the budget changes would impact the Navy and its plans for the next few years. At that press conference, Rear Admiral William K. Lescher (Deputy Assistant Secretary of the Navy for Budgets), delivered his comments and answered questions from reporters.

This U.S. Navy photo was taken by mass communication specialist 2nd class George M. Bell.

Related Thursday Review articles:

USS Zumwalt Begins Sea Trials; R. Alan Clanton; Thursday Review; December 8, 2015.

USS Milwaukee is Commissioned; Keith H. Roberts; Thursday Review; November 23, 2015.