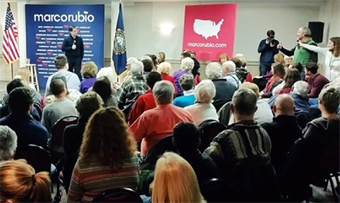 Image courtesy of Marco Rubio 2016
Rubio Wins in PPP Matchup with Clinton; Carson Ties Clinton
| published December 26, 2015 |
By Keith H. Roberts, Thursday Review contributor
One year ago this week former Florida Governor Jeb Bush was resigning from various boards and committees, divesting himself of certain business ownership, and cutting himself loose from several non-profit groups he was instrumental in founding and maintaining. He was also preparing years' worth of financial statements and tax documents, and his staff was collating thousands of emails for release to reporters and to the public.

By New Year's Eve Bush 2014 was poised from a legal and statutory standpoint to declare his candidacy for President. And in the still long wake of New Jersey Governor Chris Christie's once-serious political meltdown—also known as the George Washington Bridge scandal, or Bridgegate, for short—Bush was considered the de facto front-runner, and the man-to-beat among Republicans. There were others out there already campaigning even if they had not officially declared their intentions—Kentucky Senator Rand Paul, Wisconsin Governor Scott Walker, Texas Governor Rick Perry, and former Louisiana Governor Bobby Jindal, to name but four—but Bush was the Big Kahuna.

The big rematch between a Clinton and a Bush seemed fairly certain, and most political "experts" (and that includes the pundits here at Thursday Review) predicted that it was even inevitable that Americans would see a clash of the dynasties in November 2016. Besides, Bush was leading all other GOP candidates in most polls, and his money-raising apparatus—already predicted to be even more powerful than that of Hillary Clinton—was steaming and ready to sail. His PAC, Right to Rise, was already raking in cash the likes of which no campaign had ever seen.

In short, Bush was the GOP candidate seen as most likely to succeed in a one-on-one matchup with Clinton.

But that was then, and this is now. Despite a Herculean effort by Bush to bring his candidacy back to the forefront among Republicans in a crowded field still dominated by businessman Donald Trump, and a race still so fluid that the number two and three spots seem to change weekly (Ted Cruz has now pulling alongside Trump in many national polls; Cruz has, for now, taken the lead in Iowa), Bush lags stubbornly in about fifth or sixth place, depending on the poll. Worse, the brother of Bush 43 and the son of Bush 41, now trails Hillary Clinton in a hypothetical matchup conducted by Public Policy Polling (PPP) last week. This new poll shows Clinton beating Bush 44% to 39%, with roughly 17% undecided. Bush also receives the lowest favorability ratings of any Republican among GOP voters, with only 24% viewing him in "favorable" terms. Conversely, some 53% seen him as "unfavorable," a condition which hampers his ability to break out of the crowded field, and makes it unlikely he can recast himself as the party's preferred anti-Trump.

On the other hand, at least one Republican does beat Clinton in a head-to-head matchup: Florida Senator Marco Rubio, once considered a long shot, and from the very start of his campaign considered a potential nuisance for fellow Floridian Bush. Though Bush and Rubio have traded small arms fire over the past months, and in at least one recent debate, no such big showdown between the Sunshine Staters has emerged. As Rubio ascended in the polls in recent weeks, the real duel turned out to be a festering feud over immigration between the junior Senator from Florida and Texas Senator Ted Cruz. Indeed, the two sons of Cuban immigrants sparred ferociously over the specifics of each other's immigration policy in the most recent GOP debate, hosted by CNN and held in Las Vegas earlier in December. The argument—spurred in part by terror attacks in San Bernardino—forced each candidate to make some small concessions on the very issue which Republican strategists hoped could be kept contained in 2016, and came at the moment when both Cruz and Rubio were making steady gains at the expense of Trump.

Of all Republican candidates, the new PPP polls show that Rubio scores the best against Clinton, beating the former Secretary of State 44% to 43% in a theoretical matchup, with only about 13% undecided. Ben Carson, author and retired neurosurgeon, is in a dead heat with Clinton, at 45% to 45%, with less than 10% undecided. Cruz comes in a very close next-best among the GOP candidates; he lags behind Clinton in the same matchup by only 2%, with Clinton pulling in 45% support and Cruz roughly 43%, and about 12% undecided.

Though the polls are hypothetical, and are obviously so early as to have little bearing on any specific election outcome, they do indicate danger for Bush for the short term. Bush, if anything, must prove to potential Republican voters that he has the moxie and muscle to take on Hillary Clinton in the fall of 2016. With the Iowa caucuses now five weeks away, and with New Hampshire close on Iowa's heels, the stakes are extremely high for Bush who must deliver a few knockout punches to his competitors before he risks sliding into irrelevance prior to the Florida primary. Even then, he may split the loyalties of Sunshine State voters, who will have to choose between two Miami-based politicians with homes just five minutes apart.

Bush has fought vigorously in recent weeks to regain his footing. Such was the level of panic among his biggest supporters and donors that he was forced more than a month ago to retool his entire campaign—cutting some salaries, reducing paid staff, reorganizing his high command, and redirecting resources into the most critical areas of Iowa, New Hampshire and South Carolina. Once the party leader in terms of cash-on-hand and cash-in-reserve, Bush has now diverted much of his money into Iowa, New Hampshire and South Carolina in an attempt to front-load his campaign. He has also gamely and bravely attempted to take on Trump head-on, challenging Trump's seriousness and studiousness, and seeking to craft a narrative among reporters and voters that it is the Bush campaign which is the serious alternative to the anti-establishment cadre, led by Trump, Carson and Cruz.

But Rubio's ascension has slowed—if not blunted entirely—that process. And as Cruz begins to look more and more like the best alternative to Trump for Iowans, and as Chris Christie and John Kasich each double-down in New Hampshire, Bush is running out of options. Early donors are now openly nervous that all that investment in Bush as the mainstream candidate may be lost.

But those close to the Bush campaign still maintain the hope—perhaps grounded in better information than we have—that a significant number of Republican voters in Iowa, New Hampshire, South Carolina and, possibly, Nevada, will "come home" to the traditional GOP base, abandoning the insurrection begun by Trump, and concluding that the outer outsider candidates—Ben Carson and Carly Fiorina—are soft, second-tier candidates incapable of fighting in the same general election arena with Clinton. Bush must also convince still other GOP voters that a vote for Bush is a better long term investment than a vote for Cruz, Rubio, Christie or Kasich.

It's a tall order for Bush, the once time presumed front-runner. And it may prove to be a tough sell to Republican voters who will still see a smorgasbord of options when they go to their voting place in those first caucuses and primaries starting in early February.

Related Thursday Review articles:

Clinton Versus Trump: Apology Wars & Debate Fallout; Keith H. Roberts; Thursday Review; December 21, 2015.

Republicans: Policy & Fireworks in Las Vegas; R. Alan Clanton; Thursday Review; December 16, 2015.