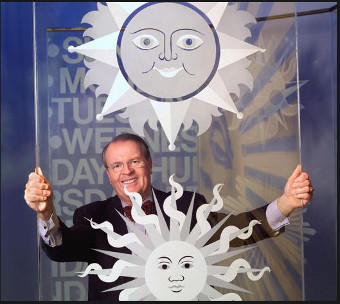 Image courtesy of CBS News
Pauley to Replace Osgood on
CBS Sunday Morning
| published September 26, 2016 |
By R. Alan Clanton, Thursday Review editor
Charles Osgood, long time broadcaster and journalist of television and radio, as well as author, retired this weekend from CBS Sunday Morning, the program he has hosted more-or-less continuously for decades. CBS announced his replacement the same day: veteran broadcaster and commentator Jane Pauley.

Pauley will become only the third host in the program's durable history, replacing the respected and beloved Osgood after 22 years, and after Charles Kuralt, the show's original moderator and host. Pauley, 65, is best remembered as one of the hosts of The Today Show on NBC, where she worked alongside Tom Brokaw, Bryant Gumbel and others.

Pauley is deeply familiar with the tempo and tone of the highly-rated CBS Sunday Morning, having served as fill-in host during Osgood's vacations or absences.

Executive producer Rand Morrison described Pauley as "a perfect fit" for the 35-year-old show's key position.

Sunday's program was a mixed-bag of tributes, memories and gems from Osgood's decades of broadcasting, and including scores of clips from some of his most famous segments. On air, Pauley said she was honored to follow the path blazed by Kuralt and Osgood.

Osgood will not fully retire from broadcasting, however. He will continue to provide commentary for CBS radio. Osgood has been with CBS for 45 years.

Related Thursday Review articles:

John McLaughlin, Creator of Combative Political Talk, Dies at 89; R. Alan Clanton; Thursday Review; August 17, 2016.

Morley Safer, Veteran Journalist, Dies at 84; R. Alan Clanton; Thursday Review; May 19, 2016.