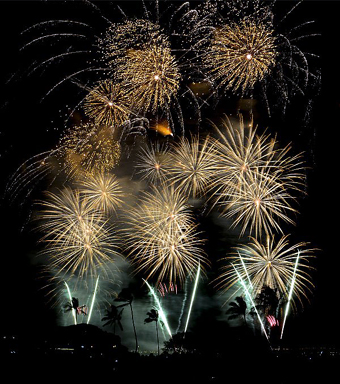 Photo courtesy of U.S. Navy
Fireworks Over Pearl Harbor
| published August 19, 2015 |
By Keith H. Roberts Thursday Review contributor
This dazzling photo shows fireworks illuminating a dark Hawaii sky on August 15, 2015, part of official celebrations of the Nagasaki-Honolulu 70 Years of Peace commemorations which were held at Pearl Harbor-Hickam Field. The fireworks were launched from Ford Island, which sits in the center of the main harbor. The fireworks display celebrates the declaration of peace between the Asian combatants of World War II, the peace treaties between Japan and the United States, and the end of the Pacific war in World War II.


This U.S. Navy photograph was taken by mass communications specialist 2nd class Laurie Dexter.

Related Thursday Review articles:

Honoring Those Killed in Chattanooga; Thursday Review staff; Thursday Review; July 25, 2015.

Bicentennial Plus 39 in Boston; Thursday Review staff; Thursday Review; July 9, 2015.