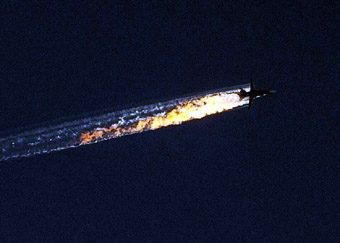 Image courtesy of You Tube
Russian Bomber Incident May Pose Challenge for NATO
| published November 25, 2015 |
By R. Alan Clanton, Thursday Review editor
Turkish soldiers manning defense systems along the curvilinear border between Syria and Turkey shot down a Russian Su-24 heavy bomber on Tuesday—a potential spark in the complex and combustible theater of military operations in northern Syria and Iraq.

Russia says its plane was shot down in an unprovoked and hostile action by the Turkish military, an act which Russian President Vladimir Putin called a "stab in the back." Turkey says that the Russian jet fighter crossed into its airspace, uninvited, during a bombing run over northern Syria.

Turkish air force jets shot down the Russian heavy bomber on Tuesday amidst skies increasingly crowded and dangerous over Syria and Iraq, where the air power of a dozen countries has now converged in the battle against the Islamic State, but where in the fractious and complex world of Middle East, such air alliances come with serious risks.

One of the plane's pilots died in the crash; another safely ejected, and after parachuting to the ground was rescued from behind rebel lines by Syrian commandos 12 hours later. The pilot, according to Moscow, is now safe at an air base in the Latakia province. Multiple cameras and smartphones captured images of the plane as it turned into a fireball streaking across the blue skies before crashing and exploding just inside the border of Syria.

The incident took place near the rugged mountains and hills south of the Turkish town of Asagipulluyazi—an area defined by its panhandle dip deep into Syria. According to Turkey (and initial NATO analysis of the flight path), the Russian fighter crossed this panhandle airspace on a bombing run targeting anti-government rebels opposing Syrian President Bashir al-Assad. Turkey says it repeatedly warned the plane's pilot that he was violating sovereign airspace.

Tensions were on the rise within minutes of the shooting down of the Russian plane. Turkey says the pilot was given sufficient and clear warning that he was crossing into the air space of Turkey, a crucial NATO ally, and a country with a long border with Syria. Russia has not only dismissed Turkey's claim that the pilot was given multiple radio warnings, it also denies that the plane crossed into Turkish airspace at all. It has called the action by Turkey an outrage.

Turkey has requested an emergency meeting with its NATO partners, and Russia has demanded that the issue be brought before the Security Council. Putin said the incident would have "serious consequences for Russian-Turkish relations," and ordered the redeployment of one of Moscow's most advanced anti-missile systems to the front lines.

The incident could not have come at a worse time for U.S. President Barack Obama and close allies Britain and France. The U.S. and NATO were beginning discussions with Russia in an effort to redirect Moscow's military efforts in Syria—shifting Putin's emphasis away from backing the regime of Bashir al Assad and toward the destruction of ISIS. Instead, the shoot-down came as Obama was meeting with French President Francois Hollande in Washington, and news of the altercation undercut the messages of both Hollande and Obama to reporters—a public display of solidarity by the civilized countries against ISIS.

But the incident underscores the dangerous nature of so many fighter airplanes, drones, cruise missiles and weapons in such a crowded area of the Middle East. According to some military analysts, the shoot-down is not likely to go unanswered by Putin. If Moscow retaliates—responding directly with military action—it could force NATO, which is bound to protect member nations from attacks by non-NATO countries, into a response of its own. How, or under what conditions, such an escalation would occur, remain unclear—though what is certain is that any further action by Turkey or Russia could have serious consequences to an already volatile region torn by civil war and power struggle.

In the meantime, the United States, France, and Britain are urging calm between all participating parties. Russian officials have said that Moscow has no intention of going to war with Turkey. But U.S. military analysts worry that any ratcheting-up of tensions through punches and counter-punches would not merely derail the limited progress made in Syria, but also provoke a potentially violent confrontation between NATO and Russia. Uneasiness between Russia and NATO have been strained since the 2014 annexation of the Crimea, and the start of a civil war in the Ukraine in which rebel militants loyal to Moscow have been battling troops loyal to Kiev for some 20 months.

Putin has vowed to begin immediate use of the S-400 anti-missile weapons system, and he has said Russia will tolerate no further attacks on its warplanes, either from ground-based systems or from other warplanes. The state-of-the-art air defense missile system is capable of taking down an array of airborne threats to Russian fighters, and Putin has ordered the deployment of the system in several locations near the Syrian border with Turkey. The Russian Defense Ministry has also ordered the guided missile cruiser Moskva, already in the eastern Mediterranean, to move closer to shore off the coast north of Latakia. Russian bombers will also be accompanied on new sorties by faster Russia fighter jets.

Though the interests of the U.S.-led coalition in Iraq and Syria overlap slightly with the interests of the Russians, the fact remains that Moscow and Washington are fighting two parallel wars within the same country. Russia seeks to bolster the regime of Assad by bringing into the region an array of firepower, especially bombers, fighter jets, cruise missiles, and naval power. Assad in turn, observing that the U.S., France, and an air power coalition of moderate Arab states such as Kuwait and Saudi Arabia are busy pounding ISIS-specific targets, has asked for Russian help in targeting non-ISIS rebel groups, many of them forming a patchwork of territorial fiefdoms in the areas north and northeast of Damascus.

The crisis also comes only a week and a half after deadly terror attacks in Paris which left some 130 dead and 350 wounded. The ISIS-inspired assaults have prompted France to take stronger action militarily, which includes the deployment of the French aircraft carrier Charles de Gaulle to the Middle East, where it will bring to the theater 24 additional French jet fighters. The tensions between Turkey and Russia also come only a few weeks after ISIS has attempted to assert its capacity for violence into areas on three continents—in Asia, where ISIS-linked groups detonated bombs in Afghanistan and Pakistan, in France and Belgium, where police have arrested or killed suspects who may have been only hours away from more terror attacks, and in Africa, where ISIS-linked militants brought down a Russian passenger plane over the Sinai Peninsula.

To make matters more dangerous, Moscow has severed all military communication and coordination with Ankara, leaving it the United States—which has already been managing "deconfliction" in the airspace above Syria and Iraq—to attempt to intervene and interdict in any flashpoints between Russia and Turkey.

In Ankara, Turkish Prime Minister Ahmet Davutoglu attempted to tamp down the rhetoric by suggesting that Russia was still a "friend and neighbor," but stressing to his own party's legislators that Turkey will not yield on its insistence on protecting its airspace. Davutoglu said that initial inquiries into the incident show that personnel among Turkey's air defense system has no way of knowing the nationality of the plane—only that it had crossed the border into Turkey and could have posed a grave threat.

But Davutoglu also acknowledged that the situation in Syria's northern Turkmen region is complex, and suggested that any form of air campaign is fraught with risks and dangers. The Prime Minister insisted that Syrian and Russian air forces refrain from close aerial combat along the circuitous border which separates Turkey from Syria, and along which thousands of Turkish troops and security forces patrol in an effort to manage not only the flow of war refugees, but also to keep a vigilant eye on ISIS militant soldiers.

Related Thursday Review articles:

French Airstrikes Continue Over Syria; R. Alan Clanton; Thursday Review; November 18, 2015.

Russian Investigators Confirm Bomb Theory; Thursday Review staff; Thursday Review; November 17, 2015.