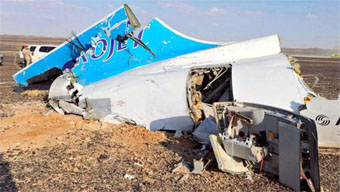 Image courtesy of BBC
Russian Airliner: Claims and
Counterclaims Over ISIS
| published November 1, 2015 |
By Keith H. Roberts, Thursday Review staff
Though the governments of Russia and Egypt each insist there is no credible evidence that an Airbus A321, which crashed Saturday in a remote area of the central Sinai Peninsula Saturday, was brought down by an ISIS-linked militant group operating in the region, aviation and military experts are now saying theories regarding a deliberate shoot-down cannot be ruled out.

Russian aviation analysts are saying that the passenger plane broke up at a high altitude in a manner consistent with a possible explosion. Debris has been found across a wide area, with parts of the cockpit and tail more than three miles apart. In Moscow, concerns about the safety of the Airbus, which is operated and maintained by a company called Kogalymavia, triggered a government-mandated grounding of the entire Airbus A321 fleet, most of which were flown by the popular trade name Metrojet.

The Airbus A321, which was head to St. Petersburg, Russia, crashed about 25 minutes after takeoff from the Red Sea resort city of Sharm el-Sheikh. The plane had barely reached its cruising altitude when its crew radioed in that the plane was may be experiencing problems. Seconds later, air traffic controllers lost contact with the plane. All 224 passengers and crew are dead, with crews on the ground still recovering bodies.

Officials and investigators on the scene have reached the tentative conclusion that the plane broke apart in midair, perhaps moments after it began a controlled descent. Those same investigators are telling news sources and reporters, however, that it may be far too early to draw any concrete conclusions from this information.

Military experts have stressed that they do not believe that the ISIS militants operating in the Sinai have the weapons to take down a jetliner which cruises at more than 30,000 feet, but that this new possibility—that of the plane breaking apart while still in the air—lends some credence to the even more worrisome fears that militants groups in the Middle East may possess surface-to-air missiles or rockets capable of destroying commercial airliners.

Though the government of Egypt has downplayed theories regarding an ISIS-inspired attack on the airliner, insisting that rebel and militant groups in Egypt are far short of possessing such sophisticated weaponry, some intelligence experts in the U.S. and the U.K. worry that it is possible that weapons captured by ISIS in northeastern Syria and in northwestern Iraq may have made their way into other parts of the Middle East.

An ISIS-aligned militant group has claimed responsibility for the downing of the Russian airliner, and has repeatedly said on its websites and on social media that the civilian plane was shot down in retaliation for the hundreds of Syrian citizens killed by Russian air attacks in the four weeks since Moscow deployed air power, artillery, drones and missiles—along with Russian personal—to Damascus in an attempt to bolster the regime of Syrian President Bashir al-Assad.

According to aviation experts in Russia, the airbus A321 was destroyed midair, with fragments of the plane scattering to Earth in a pattern consistent with the detonation of a bomb or missile. Debris has been found in an area spreading some 20 miles, though several large pieces have been found more-or-less intact.

But many experts are dubious of claims by ISIS that its militants brought the plane down using some form of ground-based anti-aircraft system. Russia's top aviation chief, Viktor Sorochenko, said that claims of responsibility by ISIS and ISIS-linked groups "can't be considered accurate." And though it is possible that surface-to-air missiles and similar weapons could have been smuggled out of ISIS-controlled areas of Iraq and Syria, many military experts doubt that those same weapons could have made it into the hands of Egyptian ISIS militants with the training and skill to bring down an airliner.

ISIS-maintained websites and social media sites have sometimes claimed direct responsibility for events for which there has been no conclusive evidence of ISIS involvement. ISIS has, however, called for a wider war against all Americans, Russians, and other nationals whose countries have participated in the war against ISIS, whether from the air or on the ground. And ISIS has encouraged direct acts of violence against civilians as retaliation for interference in the building of the Islamic State.

Among the 224 who died in the crash were 17 children.

Several airlines have already said that they are rerouting or recrafting many of their passenger routes to avoid the Sinai and parts of Iraq and Syria.

Related Thursday Review articles:

Russia Sending More Weapons, Troops to Syria; R. Alan Clanton; Thursday Review; September 18, 2015.

Destruction of Palmyra Intolerable, UNESCO; Thursday Review staff; Thursday Review; September 3, 2015.