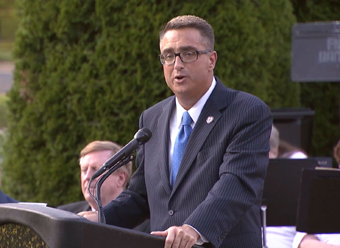 Image courtesy of C-Span
Sex, Drugs and Politics in Virginia
| published August 12, 2016 |
By Earl Perkins, Thursday Review features editor
Drugs, sex and politics almost always make for a great story, and Scott Silverthorne, mayor of Fairfax City, Virginia, has certainly not disappointed our thirst for the salacious. The 50-year-old politician and substitute teacher was recently arrested for offering methamphetamine to undercover officers in exchange for sex, according to Fairfax City Patch, the Washington Post and other media outlets.

The wannabe solon evidently thought it would be a fine idea to advertise on social media, offering gay sex for meth, and as you might imagine, he soon ran afoul of authorities. Arrested in a bust following a Fairfax County Police sting, investigators announced Friday morning that Silverthorne was charged with felony distribution of methamphetamine and misdemeanor possession of drug paraphernalia.

"An undercover detective from our department created a profile on this website, and within just a few days the suspect made contact with us," Major Andrew Carol told reporters Friday.

The investigation was kickstarted by a citizen tip alerting police to Richard "Scott" Silverthorne's shenanigans, and he and the cops soon scurried straight for the website heading Casual Sexual Encounters. Within days Silverthorne cruised blithely toward the Tysons Corner Crown Plaza Hotel, eagerly anticipating a gay group sexual encounter. He held up his end of the bargain, but was immediately arrested after allegedly providing the controlled substance to detectives.

Following a search of Silverthorne's residence, detectives deduced he met suppliers just prior to each of his clandestine meetings, according to Captain Jack Hardin of the Fairfax County Police. After being confronted with the evidence, he immediately rolled over on his suppliers, so to speak, providing information on the dealers in exchange, presumably, for what may be a lighter sentence once his case goes to court.

Two Maryland residents were subsequently arrested for providing Silverthorne with a controlled substance. Juan Jose Fernadez, 34, was charged with felony distribution of meth, felony possession with intent to distribute meth and misdemeanor possession of drug paraphernalia, while Caustin Lee McLaughlin, 21, is charged with felony distribution of meth, felony obstruction of justice and misdemeanor possession of drug paraphernalia. McLaughlin also faces resisting arrest after running awry of a cop's Taser gun, according to Fairfax County Police.

Life in America has become a cross between Breaking Bad and doing whatever you want with no thought of the potential consequences. And I certainly hope politicians are no direct reflection of the general populace, considering the pecadilios committed by U.S. Rep. Corrine Brown of Florida and Stockton, California Mayor Anthony Silva. And that only covers national headlines for the last few days.

Reading though the Virginia press, I understand this has been a bad year for Silverthorne, what with facing a nonlethal form of cancer, squamous cell carcinoma, along with losing his home and job, but that's no excuse for breaking the law or violating the trust of voters. After all, his father had been a long-time mayor of the well-heeled enclave just 20 miles west of the District, and Silverthorne had a long history as a local public servant.

After serving nine terms (18 consecutive years) on the City Council and being re-elected Mayor in May to serve a third term, he was burnishing his resume and basking in the glow of a popular new park he'd championed. All this was paving a wide path in the event he sought to move upwards in Virginia politics. However, Silverthorne was weathering criticism over the city's decision to sell land it owned in Loudoun County without a public bidding process, and he was pondering proposals for new businesses and homes which might detract from the area's small-town charm.

He'd ignored a growth on his neck for months, and was reported to have been steadily losing energy and eventually dropping 35 pounds. Then after visiting an oncologist in late October, he was diagnosed with the carcinoma, which is sometimes aggressive but nonlethal. Reaction from residents of the small community ranged from sympathy to questioning whether Silverthorne should resign his mayoral duties to focus on his health and finances.

"It's been a terrible year for me," he said. "There's no question about it. I can try to sugarcoat it as best I can, but the facts speak for themselves."

He revealed his diagnosis on his 50th birthday--on live television as the city council meeting was broadcast live on the city's government access television station.

"Every party has a pooper, and tonight that pooper is going to me," Silverthorne began, after the Pledge of Allegiance. He then relayed the details of his prognosis and his intention to seek a third term in office in the spring. "I'm not looking for your sympathy," he added. "But I do believe in the positive power of prayer."

Strangers e-mailed get-well wishes, while many approached him at council meetings to express support.

"You're getting a lot of prayers out here," Allen Griffith, a local advocate for the homeless, told the mayor during one meeting. "We're thinking of you, sir. Get well."

Sounding sheepish, Silverthorne replied: "I really am grateful."

Jeff Greenfield, a council member who grew up on the same Fairfax City block as the mayor, claimed the outpouring of support is expected in a close-knit city where many families resided for generations.

"We rally behind people in a time of need, and the mayor is no different in that regard," Greenfield said, describing how the community supported his family when his daughter underwent a series of heart surgeries the previous year.

But that's all ancient history now. It looks as though Silverthorne's political career might be over, although personal and financial woes could dog him for years to come.

Related Thursday Review articles:

Corrine Brown's Indictment; Earl Perkins; Thursday Review; July 23, 2016.

Can Corrine Brown Survive This Legal Political and Legal Storm; Earl Perkins; Thursday Review; July 31, 2016.