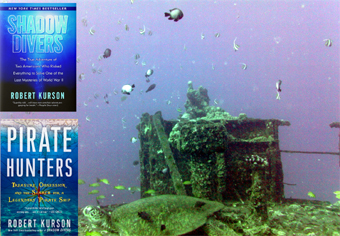 image by Lisa K. Whitten
Shadow Divers and Pirate Hunters
| published September 1, 2015 |
Book reviews by Lisa K. Whitten, Thursday Review contributor
A few years ago I was wandering through a local used book store, perusing the bookcases for other things, when I kept seeing Shadow Divers on shelves. Since I dive, I decided to pick up a copy and give it a glance. I wasn't sold on what I read on the fly leaf, which was something about U-boats. This sounded like military history to me, so I moved on.

But after browsing some more in the book store and not finding anything to my liking, I went back and picked up Shadow Divers, taking it home as a sort of consolation prize. To my surprise I was not able to put the book down. I couldn't wait to get to the end and even skipped ahead to read about father and son, Chris Rouse and Chris Rouse, Jr., on their dive to the U-boat. Though I "cheated" by jumping to the final chapter, I did return to where I left off and eventually completed reading the entire book.

The excitement of John Chatterton, Richie Kohler and the other divers of the unexpected discovery of the wreck of a previously unidentified U-boat was riveting. This was a six-year-long process of research accompanied by many dives. The process of determining the identity of this U-boat and how it came to be located off the Atlantic coast of New Jersey was fascinating. Some research took place in Germany where U-boats were manufactured. Families of the Germans that perished on the U-boat were interviewed. Until the discovery of this U-boat the families had never really known what had happened to their loved ones.

So, when Kurson's Pirate Hunters came out I didn't hesitate to quickly find a copy.

Pirate Hunters: Treasure, Obsession, and the Search for a Legendary Pirate Ship was just as riveting as Shadow Divers. John Chatterton and John Mattera were set to search for a treasure ship from the 17th century when a call from Tracy Bowden came in. Chatterton and Mattera flew to Miami to listen to what Bowden had to tell them about Joseph Bannister's ship, the Golden Fleece. It is a pirate ship reportedly sunk in Cayo Levantado near the Dominican Republic that had never been found. Bowden had searched in the 1980's for the ship, but never found it. He knew that Chatterton and Mattera had new technology that could help in locating the ship, so Bowden offered them a portion of the treasure if they will assist in a renewed search to find the pirate ship.

It doesn't take them long to decide to go diving in search of a pirate ship. Pirate ships aren't found every day. After agreeing with Bowden, they set off for their hunt for the Golden Fleece. It would take hundreds of thousands of dollars for equipment, time, research in Spain, frustration and doubts. Through the adventure we learn about Joseph Bannister, the pirate. He wasn't always a pirate. We also learn about Chatterton and Mattera who weren't always divers.

In their search for the Golden Fleece, they are convinced that Bowden has the wrong site for the sunken ship. Bowden, of course, insists he is right. They are also under a time crunch due to salvage rights. Any moment Bowden could lose his salvage rights and lose his pirate ship. Tension rises between the crew members. They go back and forth on where to search so much that they decide to all take a break—a break which seems more like the end. Eventually, tempers eased and stresses relieved, they get back on track for hunting the pirate ship.

Kurson does a great job of writing that lets you experience the emotions and frustrations of the hunt. His style allows you to feel the excitement and thrill as if you are on this adventure with them. Robert Kurson's diving stories will always have a spot on my bookshelf.

Related Thursday Review articles:

The Boys in the Boat; Daniel James Brown; book review by Karen Franklin; Thursday Review; July 28, 2015.

American Pastimes: The Very Best of Red Smith; book review by Earl Perkins; Thursday Review; February 16, 2015.