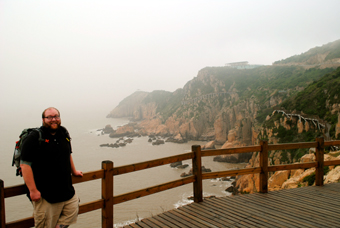 photos courtesy of Michael Bush
Shengsi Island;
To Heck With the Fog
| published April 5, 2016 |
By Michael Bush, Thursday Review writer
I recently wrote about a haunted farm in Shanghai, which was really just a farm that gave up trying to attract children visitors with cute mascots. Instead, the farm let the statues of said mascots fall into disrepair on the ground rather than remove them altogether. Instead, it seemed like a graveyard for once-cuddly mascots. Plus is it was an overcast day when we visited, and it began to rain. All of this just lent to the spooky atmosphere. If we had gone on a nice sunny day, my experience would have probably been very different.

Such is also the case, I believe, with Shengsi Island. The rumors of a nice island with fresh seafood, safe swimming (i.e. non-polluted ocean), and a slow pace of life sounded great to me. And it was only two hours away from where we lived at the time! I had to go and investigate this place, as none of my friends had yet been. I foolishly chose to visit during the off-season. What I found was not as advertised. It was not a sunny, fun-filled, beach community with great seafood and lots of vacationers. It was an abandoned ghost village surrounded by a constant and creepy fog. The island I visited was totally different from both the rumors and the brochures in so many ways. In fact, it was devoid of fun, food, and even life.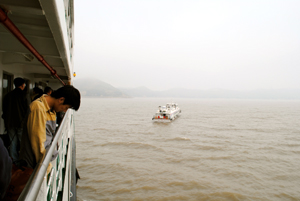 Shengsi Island is actually part of an archipelago of close to 400 islands, many of which are uninhabited. There are a few that are quite famous for being short weekend getaways from the big city, but I chose Shengsi as it was famous for its fishermen. They are not only masters of the sea, but they are well known for their folk art and their painted murals on many of the buildings in their village, Donghai Yucun. After a long-distance bus ride, and a quick ferry ride to the island, I had already determined that day one would be a wash. It was foggy. So thick was this fog, that we couldn't see the island until we were almost on top of it. My fellow ferry-riders also felt the approaching gloom.

Upon arrival and locating a hotel from which to base my explorations, I saw almost no one on the roads. It was as if I had entered a Stephen King novel, and the residents were all either dead, or hiding behind their curtains and peering out at me to see if I would survive this island's dark secret. When I learned that the fog wasn't going away, that it would in fact be present for the duration of my trip, I decided to commence the adventure and say, "damn the fog."

First up was a scenic area along the rocky cliff sides of the island, where a precariously perched boardwalk is bolted right into the rock wall. Beautiful though it may be, even with the dastardly fog, the reputation for such craftsmanship in the Middle Kingdom is not always the best. This is represented by some of the steps I saw crumbling away down at the shore.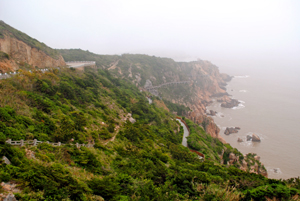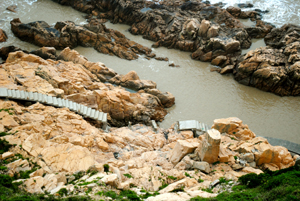 Luckily, I made it out alive and made my way towards this fishing village I had heard so much about. Along the way, I saw a temple perched high upon the hillside, and wanted to take a look. I'm a sucker for a temple, as you may know from my previous articles. But the view was non-existent. Fog, once again. Not only that, but it was a newly constructed temple. Now, that doesn't take away from the beauty of the place, but it just isn't as cool when I'm staring in awe at the incredible architecture and am told the temple was only built a few years ago. I like history, but as I have said before, many of China's historical spots are fairly new since the originals were torn down and destroyed during several rough periods in China's turbulent past.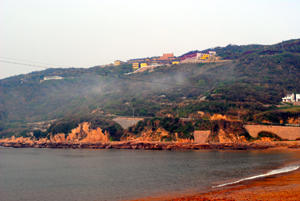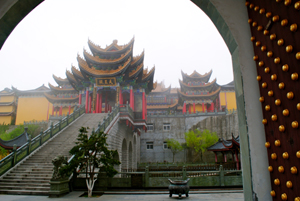 After checking out the temple, I came around a bend and could see the fishing village laid out before me. It was amazing. I love sights like this, and the fog didn't take away a thing. Maybe it even added to it. But despite how gorgeous the view was, I had still not seen any people. None. And no food stalls. Nothing. It was seriously beginning to worry me. I stopped thinking Stephen King at this point, and began leaning more towards H.P. Lovecraft instead.

Once I got down into the village, I finally felt like this trip was worth it. First, I found some people. That, all by itself, was a major relief. Of course, they were locals, and that moment they happened to be huddled around a truck full of shoes, all haggling over the price. After speaking with them for a moment, I determined where the paintings could be found. As I walked along the road to reach the famous fisherman murals, I saw the biggest fishing net I have ever seen. One of the locals informed me that they bring the nets in every so often and spread them out on the road. During that time, they walk the length and mend any tears in the net.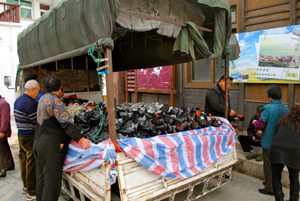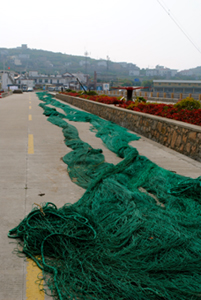 Finally, I found what I had been searching for all day. The paintings made famous because the local fishermen made them. One of the plaques describing how amazing this feat was accomplished included an explanation of why this is art truly impressive: the artists were simple men who only knew the sea. I was pretty offended for the fishermen at that statement. Sure, they fish, but I'll bet they are more complex than this plaque made them seem. Anyway, the paintings were lovely and very folksy. I enjoyed this part of the island the most. Still, it was nothing like the brochures I found lying around at the hotel earlier. The place was desolate, quiet, foodless (to my dismay), and pretty joyless, too.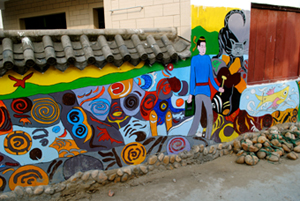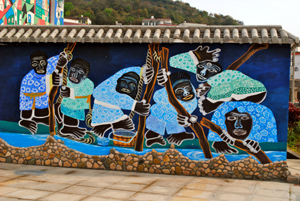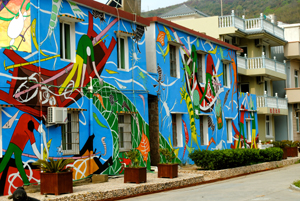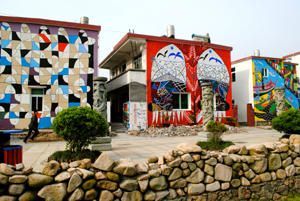 As I made my way back into town, the sun was setting and everything began to grow dark. Since Cthulu had eaten all of the inhabitants of the island, there were really no lights on anywhere. The fishing boats were moored and covered in the ominous fog of death. I rushed past them as quickly as my tired legs would carry me. Suddenly, a glow caught my eye. It was the only light around. And, thank the elder ones, it was a restaurant. The food was subpar but filling and I was determined to not be hungry overnight, as I knew there would be no late-night street-food like what I was accustomed to back in Shanghai.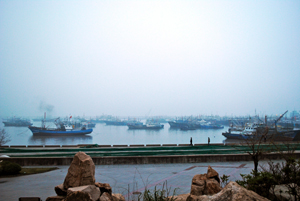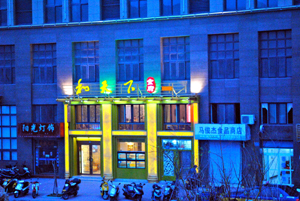 The next day was a short one, as the ferry left around 2:30 in the afternoon. So I decided to see one of the popular beach resorts on the island. Those brochures showed legions of people enjoying sun, sand, and swimming! I had to see the awful truth of the low season for myself, though. I needed to know. And so I went. Other than a dead rat, I found myself alone on that beach. And it was at that moment I learned a valuable lesson: There is a reason for peak season.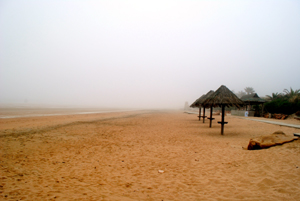 Related Thursday Review articles:

Happy Valley: The Dismal Business of Ripping Off Disney; Michael Bush;Thursday Review; November 15, 2015.

Scared as Kuala Lumpur: Or, Tourism in the Age of Terror; Michael Bush;Thursday Review; March 13, 2016.