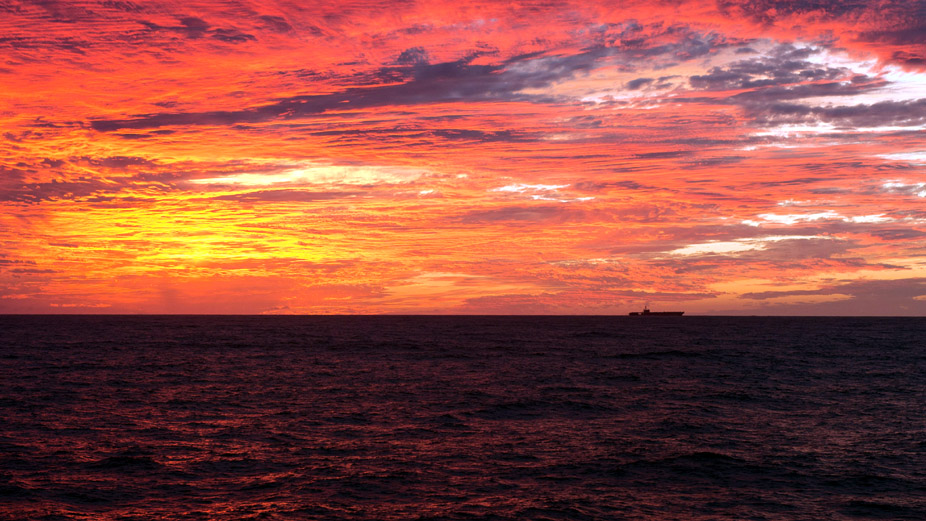 Sunset in the Waters Near Japan
| published November 24, 2015 |
By Thursday Review staff
U.S. Navy mass communications specialist 2nd class Raymond D. Diaz took this dazzling photograph this week in the waters south of Japan. Almost—but not completely—lost among the luminous colors of a sunset seen in both sky and water: the distant silhouette of the USS Ronald Reagan, a Nimitz-class aircraft carrier. The Ronald Reagan is moving through the Pacific waters after participating in annual exercises between U.S. and Japanese naval and air military units—training designed to improve operations between Japanese and American forces.

During those exercises, Rear Admiral Hidetoshi Iwasaki (Japan Maritime Self-Defense Force, Escort Flotilla 2) assumed the role of sea combat commander aboard the Ronald Reagan, according to a media release by the U.S. Navy. Admiral Iwasaki was among 40 officers and personnel from the JMSDF to work aboard the USS Ronald Reagan during the exercises.

The training is designed to strengthen the operational integration of Japanese and American forces in the waters off the coasts of Japan.

Related Thursday Review articles:

USS Milwaukee is Commissioned; Keith H. Roberts; Thursday Review; November 23, 2015.

Bicentennial Plus 39 in Boston; Thursday Review staff; Thursday Review; July 9, 2015.