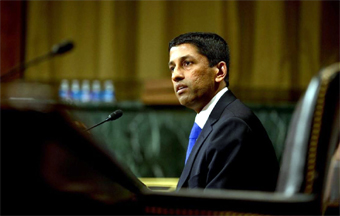 2015 photo of Sri Srinivasan/
Photo by Doug Mills/New York Times
Obama Narrows List for Court to
Just Three Names
| published March 12, 2016 |
By Keith H. Roberts, Thursday Review contributor
According to media reports the White House has reduced its once-wide search for a nominee to the Supreme Court to just three names.

The Obama administration has been vetting candidates for the highest court in order to replace the vacant seat once held by Antonin Scalia. Scalia died suddenly last month while on a weekend vacation at a hunting lodge in Texas. The 79-year-old Justice died during the night after telling members of his hunting party he wasn't feeling well and wanted to take a nap.

Scalia was an anchor for the conservative majority—a narrow majority—which has controlled decisions by the court for decades. His passing has given the Obama administration a rare opportunity to find a center-left or progressive replacement, though Republicans in Congress have vowed not only to fight a any Obama appointee, but have gone as far as to insist that a GOP-controlled Senate may not entertain discussions until after a new President is sworn-in next January.

The White House, according to Reuters and other news agencies, has winnowed the list down to three names it considers safe bets for a Senate fight: Sri Srinivasan, Paul Watford, and Merrick Brian Garland. All three have deep experience within the Federal courts, Srinivasan and Garland as judges for the U.S. Court of Appeals for the District of Columbia, which has given them proficiency with major and national cases. Watford serves on the 9th U.S. Circuit Court of Appeals, in San Francisco, and won a hefty majority of votes by both Republicans and Democrats when he was selected for the role.

Although all three are considered moderate or mildly-liberal, some conservative groups are already questioning whether their selections are in fact Trojan Horses meant to inject an activist liberal into the Supreme Court's delicate balance.

Democrats are praising all three choices as solid—not merely for their centrism, but also since all three have in the past received support from Senate Republicans. Srinivasan, especially, is seen as a reliable choice: he was approved for his current judicial role by a vote of 97-0. Garland, too, has earned approval and accolades from both sides of the political aisle.

Watford, if approved by Congress, would be the third African-American picked for the highest court—after Thurgood Marshall, chosen by Lyndon Johnson in 1967, and Clarence Thomas, picked by George H.W. Bush in 1991. Sri Srinivasan, a Democrat and a graduate of Stanford Law School, if selected, would be the first Indian-American and the first Hindu ever chosen for the Supreme Court.

Other high profile candidates for the job have already withdrawn from consideration, including Jane Kelly, a judge on the 8th Circuit Court of Appeals, and Brian Sandoval, current Republican Governor of Nevada and a graduate of the University of Nevada and Ohio State University Law School.

Related Thursday Review articles:

Sandoval Excuses Himself From Supreme Court List; R. Alan Clanton; Thursday Review; February 25, 2016.

Brian Sandoval Being Vetted for Supreme Court Spot?; R. Alan Clanton; Thursday Review; February 24, 2016.