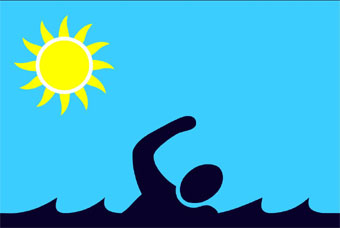 Photocomposition by Thursday Review
Why Swimming Lessons Are
a Must in Florida
| published April 19, 2016 |
By Earl Perkins, Thursday Review features editor
I despise the thought of government intrusion into the lives of citizens, but I wouldn't cry if a few subjects drew some interest from the feds. Mandatory swimming lessons for anybody who can't swim would make me happy. So there, I said it.

Drowning at the beach is a real pet peeve of mine, and something I find totally unnecessary. I wish somebody would give me a few dollars for every time someone told me they haven't learned how to swim because they're afraid of water. The most abundant compound on Earth's surface and something you can't live without, H2O makes up approximately 60 percent of your body. I guarantee if you reside in the United States, you'll be in a position to drown numerous times during your lifetime. It only takes a couple ounces of water and being in the wrong place at the wrong time.

On Sunday, two young men ages 21 and 23 decided to take a testosterone-driven dare and jump from a long city-owned pier into cobalt blue but choppy surface of the St. Johns River near Green Cove Springs, Florida, a sleepy little town a short drive south of the Jacksonville, Florida metro area. The first to jump in was Ahndray Edward Clay, 21 years old. As his friend watched, Clay began to struggle with the choppy waters and the strong current. Minutes later, as dozens of witnesses watched, Clay's friend Billy Joe Hammonds jumped in to help, hoping to save Clay from drowning. But only a minute or so after Hammonds was in the water, he too began to struggle.

Both young men drowned, drained within minutes by the physically demanding task of trying to overcome an unseen but dangerous current and the unpredictable actions of choppy waves driven by high winds. Witnesses on the pier tried in vain to find something to toss into the blue waters as the two men struggled to stay afloat and regain their bearings.

Police and city officials in Green Cove say that swimming is discouraged on that famous pier, and signs warn pier-goers of the serious dangers found in the sometimes furious currents just below the water's surface.

People on the pier called police, who responded within mere minutes. One policeman risked his own life by jumping it to try to reach the nearest swimmer, but both of the younger men disappeared from the surface moments later. Several hours later their bodies were recovered. When asked why floatation devices are not kept on that pier, police point to those signs, posted very clearly and in multiple locations, telling people not to swim from the pier.

William Moritz of Michigan found himself in that position shortly before 10:45 last Sunday morning, when he thought his six-year-old daughter was drowning in the ocean off of Jacksonville Beach, according to Sgt. Tom Crumley of the Jacksonville Beach Police Department. That's about the time a lifeguard spokesperson says the call came in for rescue near 8th Avenue North, and the lifeguards had not yet arrived at their stations, according to News4Jax and other media outlets.

Moritz, 28, ran into the surf and probably panicked, overcome by the choppy surf and strong winds. The child made it back to shore safely, but the father was pronounced dead at a local hospital. The man and his daughter were in town visiting family, according to authorities.

At least 10 people were pulled from Jacksonville Beach waters over the weekend. More were pulled from choppy waters and waves spurred on by extremely high winds on Monday. Red, high-hazard warning flags were whipping in the wind, but many people jumped in the ocean despite dangerous conditions. One small girl was pulled from the surf by bystanders and a lifeguard about 4:30 p.m.

"We turned around and this girl, she's like, 'My sister's drowning. I can't get to her!' We look out and you could see a little girl bobbing up and down out there," said Cory Salt, one of the girl's rescuers. "She was struggling because when she was above the water, she was panicking and struggling to breathe."

Salt carried the girl ashore, as his friend, Chase Gunnell, helped push them toward shore as a lifeguard came into the water. He finished dragging her ashore, where EMT's gave her oxygen, and it appeared she would be fine.

"I'm automatically assuming with this current, there's somebody out there that's not going to make it. We ran out there jumping under waves, and we finally get to her, and I feel like if we hadn't have gotten to her, she was gone," Gunnell said.

Just before that episode, a lifeguard pulled a man from the ocean and another girl was rescued. The two were delirious after swallowing lots of water, but it appeared they would be OK, according to lifeguards. They urged those who insisted on swimming that they should be extra careful. And keep in mind that this all happened after the fatality on Sunday morning. Rough surf and rip currents caused lifeguards to post red flags at St. Augustine Beach and a dozen other beaches along Florida's east coast, where high winds and unpredictable surges in the waves add to the dangers associated with rip currents.

On both Sunday and Monday, gorgeous weather—with temperatures in the mid-70s and a cool breeze to mitigate against the bright sun—lured thousands to the beaches along Florida's northeast coast. But tide conditions, merciless currents and that high wind pose a variety of complex risks even for experienced swimmer, not just visitors and tourists unaccustomed to the dangers.

Rip currents or rip tides, as most people call them, are something you need to familiarize yourself with if you plan on swimming in the ocean, and you better be awful careful and vigilant about family members near the water.

Rips are strong sea currents that push away from shore as a strong storm nears and are commonly harbingers of hurricanes and tropical storms. Strong winds push water shoreward, shoving waves against the shoreline although the storm may be hundreds of miles away. Swimming against a rip tide is extremely dangerous because battling the current will steadily tire you out and milk your energy. Eventually you will reach a state of exhaustion, at which point the current will pull you under. An inexperienced swimmer can be overcome within minutes, and even extremely good swimmers—such as surfers—can drown when the rip current is so strong that it overpowers their ability to compensate.

The solution, most experts agree, is to relax your body and just float—swimming parallel to the shoreline and keeping an occasional eye on the landmarks. Don't fight the waves, no matter how powerful the instinct to attempt to swim directly toward shore. Typically, the current will carry you outside the danger zone and to a point where you can safely make it to shore without as much physical struggle, possibly saving your life.

There are several free websites devoted to surf and tides, primarily designed for surfers and fishermen but a wealth of information for everyone. On Sunday, local surf reports called for four-to-five foot choppy waves, spurred-on by northeast winds of 20 to 25 miles per hour in the morning and shifting to north northeast and 15 to 20 miles per hour in the afternoon. The reports clearly stated that surf would be chest to head high with east northeast wind swells. They even have a surf forum, along with videos and photographs. You can write questions and get real-time answers, so what do you think surfers would tell you?

The conditions along the coast were great for surfers, who typically thrive on the high waves and deep swells produced under such extreme conditions. But for garden-variety beachgoers (that includes most of us here at Thursday Review!) it would not be a day for wading-in past our knees despite the otherwise pleasant spring conditions. Besides, the wind would be blowing sand in your eyes and down your throat.

And some local news people are just bloviating words from teleprompters, because I saw one reporter who said the waves were "chopping." Chopping? No, that's what a burly lumberjack wearing a red-and-black flannel shirt does when he grabs an ax.

Jacksonville lifeguards didn't have exact figures compiled, but probably two dozen people were rescued because of rip conditions and rough surf between Sunday and Monday. They strongly urged swimmers to stay ashore because of the dangerous conditions, but said to swim near a lifeguard tower if you were going in the ocean anyway. Still, hundreds ignored the flags and the warnings and sprinted or strolled into the dangerous waves.

The most recent statistics available show during the period from 2012 to 2014, there were 110 unintentional drownings in Florida, with 41 of those occurring in Duval County, according to the Florida Department of Health. Broward and Miami-Dade top the county statistics for that period, weighing in at 120 and 103, respectively.

The Sunshine State loses more children under the age of five to drowning than any other state in the nation, which means we could fill three to four preschool classrooms annually with those lost souls. It ranked Number One in the nation in 2013 for the highest unintentional drowning rate for 1-to-4-year-olds with a rate of 7.54 per 100,000 population, and No. 2 for 1- to 14-year-olds with a rate of 2.54 per 100,000. Oklahoma ranked first in the category with a 2.69 rate per 100,000, while Mississippi was third at 1.91.

If you are interested in helpful information and eye-opening statistics that may help you safely enjoy the great outdoors, you may want to access the website: FloridaHealth.gov.

Related Thursday Review articles:

ALS & The Ice-Bucket Challenge; Earl Perkins; Thursday Review; February 6, 2016.

Cool Stuff to Eat in Iowa (Before the the Bog Do-Over); Earl Perkins; Thursday Review; February 5, 2016.