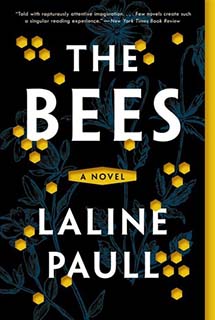 The Bees; Laline Paull
| published September 17, 2015 |
By Kristy Webster, Thursday Review contributor
Readers, you will be absolutely captivated by this fascinating look at the honeybee through the eyes of one individual bee, Flora 717, a lowly sanitation bee. This is not a case of some cheap amorphization, but a work of fiction thoroughly and extensively researched, deeply rooted in scientific truth.

Paull gives us a heroine to root for in Flora, whose special gifts and extra gumption help her transcend her station time and time again, while also educating us about the incredible importance of honey bee survival. Though the personalities may be fictional, the heart of the story, the plight of honeybees, is reality.

Paull's novel The Bees is a debut effort, but there's nothing amateur about it. It's a beautiful, compelling story that you'll find engrossing through to the very last page.

Related Thursday Review articles:

Harper Lee; Go Set a Watchman; book review by Karen Franklin; Thursday Review; August 30, 2015.

The Enchanted; Rene Denfeld; book review by Kristy Webster; Thursday Review; March 9, 2015.