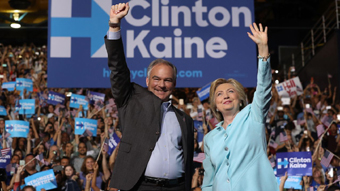 Image courtesy of C-Span
Tim Kaine Tests Message
With Clinton
| published July 24, 2016 |
By Keith H. Roberts, Thursday Review contributor
Virginia Senator Tim Kaine has been chosen to serve as running mate to Hillary Clinton, now just days away from her acceptance of the nomination of her party in Philadelphia. In their first appearances together on Saturday, according to Clinton insiders, his partnership with the former Secretary of State and former Senator went better-then-expected for all parties involved, and several media sources reported afterwards that Clinton was telling her advisors she had made the right decision. Kaine spoke forcefully for the strength of the Democratic ticket, attacked Republican nominee Donald Trump in carefully calculated barbs, and even broke into several phrases in fluent Spanish—speech points which were exactly the sort of Kaine attributes that Clinton was seeking.

Clinton and Kaine appeared together at a rally in Miami, Florida, at Florida International University, where roughly half off all registered students and full-time faculty speak Spanish, and where Kaine delivered remarks interchangeably in English and Spanish.

"Bienvenidos a todos," Kaine called out to the crowd upon stepping up to the microphone, where he emphasized a variety of highlights from his years as a mayor, governor and now U.S. Senator, as well as his religious work as a volunteer in Honduras.

Among the lines and phrases Kaine has been testing with his audiences is a direct comparison between the styles of Clinton and her rival Trump.

"Do you want a trash-talking President or a bridge-building President?" Kaine has asked audiences in the last two days. Citing Trump's frequent politically-incorrect insults of immigrants, minorities, people with disabilities, and women, Kaine then sarcastically backtracks. "Trump doesn't trash-talk everybody…he likes Vladimir Putin."

Kaine's selection came as no surprise to political insiders who had been watching closely Hillary Clinton's careful vetting and courtship of potential running mates. The presumptive nominee of the Democratic Party, had been long seen as having narrowed her list of possible VPs down to about five names, and Kaine's was often considered to be at the very top of that list.

Weeks ago, Clinton campaign insiders had already leaked word that the list no longer included Massachusetts Senator Elizabeth Warren or former Democratic primary and caucus rival Senator Bernie Sanders. Among the names left in the running included Tom Vilsack, Julian Castro and Xavier Becerra, along with a second tier of about five other possibilities.

Kaine is considered arguably the "safest" choice for Clinton. A seasoned politician with deep experience in both legislative and executive roles, he is nevertheless low key, measured, even subdued, and is generally considered to be a policy wonk—a characteristic which fit neatly into Clinton's apparent chief consideration, that of finding a governing partner along the same lines as former President Bill Clinton's selection of Al Gore in 1992 and Ronald Reagan's choice of George H.W. Bush in 1980.

Kaine is a self-identified political nerd who readily embraces the accusation that he is bland, even boring. His "trash-talk" commentary meant to needle Trump represent what may be the edgiest stuff voters will likely hear from the carefully spoken, often circumspect Kaine, known for his politeness and his measured cadence.

But Clinton didn't necessarily choose Kaine because she wanted a gentle attack dog. In addition to his deep legislative experience and policy chops, however, his home state of Virginia—where Kaine is popular among voters of all parties—makes him also strategically important to the top of the Democratic ticket in November. Virginia, a critical so-called swing state, has the Electoral College clout to potentially tip the scales for either party should the election prove close, a fact not lost on Democrats still smarting over the loss of the 2000 elections when Florida turned into a deadlock and Joe Lieberman's presence on the Gore ticket did little to tip the balance.

But Kaine's selection also strikes at the heart of a structural desire by both parties to forge a tactical balance: Republican nominee Donald Trump's selection of Indiana's Mike Pence was an obvious but crucial move to appease the party's base, heal intra-party fractures, and strike a balanced tone for a general election campaign most analysts expect to become increasingly nasty and bitter.

But where Pence is a clear nod to the conservative base of the GOP, Kaine—by stark contrast—tilts the Clinton ticket measurably toward the center, a fact not lost on progressives who had hoped that the presumptive nominee would choose someone from the left after her long, bruising campaign with Sanders, a self-described Democratic socialist with a long-running narrative of attacking Wall Street and demanding that big money interests be extracted from politics.

Kaine's selection—though it will center the ticket and push the Democratic footprint decidedly back toward the middle—could be deeply unpopular with progressives and left-leaning independents already unhappy with Clinton herself, and those hoping that she would choose instead a running mate with a resume more reflective of hard left policy. Indeed, Kaine represents a place on the spectrum of Democratic Party politics so close to the center as to share a remarkable overlap with moderate Democrats and neo-conservatives like James Webb—the quasi-conservative who found his message largely lost in a Democratic race marked by a harsh battle for the progressive high ground.

Clinton told the crowds that she is most pleased with Kaine's readiness and deep understanding of government.

"Senator Tim Kaine is everything that Donald Trump and Mike Pence are not," she said, "He is qualified to step into this job and lead on Day One." Clinton then added a caveat.

"And he is a progressive who likes to get things done," she quipped, a familiar quote from her bitter battles with Sanders during the primaries and caucuses. Whether former Sanders supporters see Kaine as a true progressive, however, has yet to be seen.

Related Thursday Review articles:

Media Reports: Warren Out as Clinton VP; Thursday Review staff writers; Thursday Review; July 13, 2016.

Does Tim Kaine Top Clinton's VP List?; Keith H. Roberts; Thursday Review; June 9, 2016.