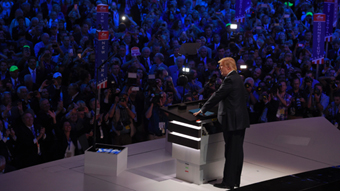 Image courtesy of CNN
Republicans Nominate Trump
Amidst Controversy
| published July 20, 2016 |
By Keith H Roberts, Thursday Review contributor
Amid controversy and lingering contention, Republican Party delegates gathered in Cleveland, Ohio nominated businessman and political novice Donald Trump on Tuesday night, a historic shift for a party which has generally chosen nominees from among those with deep governmental experience and a track record of winning elections.

Not since Wendell Willkie in 1940 have Republicans selected as their champion a nominee without deep political experience or a leadership role in the military, and not since Dwight Eisenhower in 1952 has the GOP chosen as its candidate someone without experience in Congress, a governor's mansion, or the vice-Presidency.

Trump's nomination came after three days of procedural wrangling and some behind-the-scenes fights over the delegate selection process—the last residual efforts of the anti-Trump forces within the GOP. Even after the roll call was completed on Tuesday night at 7:15 p.m., Trump's vote total reaching the magic number of 1,237, several procedural altercations—combined with a brief confirmation of the specific rules governing the head counts from four states—brought the convention to a temporary halt as party experts examined the fine print of party guidelines.

The billionaire's nomination also came in the wake of a fracas over a speech delivered by Trump's wife Melania on Monday in which many key lines and phrases appeared to be have been lifted almost verbatim from a similar speech delivered by Michelle Obama in 2008. According to a number of close comparisons of the two speeches side-by-side, several passages appear to be virtually identical, prompting charges of plagiarism and spurring a confusing day of denials and walk-backs by Trump's top staffers and surrogates.

Some top Trump strategists and staffers sought to downplay the controversy as a media-inspired tempest, including Trump's new campaign manager Paul Manafort, who took to the TV news circuit within the convention hall to aggressively challenge the assertion that any parts of Melania's stirring speech was lifted from Michelle Obama's address to delegates at the Democratic convention in 2008.

Manafort at times sought to minimize the occasions of plagiarism within Melania's speech as simply the similarly warm feelings of two wives for their husbands and families, and called the apparent overlaps coincidental. Melania's speech was intended to be the keynote event of the evening, but by early Tuesday, those among Trump's high command were angry that the brouhaha over the apparent cribbing had quickly overshadowed the Monday night proceedings.

Manafort instead sought to redirect the controversy toward Hillary Clinton and her campaign staff, suggesting that reporters were merely succumbing to a distraction created by Clinton to divert attention from what has been so far a sharply anti-Clinton convention.

But some top GOP officials—seeking to diffuse the fracas—conceded that some parts of the Trump speech were, in fact, lifted almost verbatim, and called for accountability by the Trump team before the blowback become deeper.

Those sharp disagreements between Trump's high command and senior Republican leaders exposed the still bitter divisions within a party seeking to reconcile the nomination of a leader with no political experience with the reality of the critical challenge ahead—what will no doubt be a tough fight against presumptive Democratic nominee Hillary Clinton. Clinton's campaign wasted little time pouncing on the speech misstep as evidence of a deep narcissism within the Trump mindset.

Corey Lewandowski, the Trump campaign manager who was ousted in late May, told reporters on CNN that Manafort should stop attempting to push back against the charges of plagiarism. Lewandowski also suggested that the campaign force someone to take responsibility for the failure to fully vet and fact-check the speech—an address which received generally good reviews in the minutes and hours after Melania delivered it Monday night during prime time.

On Wednesday, after another prolonged period of bitter finger-pointing over the speech issue, a top staffer for Trump offered her resignation, explaining that she had heard the lines from Michelle Obama's speech mentioned by Melania Trump early in the process of preparing the speech, but failed to double-check the content or attempt to rewrite it to better suit Melania's purposes. The resignation threw new gasoline on a fire that had finally started to die down, and again prompted political pros to question whether the Trump campaign is ready for the challenge of facing the particularly seasoned organization at Team Clinton.

Nevertheless, GOP officials and top Trump staffers sought to make Tuesday's convention business progress more smoothly, and attempted to move past the controversy surrounding Melania's speech. As the roll call proceeded carefully and according to script, Trump's nomination was made official by the New York delegation when it cast the votes necessary to put the businessman over the top. Trump's son, Donald Trump, Jr., cast the pivotal vote from the floor.

Celebrations in the hall were immediate, enthusiastic and loud, but when the roll call was completed there were still lingering skirmishes over party rules and guidelines—specifically the disposition of several state votes where delegates had been selected to support Trump's rivals, including Marco Rubio, John Kasic and Ted Cruz. Once those procedural matters were resolved, party leader Paul Ryan read aloud the official vote count, including the delegate totals for Cruz, Rubio, Kasich, former Florida Governor Jeb Bush and others, but which made official Donald Trump's nomination.

Despite celebrations in the arena, Tuesday night's proceedings suffered from what many in the media called poor management and poor choreography, including an uneven performance by the night's key speakers and a seemingly disorganized arrangement of presentations. Though speeches by Trump family members generated generally good reviews, some of the other presentations were regarded as weak or fair-to-middling, including an appearance by Dr. Ben Carson.

New Jersey Governor Chris Christie, a former federal prosecutor and a one-time leading candidate for President, offered up a strong speech in the form of a series of "indictments" against Clinton, including a call for cries of "guilty" or "not guilty" from the partisan hall. Among the things Christie charged Clinton with: reckless behavior regarding her private email account, and a deliberate mismanagement of U.S. foreign policy in Syria, Libya and Russia.

Christie's speech was in keeping with the overall theme of the Republican convention, especially those televised addresses in which public figures and celebrities attack Clinton's record on issues ranging from foreign policy to health care, including a speech by Senate Majority Leader Mitch McConnell.

The stark absence of scores of major Republican leaders and celebrated figures also exposed the lingering tension of a party still unhappy with the outcome of its long, contentious nomination process. Notably absent: former Presidents George Herbert Walker Bush and George W. Bush, Ohio Governor John Kasich, former Florida Governor Jeb Bush, Florida Senator Marco Rubio, former Alaska Governor Sarah Palin, and former GOP Presidential candidates Mitt Romney and John McCain, both of whom rejected outright any offers to appear at the convention.

Meanwhile, outside the convention, a flag-burning incident prompted violence and police intervention, up to and including arrests. A fracas broke out between anti-Republican protesters and pro-GOP delegates when scores of protesters attempted to set fire to a U.S. flag. Police intervened quickly, and many observers noted that journalists and photographers present greatly outnumbered the combined totals of the protesters and the counter-protest. The protest was staged in an area which was not authorized for demonstrations.

Candidate Trump—now the official nominee of the GOP—arrived in Cleveland on Wednesday in preparation for his speech to the assembled delegates. The critical question now facing Republicans is whether the party's membership and the GOP's likely followers can unify solidly and reliably behind the Trump campaign ahead of what most experts predict will be a tough, possibly bitter general election campaign. While some recent polls have shown Clinton gaining a slight edge over Trump nationally, other polls show the race remaining relatively tight, especially in the five most prominent swing states.

Democrats meet next week in Philadelphia.

Related Thursday Review articles:

Trump to Select Pence as Running Mate; R. Alan Clanton; Thursday Review; July 14, 2016.

Are Some GOP Leaders Skipping Convention?; Thursday Review staff; Thursday Review; June 28, 2016.