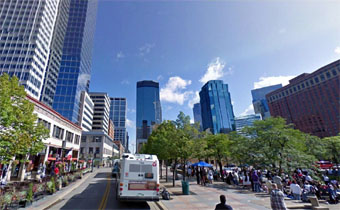 Image courtesy of Google
Twin Cities USA: ISIS Recruiting Center
| published September 16, 2015 |
By R. Alan Clanton, Thursday Review editor
According to the FBI and the U.S. Department of Justice, the American city with the worst track record of activity linked to ISIS—the Islamic State in Iraq and Syria, also known as ISIL—and to other extremist groups is the Minneapolis-St. Paul metro area. Twin Cities arrests and convictions of individuals with direct links to ISIS and other terrorist organizations has been steadily rising over the last 18 months, according to state and federal law enforcement officials, and those numbers may continue to rise.

The reason, some intelligence analysts believe, is found in the particularly large population of radicalized Muslims in the Twin Cities area of Minneapolis, especially those of Somali origin. Civil war in Somalia and conflict between Somalia and neighboring Ethiopia spurred a large migration of people to Minnesota from the eastern African nation. Aside from thousands of other Muslims from a dozen Arab and African nations, Minneapolis has the nation's largest percentage population of ethnic Somalis of any major U.S. city—more than New York, more than Chicago, more than Los Angeles.

By several government estimates, there are some 20,000 to 25,000 Somalis living in the Twin Cities, along with thousands more immigrants from Yemen, Syria, Libya and other Arab-speaking countries.

Last week, according to the Department of Justice and the FBI, 19-year-old Hanad Musse pleaded guilty to charges of conspiracy and conspiracy to commit an act of terror. Musse was one of a half dozen Minneapolis men charged by the FBI with involvement with ISIS, or with other radical terror groups affiliated with al Qaeda.

Since its rise from the lawlessness and chaos of the Syrian civil war, now in its fifth year, ISIS has raised the stakes in its recruiting, exceeding even the most far-reaching recruitment efforts of al Qaeda. ISIS uses social media through scores of channels, as well as slick propaganda videos and websites, to attract young recruits to its cause. Far more effective at its media outreach than al Qaeda, ISIS has been successful in attracting thousands of non-Arabic speaking men—and some young women—into its caliphate and its military. Though the estimates can vary wildly, some U.S. and British intelligence analysts suggest that among ISIS's substantial army of roughly 40,000 fighters, are some 3,000 recruits from other nations, including the U.K., Germany, Austria, Canada, Spain, Italy, France, Belgium, and the United States. Much of the high-powered recruitment efforts of the ISIS propaganda developed for English-speaking audiences is aimed at children and young people living in the Minneapolis-St. Paul metro area.

In the last 18 months, the FBI and other law enforcement agencies estimate that at least 55 young people have been recruited by ISIS. Many of these have made the voyage by air to Europe and then into northern Syria, where they link up with the Islamic State by walking into ISIS-controlled areas. Others of these young people—many in their teens—are detained or diverted at airports in the U.S. or Canada. Those 55 are merely the ones identified by law enforcement as either having made the trip or having been arrested or detained; what cannot be known with certainty are how many teens and young adults made the long journey from the Midwest into ISIS territory unnoticed. Some may have travelled by bus, train or car to other U.S. cities first, then, flown to Syria; others may have boarded flights from Minneapolis-Saint Paul International Airport without raising concern or suspicion.

For that reason, less conservative estimates by intelligence analysts put the actual figure of Minnesotans now working or fighting abroad in the Islamic State as more like 100—arguably the largest concentration of ex-patriots now engaged in ISIS activity in Syria or northern Iraq.

Minneapolis-St. Paul, the unofficial capital of the American Midwest, home of the NFL's Vikings, and the seat of an attitude known as "Minnesota Nice," has experienced such a problem with ISIS and al Qaeda recruitment that the city has formed a major plan to push back against what has become a pattern of radicalization of young people. This month the city's law enforcement and municipal government, working with the state, some schools, and the judicial system, unveiled a multi-million dollar community outreach program with the seemingly modest goal of identifying potential targets of ISIS recruitment, and engaging in a variety of forms of interdiction.

Funding comes from several sources, including federal, state and city government, as well as corporate donations and sponsorships coupled with cash from charitable and philanthropic groups. Individuals, too, have kicked-in money to help get the program started. Among the forms of outreach: Big Brother & Big Sister programs crafted specifically for Somali kids and teens, and "Opportunity Hub," an organization which mentors young Somalis—primarily those in high school or post-graduation—in the fine art of work skills development, resume-building, job hunting, interview skills, and economic empowerment.

In short, the program seeks to encourage market assimilation for the city's young Somalis, considered by law enforcement and prosecutors to be the most at-risk group being specifically targeted by ISIS recruiters. It's an old pattern for Minneapolis. Similar concerns were raised back in the aught years when African terrorist and jihadist groups, notably al-Shabab, recruited 26 young individuals (some of them teens) from within the Twin Cities' Somali community to travel to Somalia and join the war.

And though the programs have been embraced by lots of folks in the business community and the political establishment, Opportunity Hub, the Big Brother Big Sister program, and several other similar initiatives under the same umbrella have already met with criticism that the programs are too narrow and too targeted—aimed only at Somali youths. By targeting Somalis, the program creates the impression—broadly mistaken—that Minnesota Somalis are the only group susceptible to the recruitment tools of ISIS. Concerned that the already stigmatized Somali community will now face even more bigotry and narrow-mindedness, some leaders in the Muslim community think the program should be either be redesigned, or widened in such a way as to make it adaptable based on the needs of each city or state when it comes to at-risk youth.

Some in the Somali community also see the program as a Trojan horse: a federal and state program, carefully crafted by law enforcement, marketed as a social service to at-risk kids, but in reality little more than a way to more closely monitor Muslim families and networks.

These fears aside, Minneapolis hopes to get the program operating at full capacity soon. It is the first of several cities (Boston and Los Angeles are next on the list) approved by the Obama administration for similar initiatives to help communities reach young people at risk for ISIS recruitment.

In the meantime, the FBI and other intelligence agencies must watch the boards for signs of radicalization wherever it occurs. Experts often suggest that those most at risk for ISIS recruitment are teens and young people who have little sense of place, and even less sense of economic empowerment. If the program now deployed in the Twin Cities proves to be even marginally successful—meaning a measurable drop-off in the number of teens and young adults seeking to travel to the Islamic State—other cities may soon follow with similar programs.

Related Thursday Review articles:

Destruction of Palmyra Intolerable, UNESCO; Thursday Review staff; Thursday Review; Sept. 3, 2015.

Turkey Gets Tough (Finally) on ISIS; R. Alan Clanton ; Thursday Review; July 25, 2015.