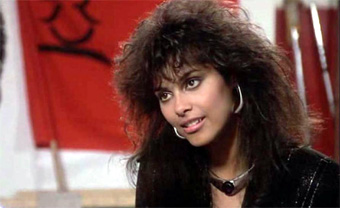 Still from the Berry Gordy film The Last Dragon (1985);
image courtesy of Delphi III Films/Columbia/Tri-Star Pictures
Prince Protégé Vanity, Dead at 57
| published February 15, 2016 |
By Thursday Review staff
Denise Katrina Matthews, more popularly known as Vanity—her stage and recording name—died on Monday at the age of 57 in Fremont, California.

She had battled kidney failure and abdominal illnesses for more than four years, and though the exact cause of her death has not yet been released to the public, those close to her family and her agent say that in her last months she suffered from sclerosing encapsulating peritonitis, a form of extreme inflammation of the small intestine.

Vanity, who began her Hollywood and entertainment career as a model, was best known as a protégé of the singer-songwriter-producer-artist Prince. She had performed as a solo artist, and also in an all-girl pop-rock combo called Vanity 6, which had enormous success in the 1980s. Vanity appeared in numerous movies, music videos, television shows, and on many occasions performed as an opening act with Prince, who was at the time one of the biggest concert draws in the country.

Known for her incredible, sultry singing voice and her stunning, gorgeous looks, Vanity became one of the 1980s most iconic and well-known sex symbols of the music industry. She was a staple of the heyday of MTV and the advent of the music video, and easily catapulted her musical stardom into success in movies and film in later years.

Originally cast in the Prince-developed and written film Purple Rain, the success of her own breakaway girl-group Vanity 6 led to a split with her musical mentor Prince, who instead cast Apollonia Kotero—another member of what was then called the Minneapolis Sound—in the critically acclaimed music movie, which was also the title of one of Prince's most successful albums.

But in the early and mid-1990s she descended into heavy drug abuse, including an addiction to cocaine which led later to crack cocaine. She experienced several minor overdoses between 1991 and 1993, but a serious overdose in 1994—which nearly killed her and resulted in weeks of hospitalization—caused permanent damage to her kidneys and intestines. Since 1994, Vanity had required more-or-less continuing dialysis merely to stay alive.

The near-death experience changed her life, and according to those who knew her in later years she conquered her addictions and attempted to redirect her life. As a born-again Christian, she officially dropped the Hollywood name Vanity, began simply calling herself Denise Matthews, and she became active in a local church (where she remained an active member), and turned much of her time toward volunteer work or community outreach.

But physically she was never able to return to the life of musical recordings, movies and TV, and her health problems continued to spiral downward during the aught years and into the teens. As the money began to run out in recent months, she created a GoFundMe Page to raise cash to help pay for her extensive medical treatments.

Family and friends say she attended her local church as recently as last Sunday, where she told fellow church member she was ready to go home.

Vanity (Denise Matthews) was a key member of a musical movement known in rock music as "the Minneapolis Sound," a subgenre of rock-pop-funk developed largely by Prince and others who wrote and recorded in the Twin Cities. The starting point is generally credited to Prince's landmark 1980 album Dirty Minds, which—though first a cult album favored by rock music eclecticists—later earned its reputation as a landmark turning point between the music of the 70s and the start of the 80s.

Among the other groups and performers who were an important part of the movement: Morris Day, The Time, Jimmy Jam, Apollonia (and her all-girl group, Apollonia 6), Sheila E., Ta Mara & The Seen, and Sheena Easton. The sound's influence is still felt today, and can be best seen in the music of Bruno Mars and Janet Jackson.

Related Thursday Review articles:

David Bowie: The Life of an Audacious Innovator; R. Alan Clanton; Thursday Review; January 11, 2016.

Glenn Frey: The Passing of a Rock & Roll Legend; R. Alan Clanton; Thursday Review; January 19, 2016.