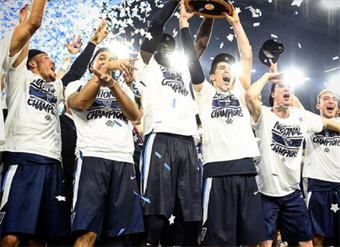 Image courtesy of Villanova.com
Villanova Beats UNC at the Buzzer
| published April 5, 2016 |
By Thursday Review staff
To many sports reporters, to the thousands of fans in attendance in Houston, and to many millions who watched it on television, Villanova's 77-74 win over North Carolina may rank as one of the greatest basketball championship games in history.

A few sports analysts have even gone one step further by calling Monday's match-up the greatest basketball game ever. Well, maybe, maybe not. It depends on your generational anchorage, and how much hype you can tolerate.

Still, Monday's NCAA Division One championship game was a dazzler, so much so that it needs little post-game hype to underscore its important. The game was notable not just for its frequent great plays, but also for top-notch offense and first-rate defense by both teams. The game remained a tight contest throughout the night, but the last few minutes were particularly exciting for those watching inside the NRG Stadium in Houston.

Ultimately, the two closely matched teams fought right up to the final buzzer, with a 90-second grand finale in which fans of both teams held their collective breaths, and both teams battled ferociously to land the last points. What looked briefly like a game that might go into overtime needed no such extended outcome.

With only seconds left on the clock, and after UNC's Marcus Paige bagged a three-pointer—tying the game 74 to 74 with 4.7 seconds left—it was Villanova's turn. Four point seven seconds is either too little, or an eternity, as it turns out. Indeed, Villanova attempted to snatch victory away from Tar Heels coach Roy Williams by racing back down the court for what would be the coup de grace.

The winning three-point shot—made by Kris Jenkins after a fast toss from teammate Ryan Arcidiacono—took place with a fraction of a second on the clock, the basketball sailing into the hoop just as the buzzer sounded. Pandemonium then broke out with Villanova's remarkable win.

The victory was made very sweet by the fact that Villanova—which has not won a National Title since the Wildcats' 1985 win over Georgetown—had a substantial contingent of that great '85 squad present in the stadium to help celebrate.

Villanova's highest scorer of the night was Phil Booth, with 20 points. Jenkins came in second with 14 points. Paige landed 21 points for the Tar Heels.

Related Thursday Review articles:

Crimson Tide Unleashes Tsunami Against Michigan State; Thursday Review staff; Thursday Review; January 1, 2016.

Tide Battles Tigers for National Championship; Thursday Review staff; Thursday Review; January 12, 2016.