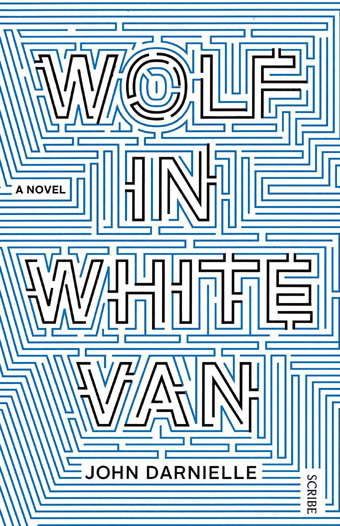 Wolf in White Van; John Darnielle
| published February 5, 2016 |
Book review by Kristy Webster,
Thursday Review contributor
Wolf in White Van is unlike any book I've ever read. I was instantly captivated by the voice of the narrator, one Sean Phillips, an isolated, awkward man who starts at the end of his story and moves the reader, quite brilliantly, to where his story started.

Having suffered a disfiguring accident at the age of seventeen, Sean creates a text-based role playing game called Trace Italian in which players journey through a savage, dystopian terrain, trying to reach sanctuary. When two players take the game into the real world, the consequences are catastrophic and Sean and his invented, imaginary world are held responsible for the outcome.

As Sean wades through memories, from recent to those tucked in the far recesses of his mind, we discover the chilling darkness in his past as well as the evolution of his compassion and sensitivity.

Written in impeccable prose, Wolf in White Van is a captivating and unnerving read you'll have trouble putting down. This one is definitely worth your time.

Related Thursday Review articles:

A Man Came Out of the Door in the Mountain, Adrianne Harun; book review by Kristy Webster; Thursday Review; December 7, 2015.

The Bees, Laline Paull; book review by Kristy Webster; Thursday Review; October 17, 2015.