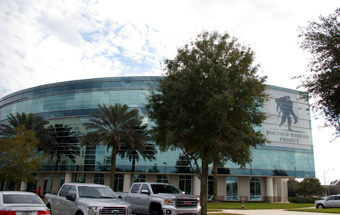 Photo by Thursday Review staff
Wounded Warrior Project:
Wounded Confidence
| published February 3, 2016 |
By Earl Perkins, Thursday Review features editor
A wise man once told me that just because you have the ability to do certain things, does not necessarily mean you ought to do them. Steven Nardizzi and leaders of numerous other charities and non-profit organizations may be preying on the kindness and generosity of donors to line their own pockets, according to the New York Times, CBS News, and other media organizations.

Nardizzi, chief executive officer of the Wounded Warrior Project, took a charity which began in 2003 as a basement operation handing out backpacks filled with socks and toothpaste to wounded war veterans, and transformed it into an impressive behemoth that generated $342 million in 2014 and $372 million in 2015.

The organization is headquartered in Jacksonville, Florida, a metro area filled with military retirees and where approximately one million citizens are known as big-time armed forces boosters. At one time the city housed five military bases—including two of the largest Navy facilities on the East Coast—and the town has always been considered a very giving community, especially when it comes to matters of military personnel, veterans, and their families.

However, the Wounded Warrior Project has garnered much of its financial support in small donations from those older than 65 years, many of whom are on fixed incomes.

Following a decade of massive growth, WWP flew its employees (about 500) to an "all hands" meeting at the five-star Broadmoor hotel in Colorado Springs, Colorado. Far from a flea-bag hostel, Broadmoor at one time was one of the world's premier destinations for the uber rich to luxuriate. Its reputation has not flagged in the last few generations, still offering the fine-dining Penrose Room overlooking a wonderful golf course, specializing in Modern European cuisine, and serving dinner only. Guests may also enjoy drinks at the fully-stocked bar.

WWP was celebrating its biggest year to date: raking in $225 million and doubling its workforce in one year. On the opening night, preceding a retreat highlighted by three days of strategy sessions and team-building field trips, the staff gathered in the courtyard and gazed upward. A spotlight focused on a 10-story bell tower as Nardizzi stepped from the platform and rappelled down toward a cheering crowd.

The organization has 22 locations which offer programs designed to help veterans readjust to society, attend school, find work and participate in athletic endeavors. And although it does contribute millions to many small veterans groups, the largest and fastest-growing veterans charity in this nation has its logo emblazoned on sneakers, paper towel packs, peanut butter cups and television commercials that run dozens of times each day. Many of the well-produced TV spots feature the faces and voices of Hollywood or Nashville celebrities.

It's become a gaudy and ostentatious in-your-face group, embracing aggressive fundraising, high-powered marketing, and personnel management styles that rub many the wrong way—hardly illegal, but to some folks a system which flirts on the side of overly-packaged, pompous and wasteful.

More than four dozen current and former employees claim the charity spends millions a year on lavish travel, dinners, parties, hotels and conferences, recounting stories about trips that included business-class seats and regular jetting around the country for minor meetings, or staying in $500-per-night hotel rooms. The WWP has spent hundreds of thousands of dollars in recent years, hiding behind public relations and lobbying efforts to deflect criticism of its excessive spending and to fight legislative efforts which might restrict how much non-profit organizations spend on overhead (a recurring theme for some major non-profits over the years, ranging from United Way to Goodwill to Kids Wish Foundation).

The Wounded Warrior Project spent approximately 40 percent of its 2014 donations on overhead, or about $124 million, according to charity-rating group Charity Navigator. That is not an extremely high figure compared to many other non-profits, but is out of line with many veterans charities which typically operate with slim, leaner budgets. Semper Fi Fund, for examples, a wounded-veterans group, spends approximately 8 percent of the funds it takes in on overhead.

Millions of people in this nation have quit giving money and helping charities because of the high-profile cases of graft, corruption, and waste involved, and after such extravagance is exposed through investigative journalism or through the actions of whistle-blowers. Each time these cases hit the news, there is the hope that it will finally trigger better government oversight to ensure that help and funds reach their intended targets. Several philanthropic watchdog groups have criticized the Wounded Warrior Project for spending too heavily on itself. Still others question why charitable organizations would spend money on lobbyists whose sole function is to push back against legislation which might require better and more comprehensive disclosures by non-profits.

Also, some of its own employees have criticized WWP. During five years with the Wounded Warrior Project, William Chick, a former supervisor, said of the charity, "It slowly had less focus on veterans and more on raising money and protecting the organization."

Chick was fired in 2012 following a dispute with his supervisor, and although he admits the WWP helps numerous veterans, he also noted they have a policy of swiftly firing anyone who leaders consider a "bad cultural fit." The company is known for creating unrealistic goals, and then firing those who are unable to perform. Eighteen former employees, many wounded veterans, claim they were fired for minor missteps or insubordination, while others were discharged for raising questions concerning ineffective programs or lavish spending. The company also has a reputation for its revolving door—supervisors, managers and rank-and-file employees come and go at a brisk pace, presumably because of the internal pressure to meet fundraising goals and conform to the group's high-octane culture of financial growth.

WWP claims firings were primarily associated with poor performance or ethical breaches, and each person was given the opportunity to address their work problems, according to spokesperson Ayla Tezel. She says the company is rated one of the top non-profits to work for by the NonProfit Times.

"Sometimes employees make poor choices that can't be overlooked," Ms. Tezel said. "And sometimes those employees are veterans."

Wounded Warrior Project has also come under fire this week after several former employees delivered samples of company "yearbooks" which allegedly cost more than $20,000 annually to prepare and print. Employees say that the books were a costly extravagance which few staffers thought particularly useful. The books include headshot photos of all employees, pictures of parties and holiday wingdings in the offices, and contains sections which include items of interest under categories like "Fun," "Innovation," and "Loyalty." In the 2014 edition of the yearbook, the section titled "Fun" included 53 pages, as compared to the chapter on "Service," which fared far worse with only 32 pages, a strangely poetic if unintended revelation of WWP values.

In a partial defense of the organization, U.S. veterans groups have often reflected the era in which they were created: fraternal orders following World War I, advocacy in Washington, D.C. after Vietnam and after the first Gulf War. The Wounded Warrior Project is totally different, according to Nardizzi, who has modeled it after for-profit corporations, focusing on big data, scalable products, monthly and quarterly numbers, and elite branding. It is a necessary embrace, he says, of changing technologies and evolving tools, not to mention a deeply competitive playing field among U.S. non-profit groups.

As if to drive home the aggressive corporate-culture ideal, the 45-year-old Nardizzi houses the charity in a sleek four-story headquarters building in a palm-lined Southside office park in Jacksonville. WWP offices are in the same high-rise and mid-rise corporate neighborhood as several major medical facilities, multi-partner law firms, tech companies, high-rise hotels, and a half dozen banks, mortgage lenders and financial institutions.

He said spending cash on fundraising and other outlays not directly related to veterans programs allows WWP to grow faster and serve more people, noting that approximately 80,000 veterans have used the charity's services.

"I look at companies like Starbucks—that's the model," he said. "You're looking at companies that are getting it right, treating their employees right, delivering great services and great products, then are growing the brand to support all of that." In that context, Nardizzi believes he is doing things the right way, merging the best long-term investment philosophies of successful Fortune 500 companies with the tech power tools and out-of-the-box thinking that makes Uber or Amazon a success.

The organization recently pledged to raise $500 million to establish a trust to fund lifetime supplemental healthcare for severely wounded veterans, while also beginning a program designed to provide care for veterans with post-traumatic stress disorder and traumatic brain injuries, two of the most common injuries for veterans of recent wars. Nardizzi says these ambitious programs would be impossible without spending on aggressive fundraising and motivated staff, which is why he advocates that charities should be free to spend whatever they want on travel, fundraising and executive salaries.

"How many others are not scaling up to cure cancer, to help the environment, because there is a belief we shouldn't invest in those things?" said Mr. Nardizzi, who was paid $473,000 in compensation in 2014.

The WWP was founded by John Melia, a Marine veteran injured in a helicopter crash off the coast of Somalia in 1992. Troops began returning from Iraq in 2003, and Melia himself recalled returning stateside with only a thin hospital gown. That's when he started visiting military hospitals and distributing backpacks stuffed with socks, CD players, toothpaste and other items—this at a time when the first inklings of problem with the Veterans Administration were starting to come to light.

The backpack project grew, and Melia hired several employees, including Nardizzi. The young attorney never joined the military but was an executive for small nonprofit United Spinal Association, which served disabled veterans. WWP raised millions, broadening services to include adaptive sports for disabled veterans, employment and benefits help, along with retreats to teach veterans to cope with post-traumatic stress disorder.

The group grew to about 50 employees with $21 million in revenue by January 2009, at which time Melia resigned—or so Nardizzi says. Reportedly, the pair had been constantly arguing over the charity's future, with Nardizzi pushing for aggressive expansion against Melia's wishes, that the group move more slowly and cautiously, at least according to numerous former employees.

Nardizzi claims Melia left to pursue other business ventures, but Melia's ex-wife, Julie Melia, who was then working at the charity, says her former husband said the organization was "stolen from him."

"He didn't want to leave, but it was obvious something was going to happen," Ms. Melia said.

Melia was paid at least $230,000 following his resignation, according to federal tax records. He has not spoken publicly concerning the matter, and declined a recent interview request. The company's current list of 27 founders shows Melia's name well below the charity's current for-profit fundraising consultant.

Nardizzi took over the company's reigns in 2009 amid an economic downturn when many charities were reducing fundraising efforts to cope with the vast effects of the Great Recession. Non-profits like March of Dimes were forced to rapidly downsize, often cutting employees and encouraging others to work from home to cut back on overhead. But Nardizzi doubled spending on fundraising efforts and has increased that figure an average of 66 percent each year. For the 2014 fiscal year, WWP spent more than $34 million on fundraising, according to tax records. That's when the group began producing slick, inspirational ads featuring wounded veterans fighting to recover—often using the faces and voices of celebrities to catch viewers' attention—and donations began pouring in at a massive rate, according to several former employees, including Dave Ward, a vice president who left in 2015. National ad buys placed those ads in conspicuously high-value locations: sporting events, network prime time, national news slots on CBS and NBC.

The timing proved ideal for WWP; the ads began running at about the same time that some of the worst news about the Veterans Administration was hitting the fan. The daily news grind about U.S. veterans was almost all bad: waiting lists for care which stretched for months, veterans dying while waiting to see doctors, mismanagement and incompetence at scores of VA hospitals, cover-ups, phony records and fake spreadsheets. Veterans, we learned, were being left behind in our own country.

"The secret sauce was the brand, and the mission," he said. "We put warriors on a pedestal and the nation wrapped its arms around that concept." WWP signed up the sponsorship of several big name companies, such as Bank of America and the NFL. This had the desired effect of becoming a multiplier for marketing.

Thanks to the ads and aggressive fundraising, the cash rolled in at a hearty clip, and along with, spending on overhead spiked, including the increasingly lavish meetings, junkets and slick sales efforts. The over-the-top spending became an internal joke. Numerous employees knew what was going on was wrong, including Connie Chapman, who was in charge of the charity's Seattle office for two years.

"People could spend money on the most ridiculous thing and no one batted an eye," she said. All staff members flying to the WWP office in Germany would travel business class or first class, and one current employee admitted her last-minute ticket cost $7,000. Nardizzi fired Chapman, an Iraq veteran with PTSD, in 2012 as part of a "management restructuring," she said.

The group was spending $7.5 million each year for travel by 2014, although it claims 80 percent of donations are spent on actual programs. However, former employees and charity watchdogs say those numbers are inflated by declaring some marketing materials, promotional goodies, and advertising projects as "educational." Charity Watch, an independent monitoring group, awarded WWP a D rating for 2011, and it's since failed to receive a grade higher than C. Other investigations by watchdog groups have turned up varying forms of sleight-of-hand which give the appearance that a larger share of WWP monies are being spent on soldiers who need it most. CBS News recently reported that of the 80% which WWP claims is spent on its actual mission, a hefty share was actually spent on things like postage (for fundraising activities), printing, imprinted promotional items, tickets to events, and marketing.

Nardizzi quickly fought back, giving $150,000 to the non-profit Charity Defense Council, a political lobbying group which lists Nardizzi on its advisory board. The council's mission includes defending charity spending on overhead and executive salaries. The group lobbied California and Florida fighting proposed laws that that would have required increased financial transparency of non-profits. Both bills passed in greatly amended forms that will not significantly affect Nardizzi's interests.

The group also hired global public relations firm Edelman, which represented Starbucks, Walmart, Shell and Philip Morris, hoping to improve public perception of WWP and its overhead spending. Former employees questioned the charity's focus on money and marketing, including Erick Millette, an Iraq war veteran who quit after growing disillusioned with his work. The WWP created Warrior Speak, which involved veterans telling an audience their stories of healing, while also collecting donations at those events.

"I wasn't speaking anywhere unless I was collecting a check," said Millette, who left WWP in 2014. Millette said he was encouraged to highlight WWP's role in helping him recover from PTSD and traumatic brain injury. "They wanted me to say WWP saved my life," he told reporters, "well, they didn't. They just took me to a Red Sox game and on a weekend retreat."

Increased revenue brought increased scrutiny in the form of executives using data to measure staff productivity, which was designed to improve efficiency and help fundraising. Some former managers and employees say productivity goals were set so high as to be useless. The Warrior to Work program was designed to provide one-on-one counseling to develop resumes and interview skills, eventually placing veterans in suitable jobs. Executives quadrupled the number of job placements the program was expected to make each year, reducing the amount of time specialists are allowed to find good placements, according to Dan Lessard. The man ran the program for a couple years until he was fired in 2014 for insubordination.

"They would just come up with numbers based on nothing," he said. "I would push back and they would get very frustrated and yell. By the time I left, we were just throwing guys in jobs to check off a box and hit the numbers."

The same pressure to reach certain goals affected a program that helps bring wounded veterans together for social events, according to some former staff members. They were not afforded adequate time to develop therapeutic programs, which eventually forced them to just give veterans tickets to concerts and sporting events. In order to fill seats, the employees were often forced to invite the same veterans.

"If the same warrior attends six different events, you could record that as six warriors served," said Renee Humphrey, who oversaw alumni outreach in Southern California for about four years. "You had the same few guys who loved going to free events."

Humphrey, an Iraq veteran with PTSD, was fired in 2013. Her termination was so abrupt that her work phone and credit card were terminated while she was still leading a WWP event.

By late January of this year, the spaghetti hit the fan with more reports of spending abuses. A watchdog group called Charity Navigator, which helps potential donors—individuals and corporations—make informed decisions about charitable giving, has placed WWP on its so-called "Watch List." That list is there to make sure those looking at non-profits understand that there may be a risk that much of their giving may be diverted to things only barely related to the cause itself, or to the organization's stated goals or mission.

Wounded Warrior Project is also fond of lawsuits, especially those involving former employees who have spoken to the press or have engaged in whistle-blowing. WWP has also taken other non-profits to court as well, sometimes battling over monies raised in ad hoc charitable venues. WWP says it does so only when groups claim they are raising money specifically for WWP, but later renege—but a few of those other groups suggest that WWP is simply engaged in a form of fundraising bullying which verges on extortion.

The problems escalated with deeper investigative reports recently in the New York Times and by CBS News, along with several Jacksonville television stations, which have taken a look at some of the numbers reported by WWP. The Washington Post says that by WWP's 2014 tax returns is had raised $342 million. The open question remains how much of that massive sum made it to actual veterans or soldiers. At the start of February, more whistleblowers came forward to local TV stations to share allegations of misuse of donor monies, along with stories of how data analytics was used to create unreasonable pressure and foster fear inside the office for the apparent sole purpose of raking in more cash. There are also stories of over-the-top parties inside the office: pie-eating contests, elaborate Halloween costume parties, mariachi bands and those pricey "yearbooks."

With media scrutiny of the organization now reaching a crescendo, WWP is attempting to craft a publicly palatable solution. It hit back hard against CBS News and other media outlets, including a multipart response to the CBS charges, and posting a statement online demanding a retraction.

But Wounded Warrior Project knows it still has a growing problem of perception. On Monday it issued a vaguely-worded statement saying it was retaining the help of outside advisors to help look into questions and concerns about how the organization raises and spends its millions in donations. It also says it will conduct a thorough internal review of its policies and procedures. The statement stopped short of calling the advisory review a financial "audit," but that may ultimately be what is required to make potential donors comfortable with giving to WWP again in the future.

Several major news outlets and newspapers have provided a long list of "alternative" veterans and military personnel non-profits with exceptionally high ratings in terms of service delivery and achievements of stated missions.

Related Thursday Review articles:

USS Zumwalt Begins Sea Trials; R. Alan Clanton; Thursday Review; December 8, 2015.

USS Milwaukee is Commissioned; Keith H. Roberts; Thursday Review; November 23, 2015.